Japan celebrates major Para World Sailing Championship milestone
Hiroshima, Japan welcomes athletes from 13 countries to history-making Para World Sailing Championship, which marks major step forward for diversity and inclusion after the Tokyo 2020 Olympic and Paralympic Games
25 Oct 2022
Imagen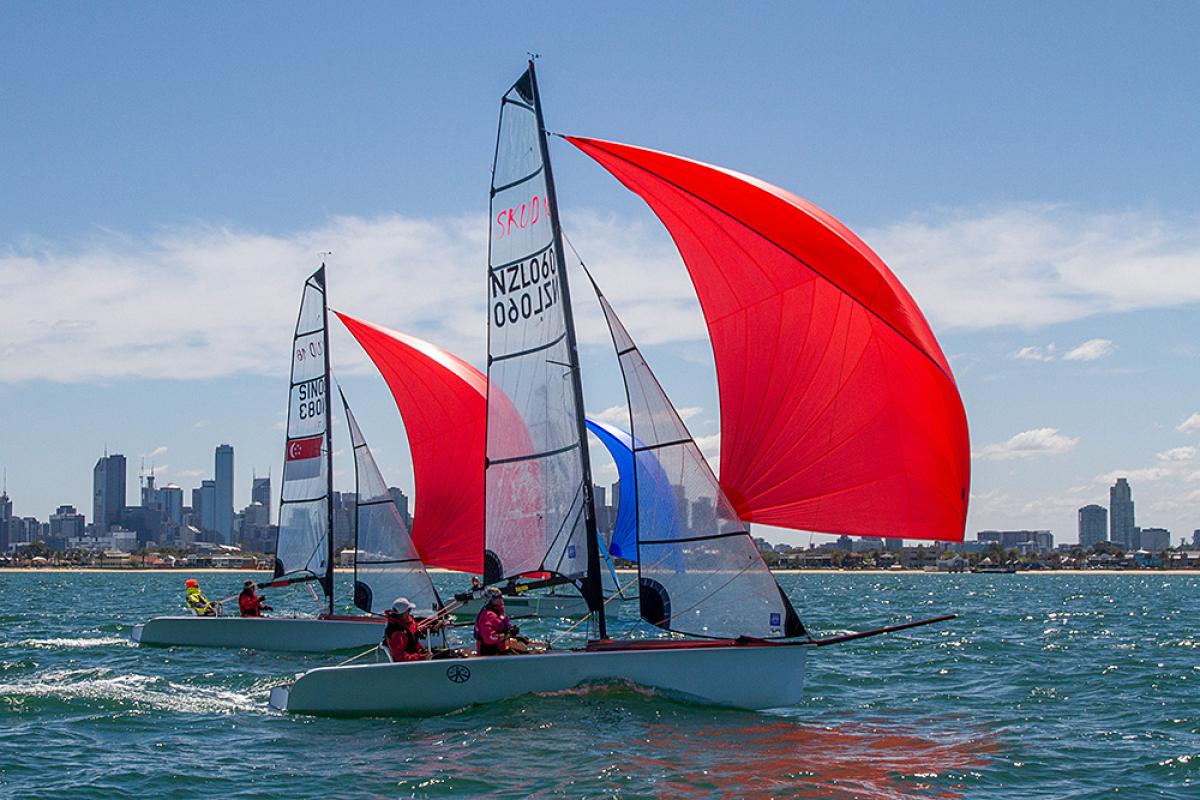 ⒸISAF
By World Sailing and PARA SPORT
Japan is celebrating after hosting its first simultaneous Para World Sailing Championship with the Hansa Class Asia Pacific Championship in Hiroshima, marking a major step forward for diversity and inclusion after the Tokyo 2020 Olympic and Paralympic Games.
A total of 114 athletes from 13 countries across Asia, Europe, Oceania, Middle East and North and South America raced in the Para World Sailing Championship (Hansa 303 male and female, and Liberty classes) and Asia Pacific Championship (Hansa 303 single and double, Hansa 2.3 single and Liberty) from 20 to 23 October.
Host nation Japan had several reasons to celebrate this breakthrough event at the fully accessible Hiroshima Kannon Marina, including the five medals that the nation's athletes secured in the races.
Takumi Niwa, 27, representing the Tokyo Para Sports Federation, took bronze in the Hansa 303 men's single class in both Championships.
"Japan has finally been recognised on the world Para sailing stage," Niwa said. "Now, as a nation - and as we look to the next Paralympic Games in Los Angeles - we have a major opportunity to strengthen the Japanese team."
Japan's Para Sailing focus
World Sailing has been working closely with Japan's Prime Minister Fumio Kishida and local Para sports and education organisations, mapping a course for Para sailing in Asia.
After Kishida made an impassioned speech on the role of Para sailing in creating a diverse, equitable and inclusive society at the Championships launch event earlier this year, the Governor of Hiroshima Prefecture Hidehiko Yuzaki and the Mayor of Hiroshima City Kazumi Matsui welcomed athletes on race day on the shores of the scenic Seto Inland Sea.
Special Race Awards
In addition to the eight sets of medals at these Championships, four Special Race Awards were granted to athletes to celebrate the history-making event.
The Best Junior Award went to 11-year-old skipper Ryohei Sasaki of Sailability Takamatsu - a testament to the growing global popularity of Para sailing among young people around the world.
Competing in the Hansa 303 doubles, Sasaki faced off against highly experienced sailors, including the gold medal winning pair Christopher Symonds/Manuela Klinger of Australia.
The Effort Award went to Thailand's Charin Saleesongsom for participating in all Hansa races for the first time in Japan. Yoko Yagi of Japan took the Best Female Award after she narrowly misssed a medal in Hansa 2.3 singles, while Turkey's Ibrahim Kalay earned the Best Improvement Award for making remarkable progress during the competition.
Para Sailing breaks Development record
World Sailing also staged a four-day Para Sailing Development Program before the Para World Sailing Championship, celebrating yet another milestone - reaching 45 countries in less than six years since the program's creation in January 2017.
Hopes for LA28 
With World Sailing now just three months away from knowing if the International Paralympic Committee (IPC) will look favourably on its #BacktheBid campaign for sailing to be reinstated in the Los Angeles 2028 Paralympic Games, Masuhiro Baba, President of the Japan Sailing Federation and President of the dual Championships, underlined the uniqueness of the sport.
"Sailing is an inclusive sport that anyone can enjoy regardless of gender, age or ability," he said. "These Championships are powerful - we are spreading the appeal of sailing to the world, increasing its value as a lifelong sport and showing that Para sailing can help create an inclusive society that recognises diversity."
Full results from the Para World Sailing Championship in Hiroshima, Japan are available here.