Jeroen Kampschreur's 'crazy' run takes men's sitting rivalry into new gear
RPC's Varvara Voronchikhina overtakes French legend Marie Bochet to win gold at debut World Championships in Norway
15 Jan 2022
Imagen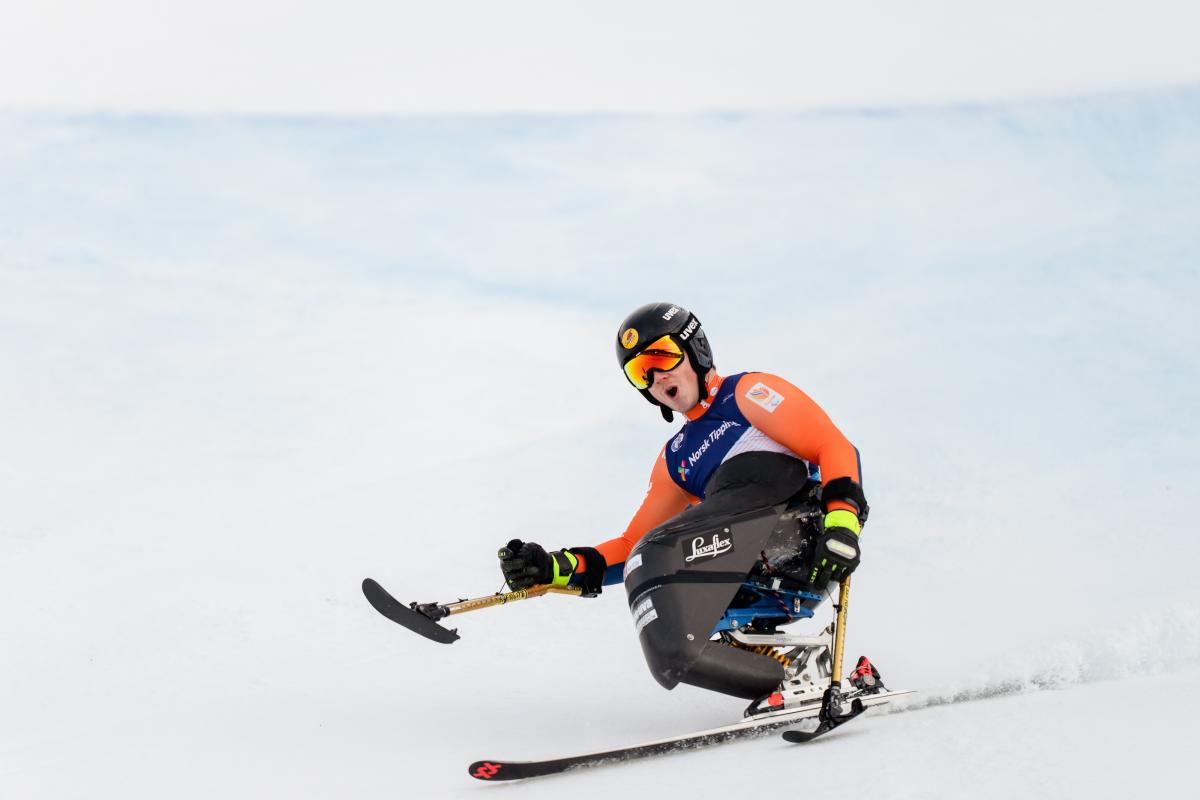 ⒸSamuel Andersen/Lillehammer 2021
By Lena Smirnova and Nadia Medeiros | For World Para Snow Sports
The home fans erupted in cheers as their star skier and Friday's downhill champion Jesper Pedersen smashed across the finish line of the men's sitting super-G in what seemed to be an unbeatable time.
Just a few minutes later, however, they were silenced by the efforts of Jeroen Kampschreur who blazed ahead of the nearly flawless Pedersen by an astounding 3.22 seconds.
As for the Dutch skier, the only words he could say as his name lighted up on top of the leaderboard were "crazy, crazy". 
"It's crazy to win with three seconds. The competition is so big," Kampschreur said. "To win from Jesper and Andrew [Kurka, USA], they all won medals at the World Championships and the [Paralympic Winter] Games, so I can't describe how good it feels."
Kampschreur has been Pedersen's fiercest rival since 2018 and defeated him in all the races at the 2019 World Championships to become just one of two skiers with a full golden sweep. 
While Pedersen dashed the Dutchman's hopes of defending all five titles with his downhill victory on Friday, this only fired up his rival.
"It was bumpy, it was fast. The conditions were hard snow, clear sky," Kampschreur said. 
"The most important for me was to stay strong because you get so many bumps, so much power on your body, it's quite heavy to do it and you have to really stick together and just go through all those bumps and don't go around them, keep the plan."
Italy's Rene de Silvestro also cut a clear line to pick up his career's first World Championships medal, a bronze, after finishing a close fourth and fifth in 2019.
NEW KID IN TOWN
While Kampschreur picked up his ninth world title at the Lillehammer 2021 World Para Snow Sports Championships, it was the first for RPC's Varvara Voronchikhina. The 19-year-old upgraded her silver from the downhill to gold in the women's standing super-G.
To make that victory sweeter, Voronchikhina managed to outrace Paralympic champions Canada's Mollie Jepsen and France's Marie Bochet to claim the gold. 
"It is my biggest victory to date, the World Championships. I don't feel it yet since it was all so fast, so unexpected," Voronchikhina said. "To win after yesterday's second place, it's really cool."
Jepsen finished with a silver, while downhill champion Bochet took the bronze. 
As for Voronchikhina, she said even the gold medal performance was still off from her full potential.
"Today it was quite hard to compete in the sense that all the girls, all my rivals, have already skied downhill and knew how the course was," Voronchikhina said. "I can't say that I was able to show everything that I wanted and what the coaches taught me. Maybe it was not good enough, but of course I am happy and I have only positive emotions."
DOUBLE GOLD
Slovakia's Henrieta Farkasova, Germany's Anna-Lena Forster, France's Hyacinthe Deleplace, and Austria's Markus Salcher continued their golden streak with back-to-back victories in the speed events. 
Paralympic legend Farkasova and her new guide Michal Cerven took a confident 12.19-second lead in the women's vision impaired event. Belgium's Linda Le Bon picked up her second silver and Great Britain's Millie Knight took a bronze at her first World Championships race since 2017.
It was also a comfortable victory for Forster who crossed the finish line 17.54 seconds ahead of her only remaining competition, Great Britain's Shona Brownlee. The rest of the women's sitting skiers struggled with the winding course and did not finish the race. 
Things were a lot shakier for Deleplace who snatched a narrow victory in the men's vision impaired event with Austria's Johannes Aigner just 0.26 seconds behind him. Slovakia's Miroslav Haraus finished third. 
Austria's speed specialist Markus Salcher also managed to snatch his second straight victory as his top rival Arthur Bauchet of France crashed in the second half of the course. 
Aleksei Bugaev also had a slip early into the race. Though the RPC skier managed to stay upright, the time he lost ultimately cost him the world title and put him in second place. 
The defending super-G champion, Theo Gmuer of Switzerland, took the bronze.
UPCOMING RACES
The Para alpine races of the Lillehammer 2021 World Para Snow Sports Championships continue with the super combined on Monday, 17 January.
All Lillehammer 2021 events are streamed live on the World Para Snow Sports Facebook page and the Para alpine skiing, Para Nordic skiing, and Para snowboard websites.
Pictures for editorial purposes are available on Flickr.