Kei Nishikori talks wheelchair tennis
Japan competing in men's wheelchair singles at Wimbledon for first time.
13 Jul 2017
Imagen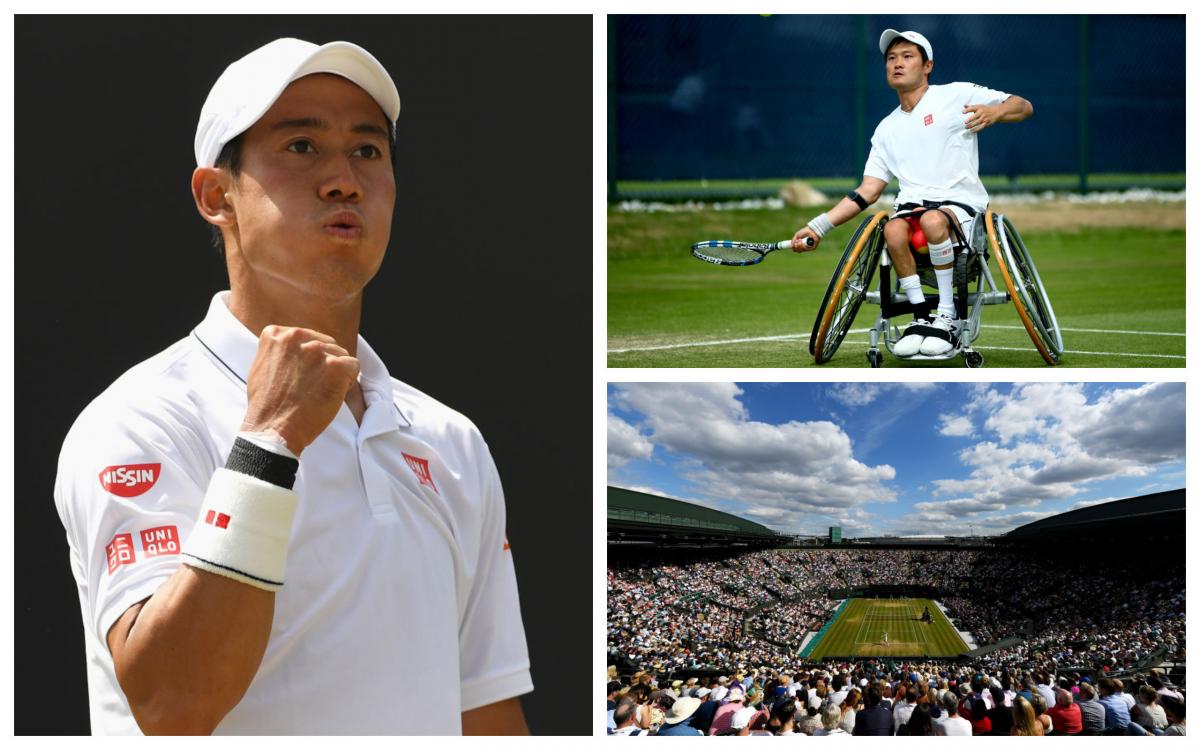 ⒸGetty Images
By ITF and IPC
"I always watch Shingo. I know many guys love to watch wheelchair tennis. I did try before so that's how I know how tough it is to play in the wheelchair."
It is just over three years ago that Japan's tennis star Kei Nishikori shared the court with fellow Shingo Kunieda, among others, for the announcement of UNIQLO's sponsorship agreement with the International Tennis Federation for the ITF's major wheelchair tennis properties.
Nishikori reflected on that day in with fond memories.
"I remember that I hit with Shingo and Gordon (Reid). I know how tough it is to play with the wheelchair. I tried then. I have good memories of hitting with those guys," he said.
Two-time singles Paralympic gold medallist and 39-time major winner Kunieda is set to compete in the men's singles at Wimbledon for the first time, having received the men's wild card for this year's event. He missed last year's Wimbledon as he focused on his rehabilitation from elbow surgery.
Kunieda's journey back towards the top of the sport saw him reached the semifinals at Roland Garros and return to the world top ten, currently sitting at No.9. It is a resurgence that Nishikori believes can only gain pace.
"I'm sure he's going to be fine because he has a lot of confidence from before. I don't think it's so easy to lose suddenly, even though he's taken time out. He can play No. 1 tennis I think, so I think it's just a matter of time and if he keeps fighting I think he is going to be okay," he said.
As Kunieda bids to add the Wimbledon men's singles wheelchair tennis title to the three men's doubles titles he's won on the grass to date, Nishikori believes he won't be the only player among his own peers in the locker room watching his compatriot closely.
"I always watch Shingo. I watch sometimes live when I have time. I love how Shingo plays, so I love to watch wheelchair (tennis)," said Nishikori.
"I know many guys love to watch wheelchair tennis. I did try before so that's how I know how tough it is to play in the wheelchair. And that's why I also enjoy to watch how Shingo can play really powerfully with his forehand and backhand.
"It's almost impossible for me, to not use the legs. For us, using legs is the most important thing to play tennis. When I tried I had almost no chance to even rally in the middle. To me, that's really tough."
Both Nishikori and Kunieda returned from Rio 2016 with bronze medals – Nishikori in the Olympic men's singles and Kunieda in the Paralympic men's doubles.
What of Tokyo 2020, when both players will hope to have the opportunity to win gold on home soil?
"I think it's very powerful," said Nishikori. "Last time in Rio it (the Paralympics) was also big news, not only (wheelchair) tennis but other different sports. Everybody was cheering and watching and enjoying how they play. We're all really proud of Shingo and also other Paralympic players.
"That (to win another medal) would be nice. Playing in Japan, it has great meaning for us to play in our home country. It would be nice if I can get a medal again. But I think Shingo has another good chance for getting a gold medal and I will support him. And also for me, too, I will try to do my best to get a medal."
Full story is available on the International Tennis Federation's website.