Kunieda, Griffioen, Wagner win Wheelchair Tennis Masters titles
Japan's Shingo Kunieda and the Netherland's Jiske Griffioen were victorious in singles at the NEC Wheelchair Tennis Masters, while USA's David Wagner won the quads title.
12 Nov 2012
Imagen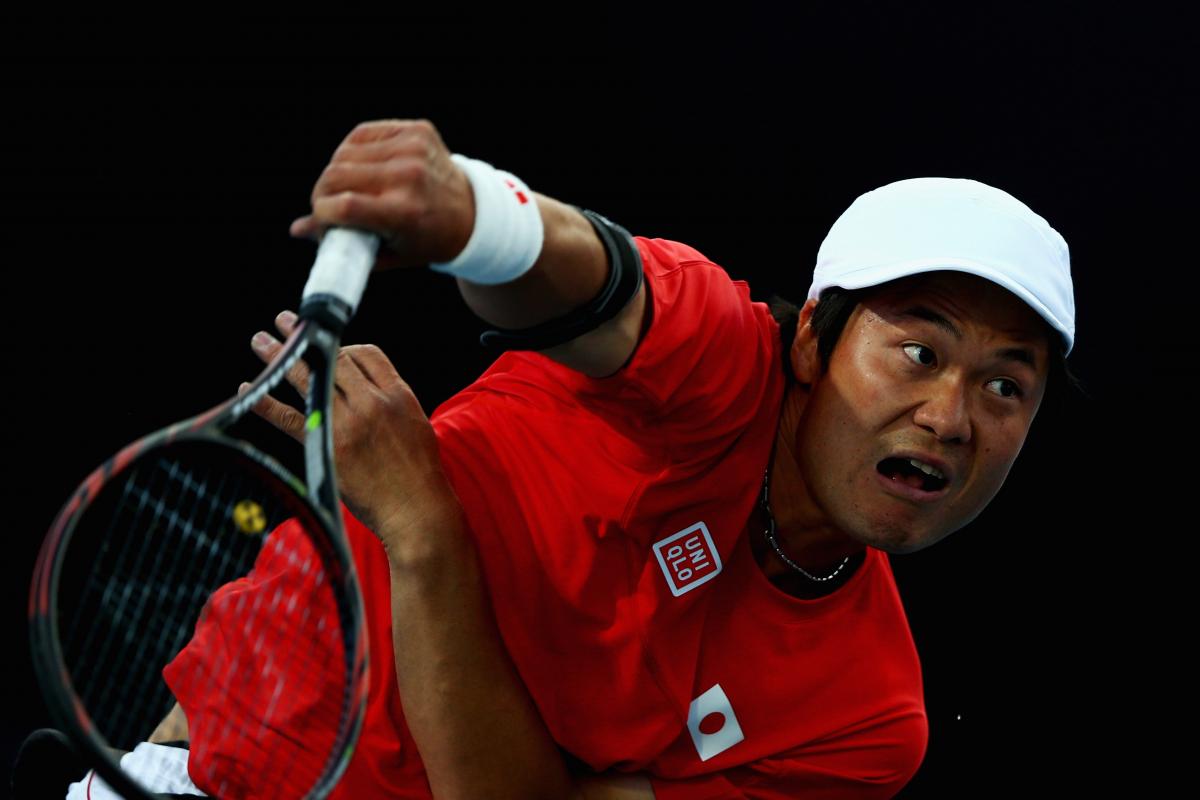 ⒸGetty Images
By IPC
"This is the big title I wanted after winning in London, so I am very happy to win here."
Japan's Shingo Kunieda and the Netherlands' Jiske Griffioen won their first NEC Wheelchair Tennis Masters men's and women's singles titles on Sunday (11 November), as the year-end ITF wheelchair tennis championship drew to a conclusion in Mechelen, Belgium.
Kunieda and Griffioen joined world No. 1 David Wagner of USA in winning this year's titles after Wagner won his fifth NEC Maters quad singles title on Saturday's penultimate day of play.
World No. 3 Kunieda beat world No. 2 and 2009 NEC Masters champion Maikel Scheffers of the Netherlands, 6-2, 4-6, 6-2 to claim one of the only major titles in the sport missing from his long list of achievements.
The four-time ITF World Champion raced to a 3-0 lead in the first set of the men's singles final. Scheffers won only the fourth and seventh games of the set as he held serve once and broke Kunieda once, but double-faulted on set point to give Kunieda the advantage.
"This is the big title I wanted after winning in London, so I am very happy to win here," Kunieda told the ITF.
"My forehand was not too good today and Scheffers played a very good match. Maybe in the second set I misjudged the medical time-out. I was 40-0 up and should have played for one more point, but he won it. The final set was just a mental contest, I think, and I am mentally strong."
The start of the second set was almost a mirror image of the first set and it was the Dutch second seed's turn to earn a 3-0 lead despite Kunieda recovering from 0-40 down to 30-40 in the third game.
Kunieda won two games in row to retrieve one of the two breaks against him, but with Japan's two-time Paralympic gold medallist attempting to keep the pressure on at 40-0 up in the seventh game of the set he called for the physio to tend to a flesh wound on a finger. After Kunieda resumed with a plaster on the wound, the 1 point he needed to take the game proved elusive and Scheffers won the next 4 points to re-establish a three game cushion at 5-2.
Again, Kunieda fought back and at 5-3 down he saved a set point with a well-placed forehand winner before having a game point in the 10th game that would have made it 5-5 as Scheffers saw another three set points pass him by. However, Scheffers eventually saw his persistence pay off and won the points that mattered to level the match.
A tense final set started with four successive breaks, but Kunieda became the first player to hold serve as he moved 3-2 ahead and then made it four games in a row to move to within a game of his first NEC Masters title at 5-2.
Scheffers had a game point that would have made it 5-3, but Kunieda took the game to deuce and on his first match point he drew Scheffers into the net before slotting a forehand passing shot down the line to complete an historic victory after two hours and 19 minutes.
Griffioen joins list of Dutch women's champions
After winning her first Paralympic women's singles bronze medal at London 2012, Griffioen continued her memorable season, as she became the player who made the most of the absence of 14-time NEC Wheelchair Tennis Masters champion Esther Vergeer this weekend.
Griffioen added her name to the list of five Dutchwomen who have now won the NEC Masters women's title in the event's 19-year history after defeating her compatriot and world No. 2 Aniek van Koot in the finals, 6-4, 6-4.
"This is my second NEC Masters final and they're not going to take this one from me," Griffioen told the ITF.
"I'm really happy, I had a really good week and beat Aniek in the round-robin as well, but today I had to start all over again and it was a really good match. I think it's good that we have a new winner even though Esther isn't here and I'm so pleased to have this title."
Griffioen broke in the second and sixth games of the women's final to establish a 5-2 lead and had a set point in the eighth game, but van Koot hung on to make it 5-3.
The world No. 5 then came from 30-0 down to win three straight points and gained the first of five more set points in the ninth game, but again van Koot dug deep and eventually made her second break point of the game count as she reduced her deficit to one game at 5-4.
However, van Koot's resilience was undone with a series of double faults as she served to try and draw level at 5-5 and Griffioen eventually took the set.
After service holds and service breaks for both players in the first four games of the second set Griffioen broke van Koot's serve once again to move ahead, 4-2.
Although van Koot had game points to level the set at 5-5, Griffioen added to the sequence of game exchanges one last time as she finally converted her fourth match point after an hour and 49 minutes, with van Koot finishing runner-up in the NEC Masters for the second successive year.
Wagner wins fifth quad singles title
Top-seeded Wagner beat Andy Lapthorne of Great Britain, 6-4, 6-2 in Saturday's quad singles final, repeating his victory over the world No. 4 in the round-robin phase of the competition earlier in the week.
Lapthorne came back from 5-1 down to 5-4 in the first set of the final, but Wagner held on and after going 2-0 down in the second set the American won six games in a row to win his fifth NEC Masters title and his first since 2008.
"It's a real honour to see your name on the trophy more times than anyone else. It's really cool," Wagner told the ITF.
"As I've said all week, you've got to be on your game because this is the NEC Masters and you've got the best players in the world here. It was a good match, enjoyable to play and I knew he wouldn't just roll over, I knew he fight back with everything he had, so I just tried to stop that and to stay the course."
Houdet and Ellerbrock win third place
After winning his first NEC Masters title in 2011, world No. 1 Stephane Houdet of France finished third in the men's singles this year after defeating two-time champion and world No. 7 Stefan Olsson of Sweden, 2-6, 6-1, 6-3 on Sunday.
Meanwhile, world No. 3 Sabine Ellerbrock of Germany clinched third in the women's singles after defeating Dutch world No. 4 Marjolein Buis, 3-6, 6-2, 6-4.
Related Images