Lahna looks to represent Morocco, Arab nations in Rio 2016
Mohamed Lahna is aiming high in the PT2 class, as para-triathlon debuts in Rio.
18 Apr 2016
Imagen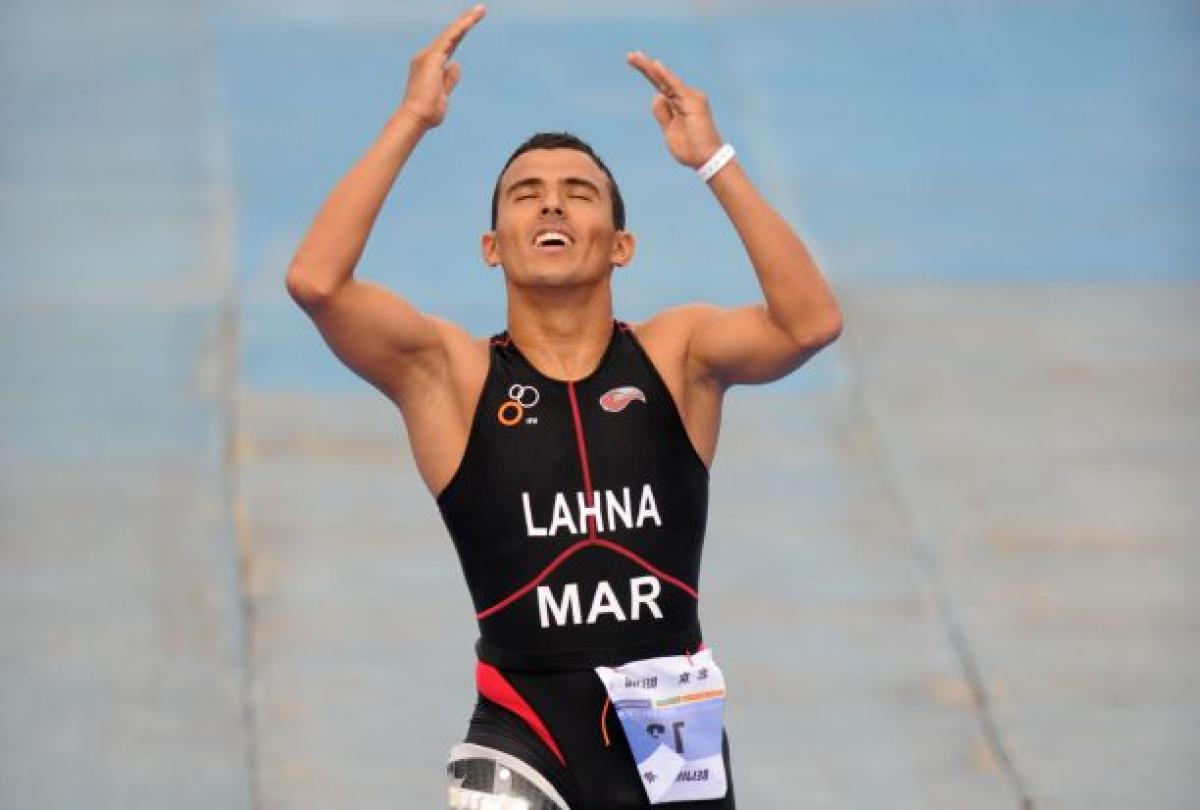 ⒸITU
By International Triathlon Union
Morocco's Mohamed Lahna was told "no" numerous times but used that as motivation to challenge his physical limits and represent his nation in para-triathlon in Rio 2016.
"As a child, I never thought I could do much athletically since it was often hard to just keep up with my friends, but I still tried as best as I could," Lahna said. "I was not allowed to participate in gym class at school, because of my disability. I was forced to just sit and watch on the sidelines. I guess you could say I am making up for lost time."
Lahna was born without a right femur. He was told he would be limited with his physical activities. However, hearing the word "no" did not sit well with him.
"My motivation comes from different places, depending on the event I'm interested in doing, but for the most part, I love doing things just for the challenge, for the passion of the sport," he said.
Lahna did not compete in his first triathlon until 2008. Instead he grew up playing various sports. He played soccer when he was young, but later became active in all three of the components of a triathlon, just not at the same time. He started as a strong swimmer, having conquered the feat of swimming across the Strait of Gibraltar, which connects the Atlantic Ocean to the Mediterranean Sea.
"I had heard of people swimming across the Gibraltar Strait and had seen on TV the annual Marathon des Sables where Moroccans often dominated," Lahna said. "I never thought one day I would be able to do it myself, but dreams start somewhere, it's just a matter of taking that first step towards them."
He also started training as an avid runner and mountain biker. However, in 2008, his prosthetist suggested that he "tri" out a sport that combined all three of his passions into one. Before collecting all of the equipment necessary to compete in his first race, he signed up to race in a triathlon.
He just had to borrow his friend's wetsuit for the swim and did the run portion with a pair of crutches.
For the first few years of his triathlon career, Lahna had to adapt into his racing style. He competed in the run portion while using a racing wheelchair because he did not think that he could run with the legs he had. That changed in 2011 when he was fitted for a running prosthesis and discovered that despite his doubts, he could run.
Lahna started competing in the International Triathlon Union (ITU) para-triathlon circuit in the PT2 sport class as the first Moroccan triathlete with an impairment and the only one in all of North Africa. He won his first ITU race in 2013 at the Edmonton ITU Para-Triathlon International Event, a race he returned to and won just last year (renamed the Edmonton World Para-Triathlon Event).
Now, this is the year that his sport will debut on the world stage in the Rio 2016 Paralympic Games. After winning the 2016 Bloemfontein ATU Para-Triathlon African Championships in March, he has locked up his position on the roster of athletes making the trip to Rio.
"It feels pretty good that I have my place for Rio early in the season, but the work isn't over yet," Lahna said. "The field is so strong and all the competitors are training harder than ever this year, so I just have to listen to my coach and 'keep my head down' and train, train, train.
"Being an athlete with a physical challenge, doing a sport that is not hugely popular at the moment in Morocco, there is limited coverage and exposure. But I hope by my representation, I can help influence a growth, not only for the sport of triathlon, but for disabled sports in general for my country also the whole African continent.
"I am so proud to see how disabled sports have continued to push boundaries and show the world that we are strong, competitive athletes as well," Lahna said.
He will also be the first Moroccan para-triathlete to compete in the Paralympics.
"Triathlon is still a very new sport in Morocco, although we have a small community growing little by little," Lahna said. "Culturally, triathlon is not generally regarded as a sport commonly present in the Arab countries, such as Morocco, but its presence is increasing. Lately we are seeing the number of triathlon events growing in North Africa and the Middle East."
Lahna is a team member of the Alameda O.N. Triathlon Team, whose mission is to grow the sport of triathlon in the Arab nations. But it has also had a huge impact on his training and his career in the sport.
"I had heard about this club that was interested in supporting triathlon in the Arab world (North Africa and the Middle East) and reached out to Hassan Afifi, the team principal," Lahna said. "He was so receptive to my story and took me on as an equal to his other elite triathletes. For me, this was groundbreaking. I am proud to be a part of this team and have been very excited to work with both the elite and development team."
Alameda O.N. Tri team – a triathlon team that supports elite triathletes and helps develop new triathletes at the grass root level in the Arab countries – is also a huge financial supporter for Lahna. He also is supported by the OCP Group which is a phosphate company in Morocco that supports its national athletes, and the Challenged Athletes Foundation that has helped with grant funding for equipment and training/travel fees.
"For this year, I am risking it all and taking on training for the Paralympics full-time," he said.
"When I started out with ITU events, in our field, there were just a handful of athletes. To see how our field has become so deep in just the last few years and to be able to participate in the first ever Paralympic Games for para-triathlon having come from where we started is such an amazing feeling."