Laurens Devos: Paralympic prodigy with high ambitions
At the age of 16 the Belgian became the youngest Paralympic champion in table tennis history. Many awards and media attention followed.
07 Jan 2017
Imagen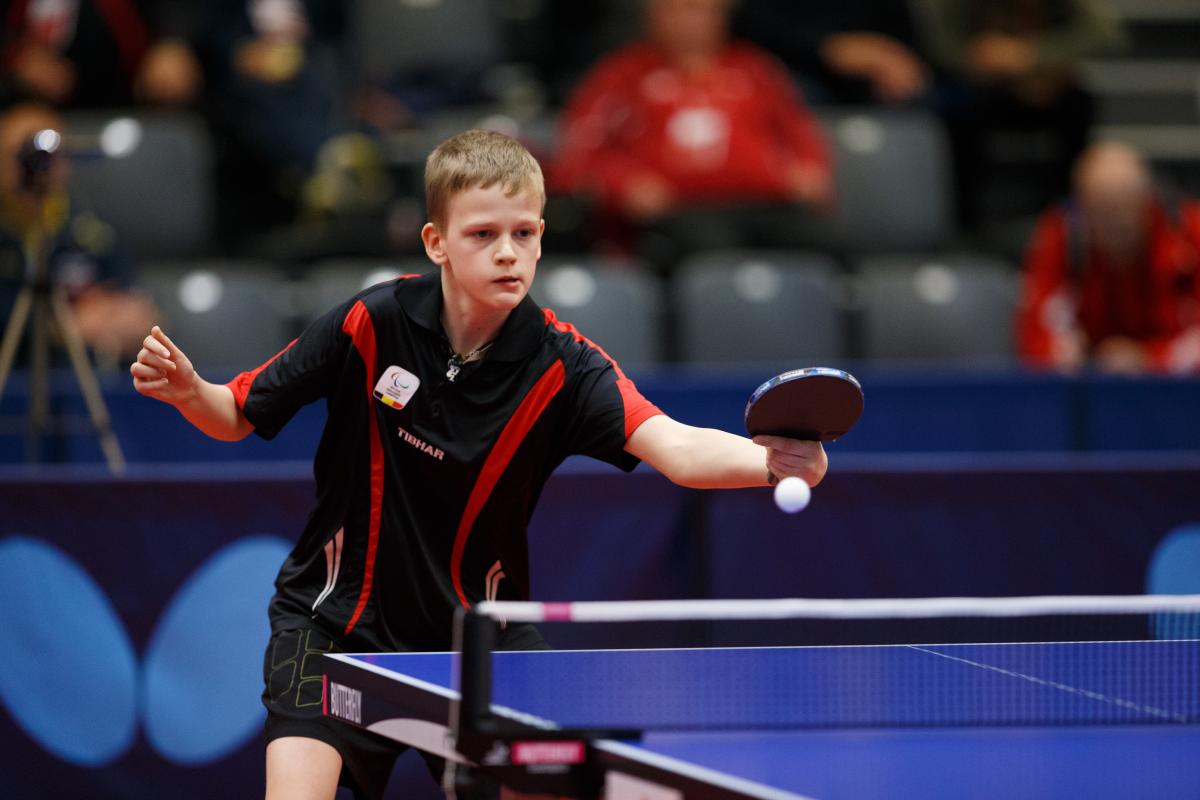 ⒸMorten Olsen
By Ivan Crabbe for ITTF
"The European title in 2015 was a turning point in his career. Before he played very well, but could not always win the match. That major title in Denmark gave him a big confidence boost."
Laurens Devos of Malle, Antwerp province, is the youngest child of a family of four; when he was born, seven weeks early, he encountered some hypoxia, which caused a light form of hemiplegia on the right side of his body.
The handicap did not slow him down, it made him stronger. He started with horse riding to relax his muscles, but rapidly discovered table tennis thanks to his siblings. Guy (25) is the oldest brother and plays on the second national level in Belgium. Robin (22) is the number two ranked player in Belgium and played in the doubles at the Seamaster Qatar 2016 ITTF World Grand Finals. Twin sister Isabel (16) also plays in the women's competitions.
At the age of five he started to play matches against Robin in the living room. The love for the sport just kept on growing over the years; so much that he insisted on attending the sports school for top athletes in Leuven.
"Laurens has always been very calm," said Robin. "When he wants something, he goes for it.
"Doctors said that because of his handicap he would never be able to ride a bicycle properly. He didn't want to believe it and after a dozen attempts he could ride a bike without falling. It is not always easy with his handicap. He has to work much harder than other athletes.
"As a brother, I am always there for him. He looks up to me. I am his idol and he wants to be as good as me."
Devos won his first Para Tournament in Hungary.
In 2014 he started to play Para Tournaments (class 9). On his debut, he immediately clinched the title in Hungary (Singles and Team). In the following tournaments, he also managed to gain a place on the podium; his first major title came in 2015 at the European Championships in Denmark. Another big surprise, but coach Carlo Agnello immediately saw that he worked with a very talented player.
"I have been coaching Laurens since 2012," explained Agnello. "He always seems very relaxed, but he is a perfectionist. He hates losing.
"The European title in 2015 was a turning point in his career. Before he played very well, but could not always win the match. That major title in Denmark gave him a big confidence boost."
Preparation for the new goal, the Paralympics in Rio de Janeiro, started. Maybe a medal, that was in everybody thoughts. In Tokyo, we would see the compensation of all the hard work. The youngster surprised the world on his Paralympic debut and won the title four years earlier, crushing every opponent in straight games.
A new star was born; his exploits were headlines in every news bulletin in Belgium. The youngest Paralympic table tennis champion kept his cool and is working hard again. In the meanwhile he had also competed in competitions for able bodied athletes.
As one of the best juniors in Belgium he also managed to win a bronze medal at the European Youth Championships in Zagreb, Croatia with the national team. Later in 2016 he proved his value again at the Sun International 2016 World Junior Championships in Cape Town, South Africa. A surprise quarter-final was the magnificent result (3-0 loss against China) for the Belgian team.
Laurens Devos and his team mates (Florian Cnudde, Valentin Pieraert and Thibaut Darcis) received the Trophy of Merit from the Royal Belgian Table Tennis Federation. Additional to the ITTF Male Para Table Tennis Star Award, he won two other prestigious prizes in his home country: Paralympian of the Year and the Golden Bat for the best young table tennis player. Deeply honoured and still humble: that is how we could describe the reactions of Devos after winning so many trophies.
"There were a lot of events for Laurens in the last months. It was not always easy for him because he still needs to go to school. He stayed calm and completed his exams successfully. The focus can now go back on his sport," said his mother Christel Knaepkens.
What will be the next step in his career? And how far can Laurens go? We asked coach Carlo Agnello:
"I thought the last months of the year would be difficult, but Laurens kept playing on a high level; his game keeps evolving. He can cope with the pressure and after these titles he even works harder to get better; his goal is to be a professional table tennis player and a member of the national team. Can he, do it? With Laurens, you never know…" he said.