London 2017: Day 10 athlete morning reaction
Athletes share their views after competing on the final day of the World Para Athletics Championships.
23 Jul 2017
Imagen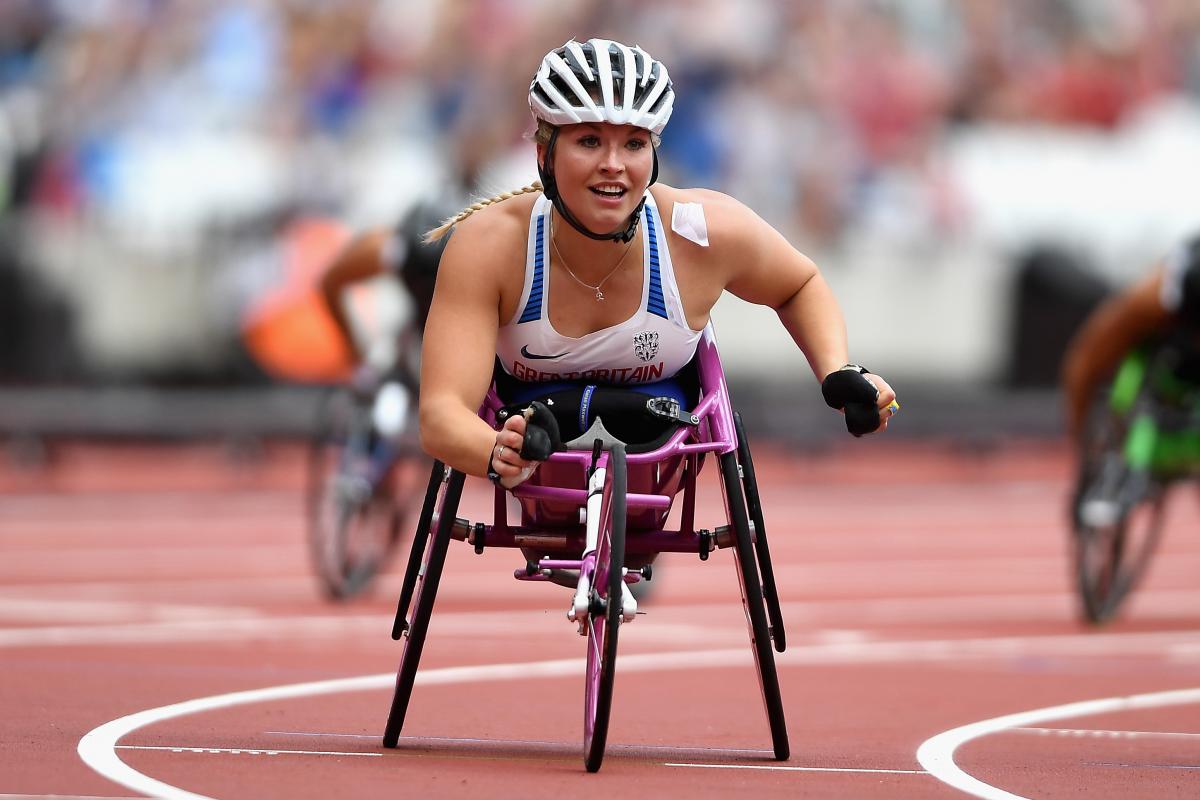 ⒸGetty Images
This page will be updated with athletes' quotes throughout Sunday morning's session of the World Para Athletics Championships London 2017.
Men's discus F12
Hermanus Blom (RSA) – Gold, AR
"It's unbelievable to do this at my first world championships. So many people have made this possible for me. We worked very hard and came in good shape but I am just happy I could throw my best here.
"It is a such a privilege to do it in this country. It is an honour to win here. It may sink in at some point but at the moment I can't really take it in.
"I was expecting a tough competition from Saman (Pakbaz, the defending champion). He won the shot put so I knew he was in good shape. But we had our pre-match plan and I knew I'd have to throw 51m to beat him. I know my abilities and what I can do, but such a massive occasion can make you stress too much sometimes.
"Now I'm going to have to convert to shot put because there's no F12 discus in Tokyo. I have three years to prepare."
Men's javelin F34
Mauricio Valencia (COL) – Gold
"I got Bronze in the Shot Put and I am really happy to give my country another medal especially Gold. Javelin is my favourite event out of the two which is really good as in Columbia they are really pushing the sport. "
Women's shot put F57
Nassima Saifi (ALG) - Gold
"This is the first time I have won a shot gold, so that is great. I am very happy. I have won discus golds but I didn't think I could win both here because the opposition was tough."
Women's shot put F37
Mindaugas Bilius (LTU) – Gold, CR
"Maybe I feel even happier for my team mate Donatas than for me. It is great we both get a medal – gold and bronze. Finally, we get the medals for our team and finally it is gold from the world championships. I have already collected titles from the major events but I was missing this one. It was the main motivation in the training and the whole season.
"With Donatas, we practice together and we are good friends. We have a good coach what is the key thing to perform well. Our families support us too. Every time in the morning before the big event, I cut my nails on hands properly. It is like a ritual.
"The competition was OK, we were happy it was not rainy today. It was just very difficult to focus on longer throws when you saw the other to throw under 15 metres."
Women's long jump T47
Taleah Williams (USA) - Gold
"I have never had to run the 400m and do the long jump on the same day before. It was nerve-racking (leaving the long jump before the final round for the 400m final). It was definitely a challenge and really hard. They helped me a lot to get my jumps in. The adrenaline also helped a lot.
"But the long jump is my favourite event and it was hard leaving early. It wasn't fun."
Men's javelin F54
Manolis Stefanoudakis (GRE) – Gold, CR
"I feel proud for my achievement today. In 2012, I was third at this beautiful Olympic stadium and to win gold now - it is a very important moment in my life. But the emotions standing on the podium will be mixed. I had a back injury just a month before the event and could not show 100% performance. I did not give maximum of power and energy into the throws, it was very difficult. Also the sector was not the best for me and we could have added more metres.
"This medal will have a special place in my collection. I want to give it to my daughter Georgia who is 8 and is a ballet dancer. But I also have to dedicate it to my coach."
Women's 400m T47
Anrune Liebenberg (RSA) – Silver
"I came here to run a PB; so I'm a little disappointed in my time and it felt like a Rio moment again. One thing I can take from this race and that is I am in no pain whereas after Rio I struggled with my back.
"The crowd and the people here in London are so amazing. All of their kind hearts are really touching.
"I'm going to Tokyo and hopefully I will be in good shape to run as it will be my last race before I retire."
Men's discus F46
Dmytro Ibragimov (UKR) – Bronze
"It's a lottery. What can you do? I've had a chest injury so I was not 100 per cent. I couldn't prepare in the way I wanted to.
"I was going to finish my career after these championships but after this result I can't finish like this. I'll have to go on. The Chinese are really strong but I think it is possible to beat them in the future."
Men's 5,000m T20
Cristiano Pereira (POR) – Gold, CR
"I am very happy. I planned to go hard at the front. I was hoping to break the world record but anyway the gold medal is great."
Michael Brannigan (USA) – Silver
"I felt tired after the 800m last night but I still pushed myself and gave my best. The Portuguese runner went very quick from the start. I tried to reel him in over the last mile, but he was too far away.
"I am happy I have two golds and a silver. This has been a great experience."
Men's shot put F44
Akeem Stewart (TTO) – Gold, WR
"This was a dream come true. I finally had an opportunity to do the shot put in a championships, so I'm really happy. The javelin is a hobby, but this is what I can do when I train for it.
"I have been injured so it was a nice surprise for me to throw 19m. I knew I could do 18 but I usually rotate so I didn't think 19 was possible throwing off one leg. I could have thrown further.
"I wanted to break the world record to write my name in the record books, but I didn't think I'd break it by so far.
"I had to settle for fifth in the discus but I'm going to come back and win that too."
Mens 100m T35
Ihor Tsvietov (UKR) – Gold
"I am satisfied with the victory. I cannot say anything about the run."
Jordan Howe (GBR) – Silver
"Well, it was a PB and a silver medal so it is great. I knew it was not going to be easy to race these boys as they are the fastest in the world. It was my time to show off and I did.
"At first, it was hard to wait for my competitions to come. I was about to stay home to prepare a bit more with my training group. But I enjoyed it and liked to see every athlete in the team succeed. So it is going to be hard towards Tokyo. But for me, I expect more medals in the future, I was the one to progress now and hopefully in the Tokyo, I would be the one to take that gold."
Men's 100m T53
Brent Lakatos (CAN) - Gold
"I'm so happy to have got that fourth gold. It has been an amazing week and better than I expected. As soon as I walk into this stadium with 20,000 people, I get a smile on my face. It's easy to get the energy up.
"There is a chance of coming back in 2019 and I hope they keep it here. When people see that thousands of people are watching and they see the atmosphere, they want to be a part of it. We take it to other countries but you don't get the support we get here and it's more fun to stay here."
Women's 100m T53
Samantha Kinghorn (GBR) –Gold
"I literally had no idea. I was just staring straight down as I crossed over the line, I heard the raw of the crowd so I knew I must have medalled but I had no idea where position. I can't believe I'm double World Champion; It's absolutely incredible.
"I'm excited; for me the 800m is for everyone. You have no idea where you are going to come in 800m because it's just tactics. I'm going to try and get myself in a good place and then hope it's a sprint finish."
Live coverage and results from the World Para Athletics Championships London 2017 can be found each day at www.worldparaathletics.org/London2017. Around 1,150 athletes from 90 countries will compete in 202 medal events between 14-23 July.