Lyon 2013 - Day eight evening review
McFadden and Martin write their names into history by completing clean sweeps in T54 and T52 classes.
29 Jul 2013
Imagen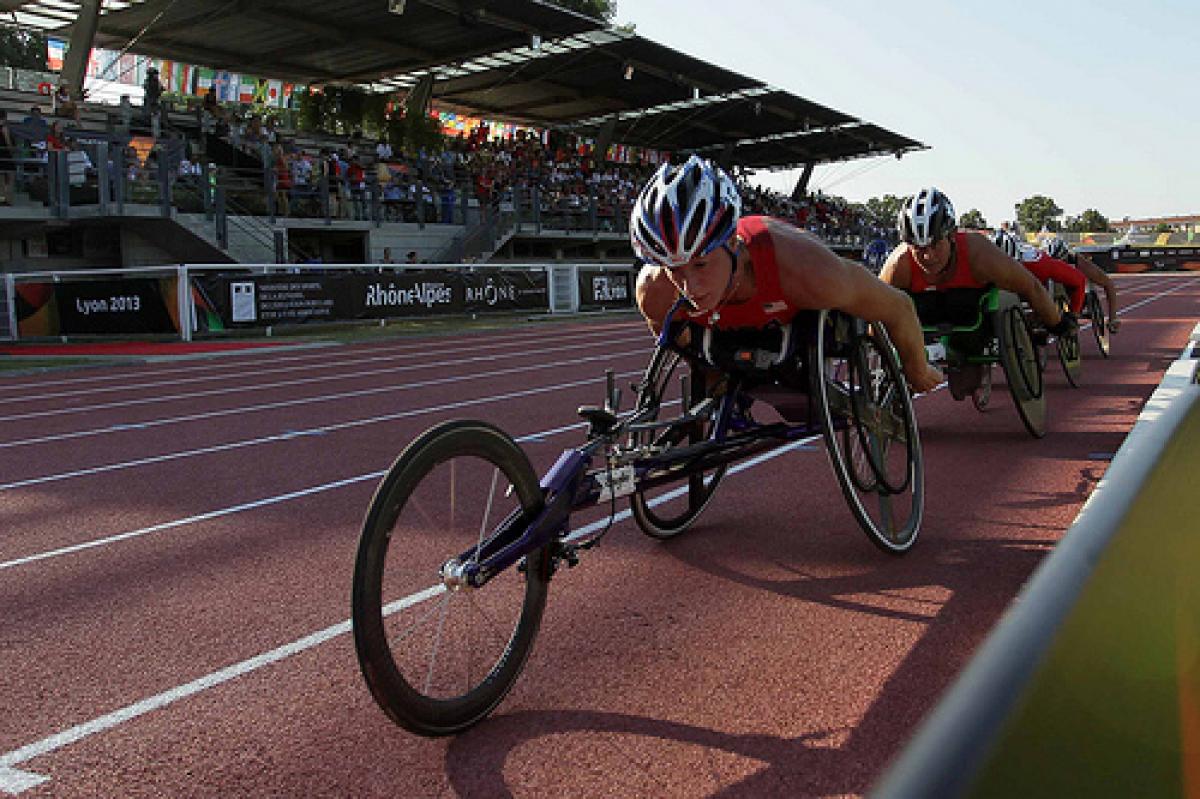 ⒸG-Picout
By IPC
USA's Tatyana McFadden underlined her position as one of the planet's greatest athletes on Saturday (28 July) by becoming the first person ever to win six individual gold medals at an IPC Athletics World Championships.
After winning the 400m in Lyon, France to claim a clean sweep of all T54 titles from 100m to 5,000m, McFadden said she was in a state of shock.
"I can't quite believe it," said McFadden who destroyed the field to finish in 53.74 seconds. "It's definitely a dream come true – the first woman to win all events from the 100m to the 5,000m. History is made.
"To sweep six in a row has been really, really tough but you have to have belief in all events you do because if you have any doubts you already start to lose the race," added McFadden who won four London 2012 golds.
Behind McFadden were the Swiss duo of Manuela Schaer (55.34) and Edith Wolf (56.67).
Not to be outdone, McFadden's 19-year-old teammate Raymond Martin became the first man to win five individual world titles by winning the 400m T52 in 59.85, a championship record.
"The IPC added the 1,500m to my classification and I decided to take on a full programme like I did for London and it paid off," said Martin who finished 15m clear. "I came in confident and knew it would be tough. It definitely was not easy. I knew my training would put me to where I wanted to be."
Martin was joined on the podium by Gianfranco Iannotta (1:03.03) and Steven Toyoji (1:03.53), who both set personal bests, for an American one, two, three.
Yunidis Castillo (12.90) completed a double triple by winning the women's 100m T46 despite having to run into a 5.2m/s headwind. The Cuban has now won the 100m, 200m and 400m titles at the 2011 and 2013 World Championships, as well five Paralympic golds, and today finished in front of Russia's Nikol Rodomakina (13.21) and Poland's Alicja Fiodorow (13.55).
The afternoon's first event saw Poland's world record holder Barbara Niewiedzial win the women's 1,500m T20 in 4:40.50, ahead of teammate Arleta Neloch (4:47.68) in silver and Hungary's Ilona Biasci (4:50.70) in bronze.
Russia picked up their first gold of the afternoon when Elena Pautova (4:43.77) wearing long, bright yellow socks put on a dominant display in the 1,500m T12. Silver went to Morocco's Meryem En-Nourhi (4:48.68) in a personal best time, whilst bronze went to Spain's Elena Congost Mohedano (4:50.33).
Running into a headwind of 1.1m/s, Russia's 100m world champion Dmitrii Safronov put on a remarkable sprinting display to smash the word record and win gold in the 200m T35 with a time of 24.69 seconds. Ukraine's Iruii Tsaruk (25.18), the previous record holder also set a personal best in silver, whilst bronze went to Argentina's Hernan Barreto (26.13) in an Americas record.
Having medalled at the last two Paralympic Games and World Championships, Germany's Claudia Nicoleitzik (15.48) finally won her first major gold medal with victory in the women's 100m T36. A strong last 30m from the German denied a sprint double for Korea's 200m world champion Min Jae Jeon (15.61). Bronze went to Russia's Aygyul Sakhibzadaeva (15.68).
Brent Lakatos picked up his fourth gold of Lyon 2013 as part of the Canadian team that was victorious in the 4x400m relay T53/54 in a championship record 3:11.33. Thailand (3:12.38) set a national record in silver with Korea (3:15.21) taking the bronze.
China's Paralympic champion Hongzhuan Zhou won a thrilling 400m T53 in 56.76 breaking a 15-year-old championship record. In a tight finish USA's Shirley Reilly (56.98) did enough to hold off Australia's Angela Ballard (57.00).
Tunisia's Walid Ktila (53.61) beat Australia's Rheed McCracken (53.71) on the line to win the men's 400m T34. Bronze went to Mohamed Hammadi (55.02) of the UAE.
"This is the fourth gold medal I've won," said Ktila. "I was training harder for this race as it's a special one for me. It was a really tough finish with Rheed but I was faster today."
A championship record 49.07 in the men's 400m T12 saw world 200m silver medallist Nambala Johannes win Nambia's first Lyon 2013 gold ahead of Russia's Alexander Zverev (49.26) and Cuba's Luis Manuel Galano (49.52).
Russia's Egor Sharov, the winner of 800m T12 gold earlier in the week, was victorious in the 400m with a personal best 49.16. Silver went to Germany's Thomas Ulbricht (50.61) and bronze to Hyacinthe Deleplace of France (51.18).
World record holder Daniel Silva of Brazil set a championship record of 50.38 in the 400m T11, adding to his 200m bronze. Silver went to USA's David Brown (51.71) and bronze France's Timothee Adolphe (52.13).
The women's 400m T13 was won by Russia's Olena Gliebova (56.76) ahead of Mexico's Thiare Casarez (58.78) and Great Britain's Erin McBride (1:01.28) in silver and bronze respectively.
Michelle Stilwell completed a hat-trick of world titles in the final race at the Stade du Rhone taking gold in a championship record of 35.71 in the 200m T52. Silver and bronze went to Kerry Morgan (40.84) and Cassie Mitchell(42.84) of the USA.
The closet event of the day came in the field when just 8cm separated the podium finishers in the men's long jump F11. USA's London 2012 silver medallist Lex Gillette took gold with the aid of a 7.0 m/s tailwind that helped him jump 6.32m. Silver went to Chinese Taipei's Chuan-Hui Yang (6.30m) and bronze Spain's Xavier Parras (6.24m).
Records galore fell in the men's discus F32/33/34. Algeria's Lahouari Bahlaz (22.75m/1024) broke the F32 world record for gold whilst China's Yanzhang Wang (46.79m/952) and Saudi Arabia's Hani Alnakhli (32.87m/950) broke the F34 and F33 championship records respectively for silver and bronze.
The women's shot put F12 saw Russia's Marta Prokoryeva throw 13.12m to win gold and break a seven-year-old world record ahead of teammate Sofia Oksem (12.15m) in silver. Former world record holder Tamara Sivakova (11.99m) of Bulgaria took bronze.
Azerbaijan waited until the final day of track and field to win its first gold of Lyon 2013 with Vladimir Zayets taking advantage of a 5.0m/s tailwind to win triple jump F12 gold. His jump of 15.30m saw him beat Uzbekistan's Doniyor Saliev (15.06m) and Siarhei Burdukou (14.75m) of Belarus into silver and bronze.
Cassie Mitchell set a championship record 5.79m (998 points) to take top podium spot in the women's shot put F52/53. Silver went to Ukraine's Svitlana Stetsyuk (4.77m/896) and bronze Canada's Pamela Lejean (4.46m/839) – both set championship records.
The men's shot put F38 was won by Ukraine's Oleksandr Doroshenko (14.71m) however the loudest cheer was reserved for silver medallist Moussa Tambadou (12.72m) of France while Czech Republic's Dusan Grezl (12.34m) took bronze.
"That's wonderful," said Tambadou who received a great ovation from the home crowd. "I got a medal and for me it's the most important, besides it happens here in France and I am proud for the supporters."
The 2013 IPC Athletics World Championships, featuring over 1,000 athletes from nearly 100 countries, runs through until Sunday 28 July. It is the biggest gathering of international athletes since London 2012 and is being streamed each day live via www.ParalympicSport.TV.
Live results can be found at the Lyon 2013 IPC Athletics World Championships website whilst updates and behind the scenes pictures can be found at twitter.com/IPCAthletics and facebook.com/IPCAthletics. More pictures can be found at flickr.com/ipc-athletics-lyon2013.