Lyon 2013 - Day one - flash quotes
Quotes from medal winners from Saturday's (20 July) action.
20 Jul 2013
Imagen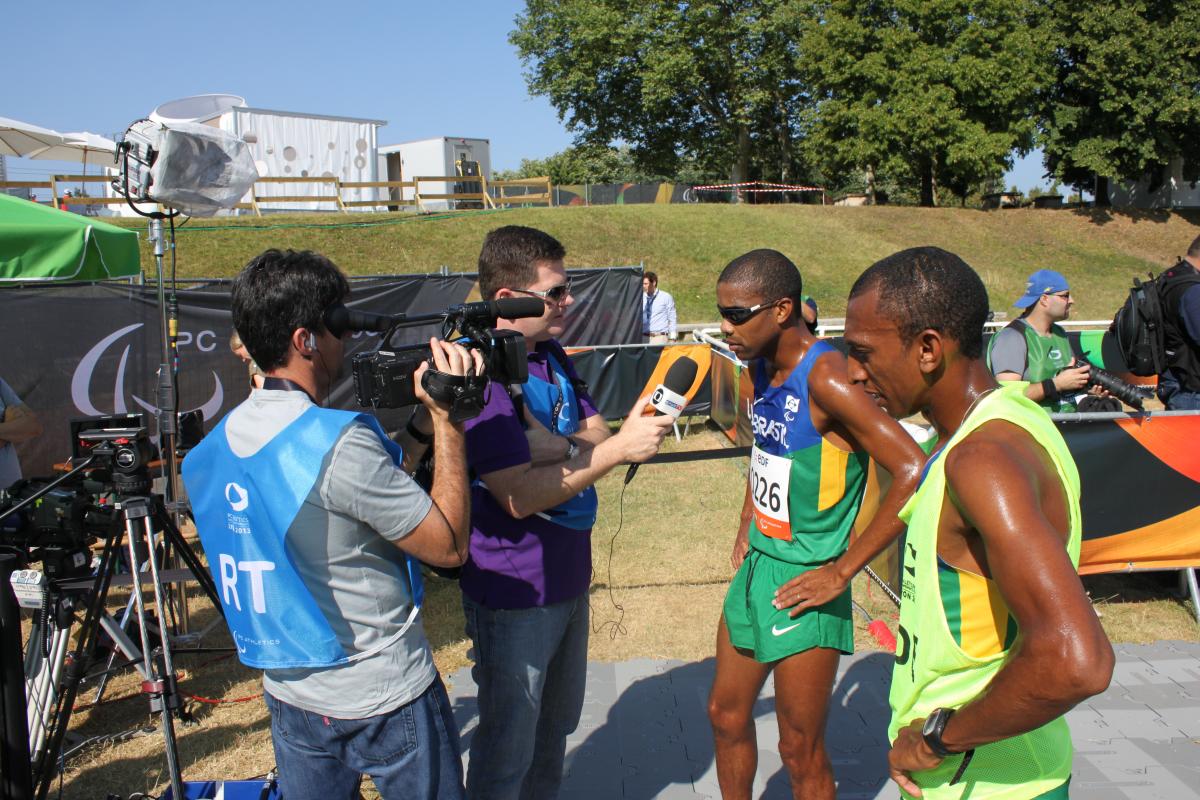 There are seven medal events in this morning's session. Quotes from the winners will appear below.
Men's 5,000m T11
Gold medallist - Odair Santos (BRA)
"I feel really happy, I did a very great run. I cannot wait to receive the gold medal. I felt confident and I thank my guide very much!!!"
Silver medallist - Cristian Valenzuela Cristian (CHI)
"I did what I expected to do! I feel a little disappointed but I enjoyed the track!"
Men's 5,000m T12
Gold medallist - El Amin Chentouf El (MAR)
"I was feeling confident about the win, but I had to confirm my status and to win the gold medal.
"It is a good way to prepare for the 10,000m and the marathon. I postponed ramadan to be competitive.
"I dedicate this victory to my son and country. The excellent time is a bonus"
Silver medallist - Abderrahim Zhiou (TUN)
"I feel really exhausted, it was very hard because of the heat, but I am really pleased to be second! El AminChentouf was definitely the best and he was out of reach!"
Men's 5,000m T46
Gold medallist - Samir Nouioua (ALG)
"I did a great finish, I was feeling strong. Now I will take some rest in order to perform well for the 800m"
Bronze medallist - Michael Roeger (AUS)
"I did a good run, I had the lead most of the time. I followed the coach lessons but unfortunately I have been overtaken during the last lap. I feel disappointed but that is the game!"
Women's 200m T34
Gold Medallist - Hannah Cockcroft
"A bit the same scenario than in London, I was favourite with no great challenge, however it was a bit harder today with the heat and the rivals improving, I want to keep on going breaking records and winning medals. I am glad people came just to support me."
Men's long jump T36
Gold medallist - Roman Pavlyk (UKR)
"I feel really happy to beat the world record I set 8 years ago, it is a great performance"
Women's Shot Put F58
Gold medallist - Angeles Oritz (MEX)
"I was not sure to win until the very end, nothing was won in advance, I am glad because the training was so intense. I feel proud for my country Mexico, we will keep on training harder and harder. I dedicate this victory to my daughter who celebrated her birthday yesterday."
Men's 1,500m T52
Gold medallist Raymond Martin (USA)
"I felt great it was a shiny day for me and America, but a little bit too hot. I did a pretty good race and I feel quite confident for the upcoming races."
Men's 200m T44 heats
Jarryd Wallace - new world record of 22.32
"It feels pretty good. We've been putting in a lot of hard and I made a technical change about one month ago with the prosthetic and it's been the right decision. I'm just excited to get out here tomorrow night and lower it again."
Men's high jump - T42/44 final
Gold medallist and world record - Maciej Lepiato (POL)
"It's a very good day for Poland and for me winning a gold medal and breaking a record is fantastic. Each first attempt was a success, I am in very good physical condition. The competition with Jonathan Broom-Edwards is hard but I have been stronger this time."
Men's shot put F42
Gold medallist and new world record - Aled Davies (GBR)
"It was a really wonderful afternoon. I won a gold medal and I broke the world record. Since London I trained a lot and I improved my technique. Now I feel more confident for the upcoming events."
Men's 10,000m - T54
Gold medallist - Marcel Hug (SUI)
"I am very happy, I did the perfect race and reached a good top speed. It was my first competition so I had to save some energy for the coming ones. I feel confident for the next days."