Madrid 2018: Spain end home Worlds with victory
Hosts defeat Colombia 4-1 and finish in fifth place
17 Jun 2018
Imagen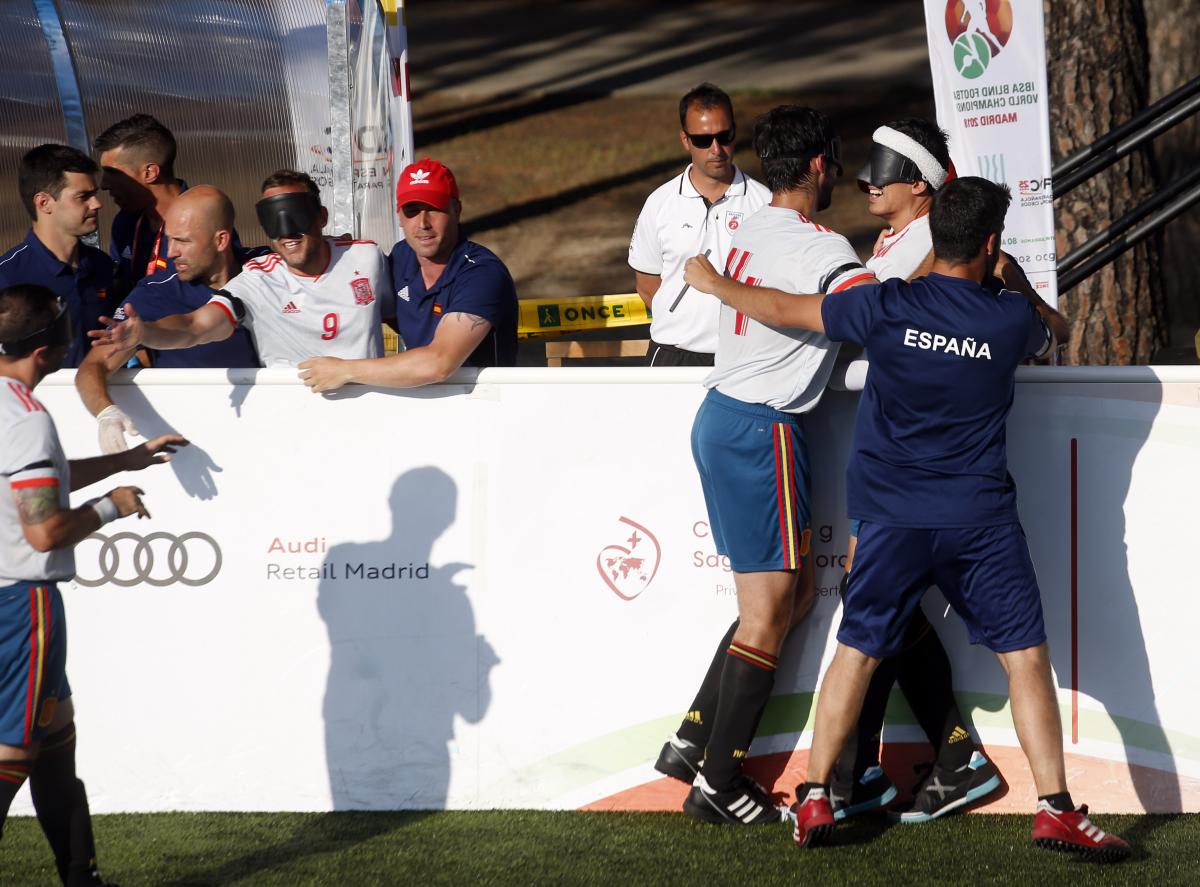 ⒸMadrid 2018
By IBSA
Spain concluded their home International Blind Sports Federation (IBSA) World Championships with fifth place in front of adoring crowds in Madrid on Saturday (16 June).
The hosts were competing for honours game against Colombia and put on an impressive display to take a 4-1 win.
A frantic first half saw three goals from Youssef El Hadoui, Ivan Lopez and Adolfo Acosta and one in reply for Colombia.
Lopez said: "We had a very strong start to the game. We knew it was going to be tough but we took a very early lead, and then we got the second and third goals very quickly after that.
"I think we were more effective in this game, compared to the others. We were hoping for a better position but it's a well-deserved fifth spot.
"We were a bit unlucky with the team we faced in the quarter final [Russia]. We made a mistake with two minutes to go and they punished us for it. Any mistake at this level can be fatal. We managed to overcome that result and finish as best we could."
Sergio Alamar added: "It was tough but I think with the support of the crowds we had extra motivation. We gave our all for Spain."
Colombia's Duvian Lopez commented: "We are disappointed. We were hoping for a different score but it wasn't to be. Of course I don't want to take anything away from Spain.
"I think we played well enough to have a clear score line at the end but unfortunately we couldn't put the ball away and Spain were much more effective in front of goal."
Three other play-offs took place on Saturday ahead of Sunday's (17 June) final and bronze medal match.
England won penalty shoot-out at last
England took on Morocco in the hunt for seventh place, having to endure their third penalty shoot-out in a row.
The first half ended 0-0 after an evenly matched opening 20 minutes in which neither side really threatened the goal.
Daniel English came close to breaking the deadlock for England in the second half, but his run ended in the side-netting. Othmane Deriouche then made a good effort at the other end but Dylan Malpas just tipped it wide.
Morocco continued to push and Zouhair Snisla hit the woodwork for the closest attempt so far.
A goal finally came when Abderrazak Hattab brought down Robin Williams on the edge of the area to hand England a golden opportunity. Brandon Coleman coolly drilled the ball past Hattab and the rest of the wall to take the lead.
But Morocco refused to give-up. Zouhair finished a deadly lone run from the wing, unchallenged, and then powered his shot home to level the score. Hattab then fired an 8m penalty wide and the clocked ticked down to penalties.
England won 2-1 in the penalty shoot-out and secured the seventh place in the tournament.
When asked if he was disappointed with Morocco's result, Zouhair said: "No, I am not disappointed. It's an experience. I am not looking for a win in the match or to win the cup, it's very hard.
"England were much better than us. But we fought them by ourselves. We didn't stop until the finish."
Mali give Iran a fright
Mali forced penalties against Iran
Mamadou Thiam struck for Mali in the 2nd minute with an assist from Mamadou Kone. But Iran immediately responded when Rasool Baseri fooled the Mali defence in the box to roll the ball home.
The duo of Seydou Sow and Thiam then showed their attacking prowess with pin-point accuracy. Sow fed the ball to Thiam who was waiting in front of goal to strike. And he took the lead for Mali.
Four minutes into the second half a refreshed Iranian side came out fighting. Sadegh Rahimi was unstoppable as he made his way goal-wards from the centre line and completed an incredible run with a powerful drive to equalise 2-2.
In the penalty shoot-out, Mali went first but Bandiougou Traore fired his shot wide. Rahimi followed, finding a way past Diallo to give Iran the lead. Kone then missed for Mali which meant it was down to Iran's Ahmad Shahhosseini.
Diallo did get his fingers onto the ball but could not stop it and Iran claimed a 2-0 victory.
Iran were happy to have won but overall felt they should have reached a better position.
Rahimi said: "Our team must be better than this. We can go in the A-teams better than these places. But we are not disappointed and we will try hard in the future."
Mali reached a very respectable top 10 finish on their World Championships debut.
Mexico claim 12th place
Mexico had to come back against Thailand in the opening match of the day.
It did not take long for Thailand to breach the Mexican goal as Panyawut Kupan fired one home in his team's first attack of the game.
Kupan made his way in from the wing and confidently struck the ball from the edge of the area.
Mexico replied in the 8th minute when Jorge Lanzagorta was sandwiched by two Thai defenders in the box to be awarded a penalty. He duly found the top corner.
It was another piece of set play that delivered Mexico the winning goal. Lazagorta made his way round the Thai wall and took the shot that gave his team a 2-1 victory.
Brazil and Argentina will go for the title on Sunday, while China will face Russia for bronze.
The 2018 IBSA Blind Football World Championships, featuring 16 teams, are the biggest in history. The competition has seen debuts for Mexico, Central American champions Costa Rica, Mali, European champions Russia, Thailand and Iran.
As well as the title, the winners of the sixteen-team tournament will qualify for the Tokyo 2020 Paralympics.
A full schedule is available on Madrid 2018's website.
*Editor's note: The International Paralympic Committee suspended the Russian Paralympic Committee on 7 August 2016 for its inability to fulfil its IPC membership responsibilities and obligations, in particular its obligation to comply with the IPC Anti-Doping Code and the World Anti-Doping Code (to which it is also a signatory). As a result of the suspension, Russian athletes cannot enter IPC sanctioned events or competitions, including the Paralympic Games.