Marquez, Obero, determined to make history…again
The Filipino wheelchair dance duo want to bring "pride and honour" to their country by winning gold at the first Asian Championships.
28 Sep 2016
Imagen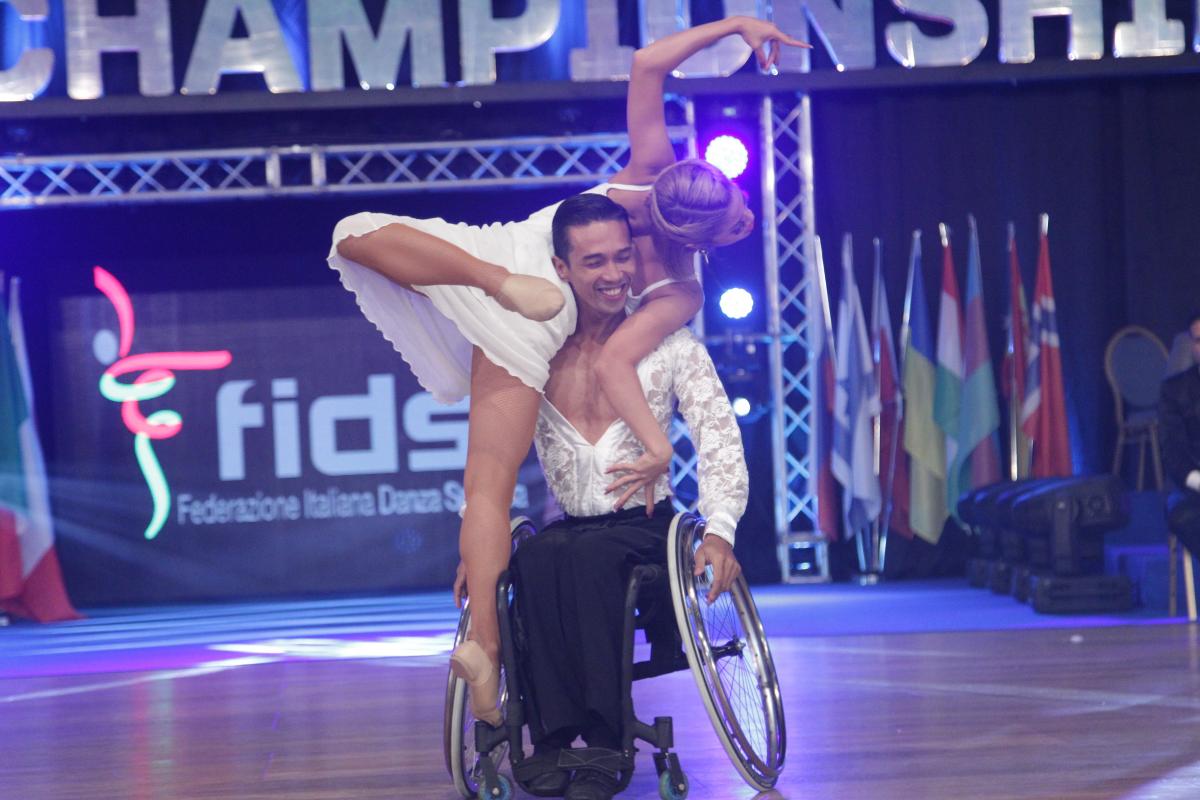 ⒸDS Photo Dance Sport
By By Crystal Peiris | For the IPC
Filipino world champions Rhea Marquez and Jun Julius Obero are determined to capitalise on their successes so far as they go for gold at the inaugural IPC Wheelchair Dance Sport Asian Championships from 5-6 November.
The pair took the combi freestyle class 2 title at the World Championships in Rome, Italy, in 2015, surprising many of the established couples. They are now hopeful of a repeat performance in New Taipei City, Chinese Taipei.
"Our first aim is to become the Asian champions, bringing pride and honour to the country," they said. "Second is not to give all the adjudicators the choice to give us a lower rank, and that is by putting up a good show as we perform, and the last thing, is to make our coach happy and satisfied."
Rhea Marquez and Obero have been inspired along their journey by their coach, Genice Marquez.
When Genice Marquez was invited to become an adjudicator at an international wheelchair dance sport competition, his athletes were spurred on to take competition more seriously. This helped them realise their potential and go on to participate in many events, even venturing outside of their comfort zone and make appearances on television shows.
An advocate of wheelchair dance sport in the Philippines, Genice Marquez decided to start up a local competition, eventually going on to organise and host a successful international event.
Rhea Marquez and Obero are honoured to have come from such humble beginnings, and to often be the only couple representing their country.
Obero fondly remembers their World Championships debut: "It is still engraved in our memory how we both managed to make it to the top; firstly, as the only Asian country who made it to the finals and ranked fourth in the Combi Latin class 2, and second, we became world champion in the freestyle category. These accomplishments have been so far our most memorable competition to date."
Participating in the first ever Asian championships will help the pair strive to reach their goals. They aim to build and promote wheelchair dance sport in the Philippines.
Through this Obero has high hopes: "[Our aim is that] everyone can see that Filipino wheelchair dance sport athletes' excellence encompasses not only the able persons but also the physically challenged."
Obero offered some sage advice to his fellow athletes.
"We keep going no matter what obstacles we are going to face in the near future," he said. "To all those aspirants, the key to success is to always believe in yourself first, no matter what. When you start to believe in yourself, that is the moment others will believe in you. Do not ever let your disability be a hindrance for reaching your goals in life. Make your disability a motivation to always move two steps forward.
"Never be afraid of failure, never get discouraged once you (have) failed, and never get tired of always trying. Consider these things as stepping stones towards success. Don't be afraid to fail, worry about the chances you miss that you don't even try. Challenges will always be there, but we both managed to deal with them, with the great help of our coach and to those people who believed in us up to this very moment of our triumph."
The inaugural IPC Wheelchair Dance Sport Asian Championships will be held 5-6 November. Around 60 dancers from seven countries are expected for the competition at the Sanchong District Complex Gymnasium, where the New Taipei City Cup Open was hosted in 2015.