Masters returns to Ukraine for first time
US Paralympic rowing and Nordic skiing medallist visits the country where she was orphaned and meets children, injured soldiers and the US Ambassador.
09 Nov 2015
Imagen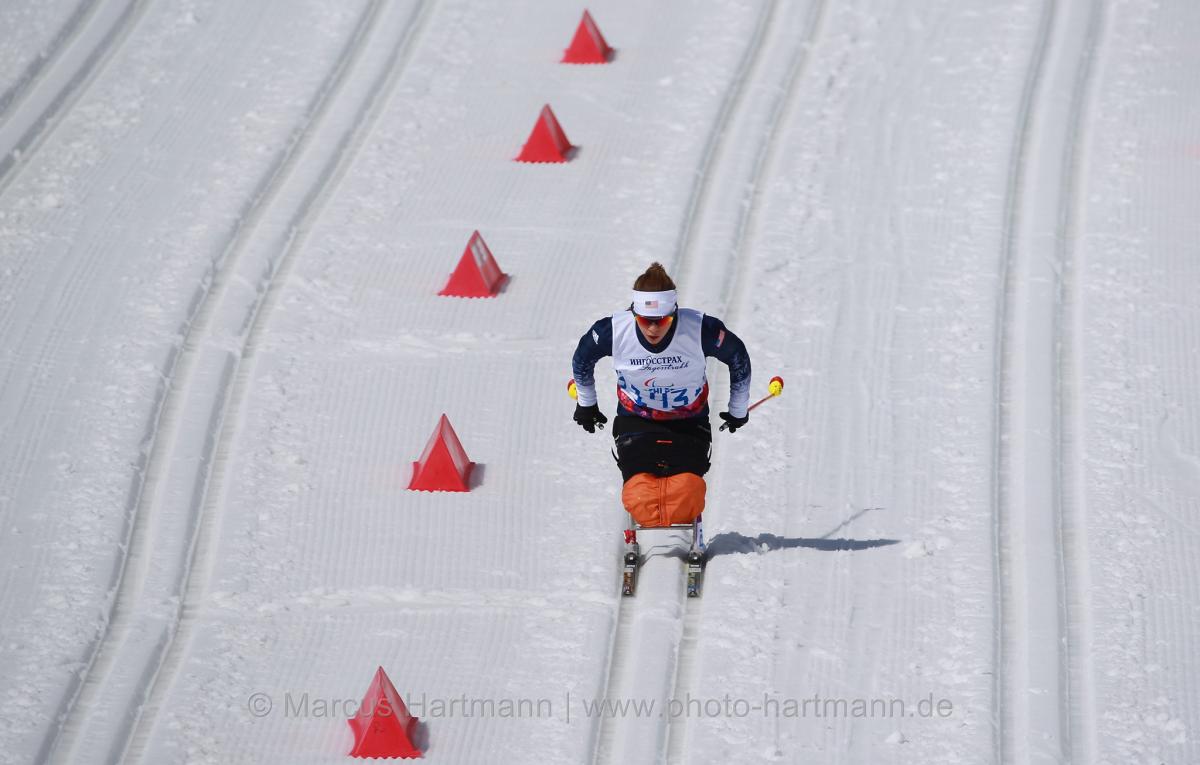 Ⓒwww.photo-hartmann.de
By US Paralympics
"So many things were going through my mind. There was anxiety — this was my first time I've been back to Ukraine in some 19 years. But there was also excitement. I've wanted to do this for a long time."
When Oksana Masters walked into a Ukrainian orphanage recently and caught a powerful whiff of borscht, she took a trip back in time.
Suddenly it was 1995, and the US Paralympic athlete was a seven-year-old orphan again, jittery with hunger.
"It was like being in a time capsule," said Masters, 26, who won a bronze medal in rowing at the London 2012 Paralympic Games and a silver and bronze in cross-country skiing at the Sochi 2014 Paralympic Winter Games. "Instantly, I was back.
"So many things were going through my mind. There was anxiety — this was my first time I've been back to Ukraine in some 19 years. But there was also excitement. I've wanted to do this for a long time."
That Masters even returned to her homeland is an indication of her remarkable resilience. Her childhood was the stuff of nightmares, as grim and haunting as anything from Dickens.
The short version: She was born in 1989 in Khmelnitsky, Ukraine, with six toes on each foot, five webbed fingers on each hand, no thumbs and unformed legs — all the result, it is believed, of in utero radiation poisoning from the Chernobyl nuclear reactor incident.
Her parents immediately abandoned her. Over the years she was abused and nearly starved in orphanages for people with impairments.
Then a woman named Gay Masters — now a University of Louisville professor — adopted and brought Oksana to the USA at the age of seven. Both of her legs were amputated. She took up rowing at 13 to deal with a lifetime of repressed rage. And a little more than two decades later, she won both summer and winter Paralympic medals — with plans for winning more.
Incredible? Ukraine officials thought so, enough to invite Masters to return to the place that was nearly her undoing.
"Truthfully, I don't know if I'd even be alive if I hadn't left Ukraine. When I came to America I was 30 inches tall and weighed less than 30 pounds — less than a three-year-old," said Masters, who arrived in Kiev on 27 October and returned on 1 November.
"I had nearly starved to death.
"A lot of people were surprised that I would even want to go back. My friends, my mum, were worried. But I really connected with the people, the culture, the food. It was awesome."
Over a the course of a week, Masters sat down with orphans, wounded soldiers from the Ukraine-Russia conflict, US Ambassador Geoffrey Pyatt and local government officials. She was featured in nightly news reports and newspaper articles.
She and her mother participated on panel discussions about adoption, orphanages and opportunities for people with impairments.
"They were so welcoming," Masters said.
Among her memorable moments:
- In an orphanage outside of Kiev, Masters established an easy rapport with a five-year girl. When she got up to leave, the girl followed. "She was looking at me with this bright smile, these bright eyes," Masters said. "Then she kind of hugged me. I saw myself"
- In a military hospital, she removed a prosthetic leg, handed it to a group of recently wounded soldiers to inspect, and started a conversation.
"There eyes kind of popped a little," she said. "Then they started laughing. They saw how easy it was for me to take off my leg and give it to them. They saw I could move around. I hope it kind of gave then the sense, 'Hey, it's going to be OK.'"
- Time did not permit a trip to her hometown, said Masters, who has never contacted her birth parents. In Kiev, however, she ran into an old classmate, a product of the orphanage system.
"I guess I was a little rebellious," Masters said. "She remembered me saying, 'No, no, no."'
- Although it was not included on the original itinerary, Masters met with the US Ambassador to discuss the plight of orphans and wounded soldiers. "No orphanage in the world is a safe environment for a child," she said.
There were lighter moments, too. Everyday Ukrainians, recognising her from news accounts, sidled up for casual chats. On her last night in Kiev, she was treated to a rich Ukrainian dinner.
"I'm thankful I was able to go. It was my home for seven years. It's half of me," she said. "Would I go back? God yes.
"But if I hadn't left the orphanage, I would've never have known what a mum is, I would have never known what a hug is. I would have never known what love is.
"My mum saved my life."