McClelland looks to take back para-triathlon title
Great Britain's four-time world champion had her streak snapped last year by compatriot Lauren Steadman. The two are expected to battle again for gold.
14 Sep 2015
Imagen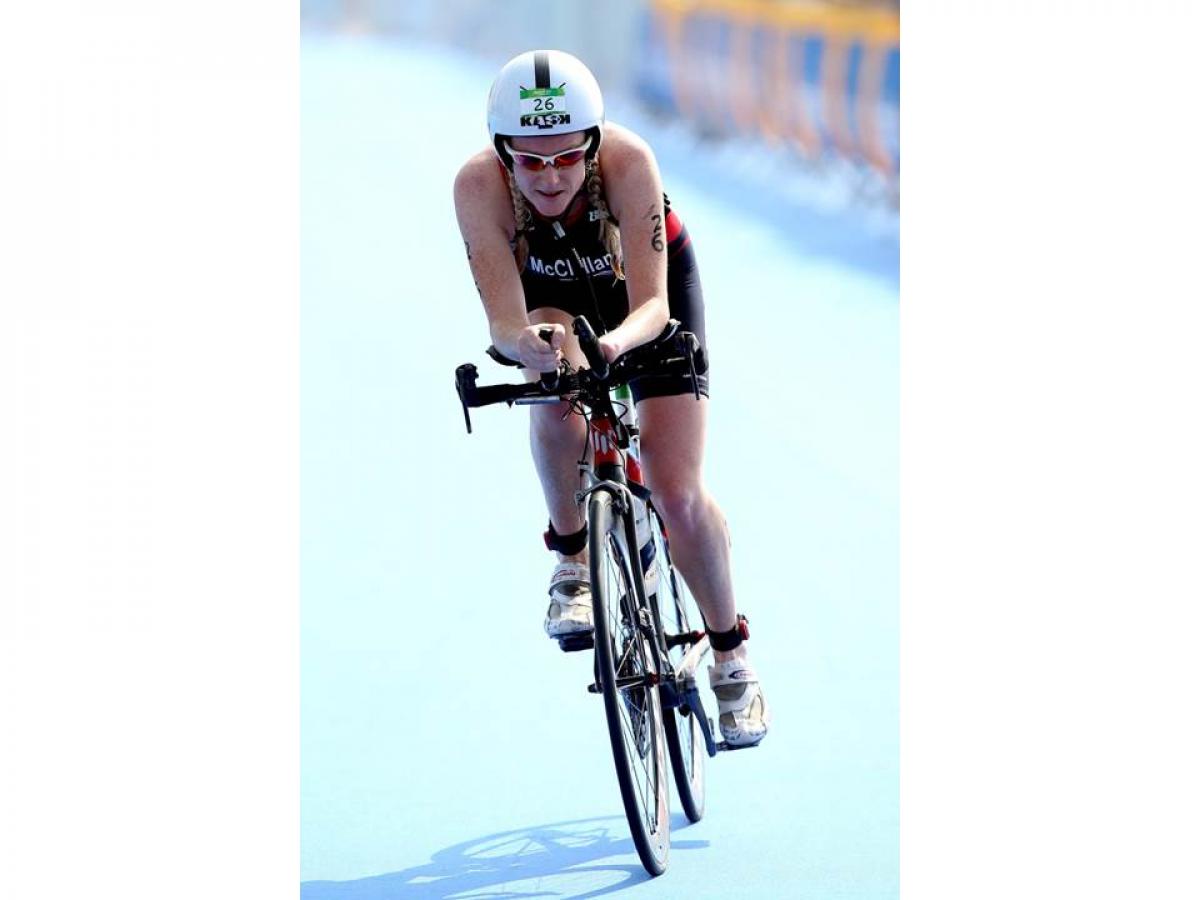 ⒸGetty Images
By Megan Mindel | For the IPC
"I am really looking forward to putting everything together and putting my body to the test come race day."
After a runner-up finish in 2014, Great Britain's four-time world champion Faye McClelland will look to return to the top when the Para-Triathlon World Championships begin Friday (18 September) in Chicago, USA.
The 35-year-old's training for Chicago has not gone according to plan, but McClelland still feels ready to race. To make her body more robust, she said she has gone through extensive physio and rehabilitation programmes, and has also put more emphasis on her swim training and run-cycle biomechanics.
"I have been recovering from a soft tissue injury in my leg," McClelland said. "I am really looking forward to putting everything together and putting my body to the test come race day."
McClelland, a former gym instructor, discovered para-triathlon in 2009 after attending a trial day at Loughborough University in Great Britain. The next year, she was selected on the national squad and went on to capture consecutive women's PT4 world titles from 2010-2013.
She will compete against teammate Lauren Steadman, who halted McClelland's winning streak by taking the title last year in Edmonton, Canada. The 2014 Para-Triathlon World Championships actually saw a British sweep in the women's PT4, where Clare Cunningham took third. At the 2013 World Championships in London, Great Britain, the trio also swept the podium; Cunningham however is not on the start list for Chicago.
"It was a fantastic feeling," McClelland recalled. "We were all extremely proud to repeat a second successful Grand Final year on the podium as we had done in London [2013]."
McClelland has finished runner-up to Steadman in all three International Triathlon Union (ITU) World Para-Triathlon Events (WPE) she has raced this year. But she is keeping an eye on the USA's Grace Norman, who took second at the Rio 2016 para-triathlon test event in August. McClelland followed up in third, and Steadman took first.
"[Norman] has really improved immensely this year," McClelland said. "She beat me at the ITU Rio test event last month, so it should be an exciting finish [in Chicago]."
After the World Championships, McClelland can look ahead for the first time, as the sport will makes its Paralympic debut at Rio 2016.
"[I want] to build a stronger body than ever over the winter period and continue to develop and improve on all three disciplines so that I can be in the best possible shape and be selected for the Games," McClelland said.
Other matchups to look forward to at the 2015 Para-Triathlon World Championships are:
Women's PT1 – USA's 2014 world champion Kendall Gretsch USA has three first-place finishes in 2015 and will be challenged by Italy's Rita Cuccuru.
Women's PT2 – France's Elise Marc is looking for her first World Championships title. She has a tough battle in US training partners, Hailey Danisewicz (2013 world champion) and Melissa Stockwell (world champion from
2010-2012).
Women's PT3 – Australian Sally Pilbeam is looking to defend her 2014 title, but Germany's Nora Hansel and Great Britain's Sarah Pearson will push.
Women's PT5 – This division will be another battle of the British. Alison Patrick and Melissa Reid finished 1-2 at the 2014 Grand Final.
Men's PT1 – Australia's four-time world champion Bill Chaffey (2009, 2011-2013) will be looking to dethrone the USA's 2014 world champion Krige Schabort; Great Britain's Phil Hogg is also a top contender.
Men's PT2 – Russia's Vasily Egorov has dominated the PT2 division in 2015. To date, Egorov has five first place finishes for this calendar year and will face off against American Mark Barr.
Men's PT3 – Spain's Daniel Molina and Alejandro Sanchez Palomero have had strong showings in 2015. However, neither made the podium in 2014.
Men's PT4 – Germany's Martin Schulz has been dominant this year, but Canada's 18-year-old Stefan Daniel looks to surprise.
Men's PT5 – The USA's Aaron Scheidies hopes to defend his title, but Ukraine's Vasyl Zakrevskyi has been strong this year.
The Para-Triathlon World Championships are part of the 2015 ITU World Triathlon Grand Final, which runs from 15-20 September.