McGrath, Reynolds win first Paralympic selection trials
Australian canoeist KL3 Amanda Reynolds won every race she competed in.
15 Feb 2016
Imagen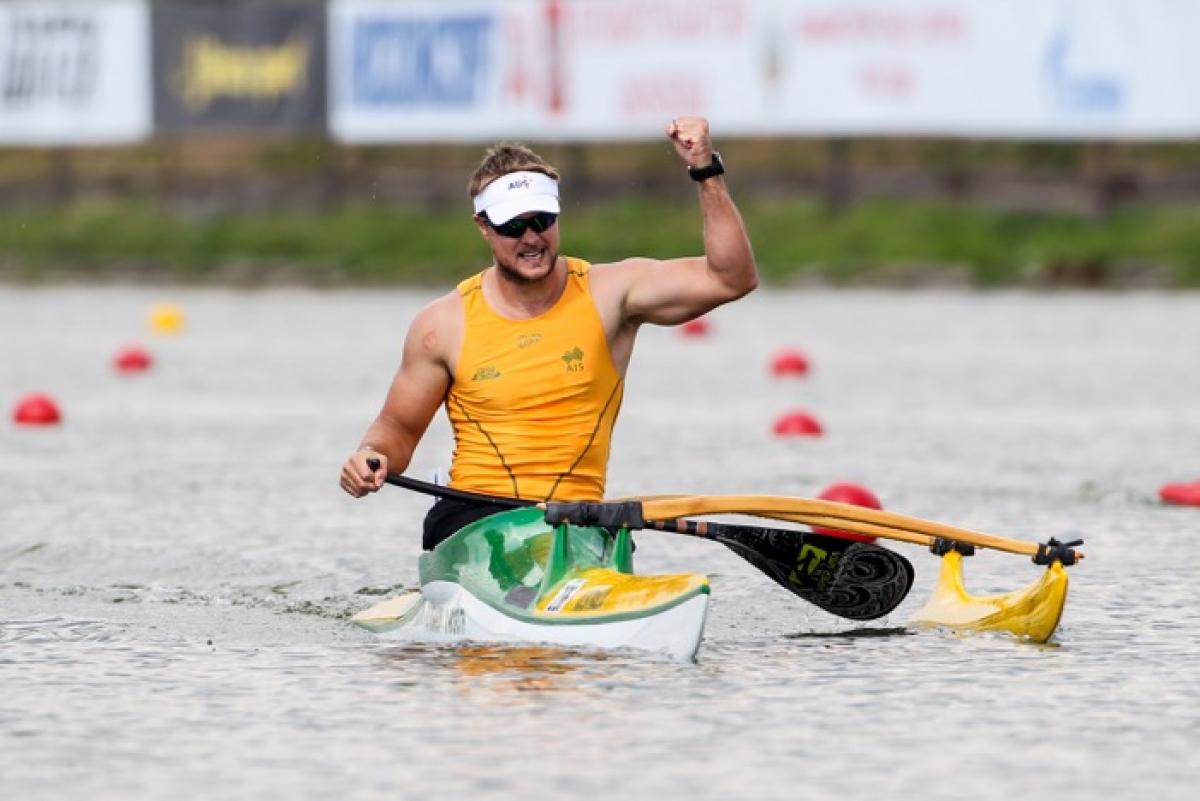 ⒸICF Photographer Balint Vekassy
By Australian Canoeing
Curtis McGrath and Amanda Reynolds moved closer to securing themselves a place on the Australian Paralympic team after winning the first selection trial at the Oceania Canoe Sprint Championships held 12-14 February in Adelaide, Australia.
Reynolds demonstrated why she is the reigning KL3 world champion, winning the women's K1 200m, 500m and 1,000m multi-class finals in 0:52.70, 2:24.92 and 5:00.66, respectively.
"It was a bit messy but I got off the start really well which was good as that is something we have been working on," said Reynolds of her 200m race.
Reynolds felt it was a far from perfect performance and she has plenty to work on ahead of the second selection trial at the National Sprint Championships in Perth from 2-6 March.
"I have a new boat so it is just about getting used to the boat again, and building up strength and working hard to make sure that we are priming at Nationals and then off to Rio in September."
McGrath also believes he has plenty of improvement left in him after he finished second in the men's K1 200 multi-class final to take out the KL2 Oceania title. McGrath finished 1.24 seconds behind kayaker Dylan Littlehales who won in 43.01 to take out KL3 class. Colin Seiders won the KL1 class in 57.63.
"I think we have two different peaks," McGrath said. "We have Nationals peak where we do not have as much competition as we have over in Europe at Worlds so I think there is definitely another level to be had going into Duisburg [Germany for the 2016 World Championships in May] and again for the [Paralympic] Games."
Littlehales too has enjoyed being challenged by McGrath despite them racing in different classes.
On Friday, the 16-year-old beat McGrath for the first time and set a new personal best by half a second.
"I have been chasing him for a while now and it is always good racing against him because in my class I am almost uncontested sometimes because I win by a few seconds but having Curt half a second in front, it helps drive me in the last 100m," Littlehales said.
"The current qualifying place for 10th spot is about 42.5 so I need to get under that in Germany [for the Worlds] to get the Paralympic quota but I think I am on track," Littlehales said.
Competition continued on Saturday (13 February) and Sunday (14 February) with 500m and 1,000m multi-class races.
Littlehales won the men's K1 500m (2:00.25), followed by McGrath (2:00.60) and then Sam Germein (2:13.52).
Following behind winner Reynolds in the women's K1 500m was KL2 canoeist Susan Seipel (2:34.60) and then Breanna Reid (2:50.70).