Morocco seeks to climb in football 5-a-side
Morocco won the 2015 African Championship in Douala, Cameroon, and, with the Rio Paralympics ahead, looks at the future with optimism.
17 Jan 2016
Imagen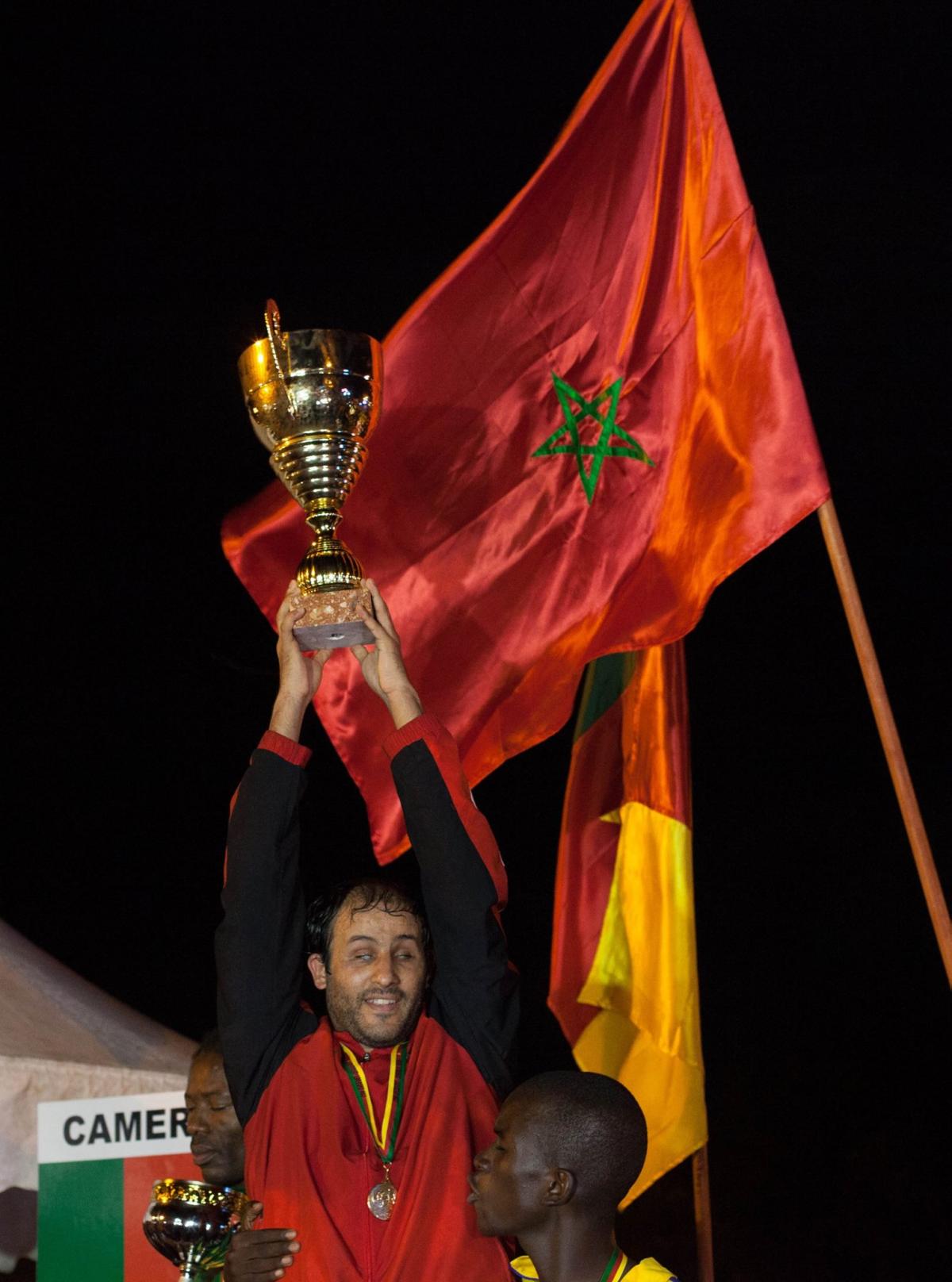 ⒸCECIFOOTIMPACTS
By Laura Godenzi and Hernan Goldzycher | For the IPC
"There are no secrets to our success; it is just that we have more international experience than the other African teams."
Non-stop "Cameroon, Cameroon" chants rang around a packed stadium in Douala before kick-off of the 2015 International Blind Sports Federation (IBSA) Blind Football African Championships.
That did not seem to bother Morocco, who won 2-0 over Cameroon, claiming the Championship title in October 2015. Even more, Morocco will be sending their first football 5-a-side team to compete in a Paralympic Games with Rio 2016 being held in September.
"We gave our best, knowing that the host country would be under more pressure than us, apart from the fact that we believe we are a better team," said Moroccan goalkeeper Samir Bara.
On their way to the final match, Morocco subsequently defeated Egypt 3-0, Senegal 3-0 and Mali 1-0.
"The debut required a big mental effort as it was our first match against Egypt," Bara described.
"After that initial triumph, we started feeling more confident and played much better against Senegal. And Mali was definitely the strongest rival we faced."
Morocco is the first African football 5-a-side team competing at the Paralympic Games. Experience at two African Championships and at the 2014 IBSA Football World Championships helped immensely.
But Morocco's recent success was nearly a decade in the making. The starting point can be traced to 2006, when the French Union for Blind and Visually Impaired People (UNADEV) signed a collaboration agreement with the Alawite Organisation for Protection of the Blind in Morocco (OAPAM).
"This contributed to the emergence of the football 5-a-side national team," explained Toussaint Akpweh, Sports Director of UNADEV.
Morocco was a pioneer in football 5-a-side in Africa, as it had been practising this sport seven years before UNADEV reached an agreement with IBSA to develop the sport across Africa.
"Since then, both UNADEV and IBSA have been setting up training centres through CECIFOOTIMPACTS, the development arm, in several African countries such as Morocco, Senegal, Cameroon and Ivory Coast, among others," Akpweh said.
Morocco competed at the 2014 African Championship, when Morocco defeated Senegal in a two-game tournament.
"There are no secrets to our success; it is just that we have more international experience than the other African teams," said Driss El Mountaqi, Morocco's coach.
Later in 2014, Morocco faced the strong French team of FC Girondins de Bordeaux. Even though they lost, the African team showed a huge progress thanks to the tactic and training system implemented by El Mountaqi.
Moreover, former goalball player Abderrazak Hattab made his football 5-a-side international debut, showing special talent for the latter sport. Hattab was the top scorer throughout the 2015 African Championships, finishing with six goals, including two against Cameroon in the finals.
The 2014 IBSA World Championship in Tokyo, Japan, was also big for Morocco. Although they finished last, the African team proved to be worthy of the occasion, having conceded just three goals and showcasing their stubborn defence.
But Morocco has shown weakness in offense.
"We want to win a medal [at the Rio 2016 Paralympic Games]," El Mountaqi assured. "Our players are very much motivated. Brazil and Argentina are the strongest teams as they have talented players and forceful defences, but I hope the draw favours us."
Morocco's coach also hopes the team can have a longer preparation for the Paralympics than the one they had for last year's World Championships; funding is one of the main impediments they face.
Nevertheless, El Mountaqi knows that Rio 2016 is a step in the development of football 5-a-side in Morocco. "The team play, the spirit and the passion for the sport are our main strengths. All those things, together with the international experience we have, let us dream about a bright future," he said.
"However, the strongest national teams still have a busier and well-organised schedule, with more competitions and long-term objectives. That is something we definitely need, too."
"We need to have a national tournament throughout the year because we would attract new young talents and strengthen our current national team," El Mountaqi said.
Sport fans from around the world can now buy their Paralympic tickets for Rio 2016 from authorised ticket resellers (ATRs).
The IPC's Global ATR is Jet Set Sports, and Rio 2016 tickets and packages can be purchased on the CoSport website.
Residents of Brazil can buy 2016 Paralympics tickets directly from the Rio 2016 website.