'O Canada' rings out twice as country's riders sweep team events
Lisa Dejong and Tyler Turner win three medals in three events in World Championships debuts in Norway
22 Jan 2022
Imagen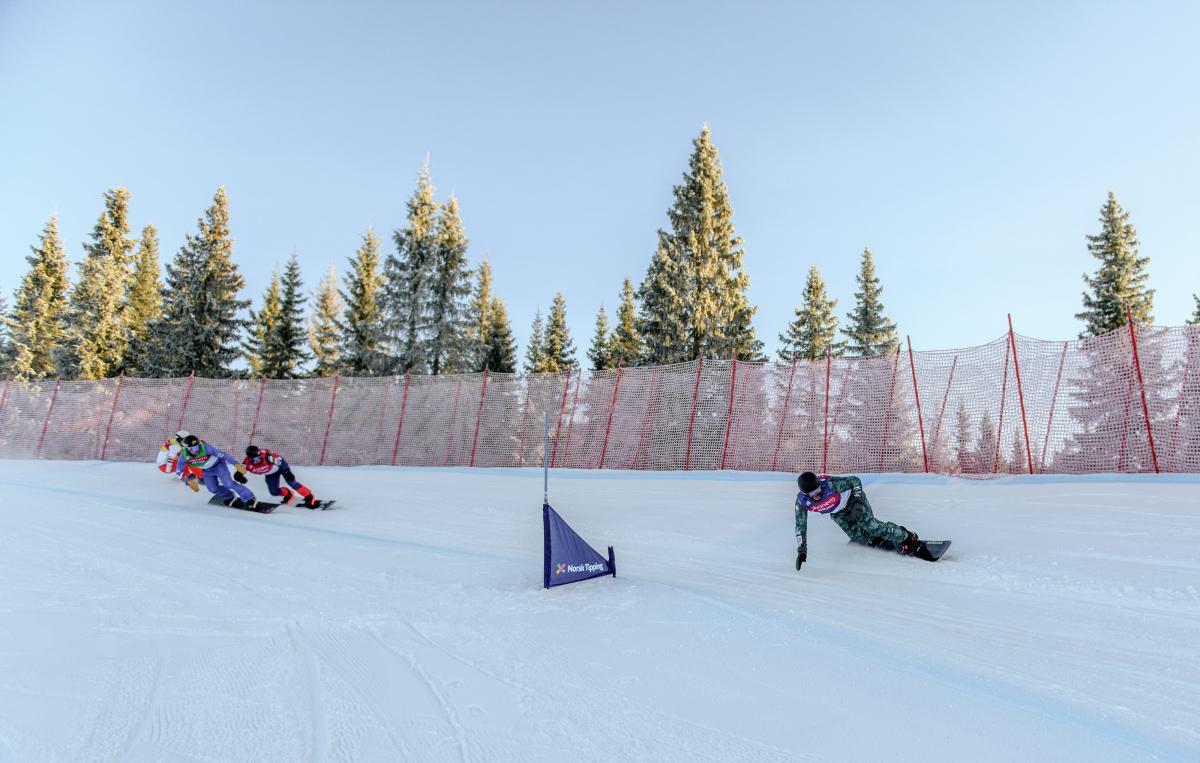 ⒸGisle Johnsen/Lillehammer 2021
By Lena Smirnova and Wiebke Langenhan | For World Para Snow Sports
Canadian riders proved their team bonds are golden as they swept the top awards in the snowboard cross team event on the closing day of the Para snowboard competition at the Lillehammer 2021 World Para Snow Sports Championships.
Lillehammer 2021 marked the first time that the team event was included on the World Championships programme. Eleven nations took part in the competition, some with two teams.
RIVALS TO TEAMMATES
SB-LL2 riders Lisa Dejong and Sandrine Hamel teamed up to bring Canada the first gold of the day, in the women's team event. 
Hamel gave her teammate a 0.33-second lead after the first run, which Dejong extended to 3.39 seconds with her winning second run.
"It feels absolutely amazing. We've been waiting for this moment so to actually capture it has been so cool," Dejong said.
It was the first World Championships gold and third medal for Dejong, who earlier took silvers in the women's SB-LL2 dual banked slalom and snowboard cross. Hamel won a bronze in the dual banked slalom.
"We're racing separately so it's fun to be able to team up and win the event," Hamel said. "The boys did really good too so we're really happy with how it ended up."
Two-time Lillehammer 2021 individual champion Lisa Bunschoten and her teammate Renske van Beek earned silver for the Netherlands in the women's team event. 
Switzerland's Romy Tschopp and Ellen Walther picked up the bronze. Both Swiss riders made their debut on the Para snowboard stage this season.
SINGING THE ANTHEM
Dejong and Hamel's victory was only their first celebration of the day. The riders jumped out to the finish line again half and hour later to celebrate Canada's gold in the men's event.
This victory is the first world title for Alex Massie who has competed at three previous World Championships. He finished with one bronze, in 2015, and two fourth places in the men's SB-LL2 class.
"Incredible," Massie said about winning gold. "Been chasing this one for eight years. So good to finally sing my national anthem."
For his teammate Tyler Turner, it was the third straight medal at Lillehammer 2021. The SB-LL1 rider previously won gold in the snowboard cross and a bronze in the dual banked slalom.
"That was fun to do it together. The team event is such a different feeling. To do it with a teammate and to celebrate together, it's pretty awesome," Turner said. 
"This is a good way to go home."
Massie gave Canada a 0.55 lead over Japan in the first run, while Turner's efforts in the second run proved impossible for Masataka Oiwane to match.
Oiwane and his teammate Takahito Ichikawa finished with the silver.
"I come from a hockey and a football background so I'm used to having a teammate to rely on," Massie said of the team dynamics. "It took a lot of the pressure off at the start gate knowing that if I mess up, he's got a chance to correct my mistakes, so it was a lot of fun."
Medal favourites France and Great Britain suffered an early setback in the finals as Maxime Montaggioni and Ollie Hill collided in Run 1, resulting in a three-second penalty for both teams.
James Barnes-Miller made up for some of that penalty time in the second run, but was still only fast enough to put Great Britain in third place.