Para-cycling: First world title for Hilario Rimas, clean sweep for Germany in C1
Days before he is due to compete at the Toronto 2015 Parapan American Games, Peru's Rimas claims world gold.
02 Aug 2015
Imagen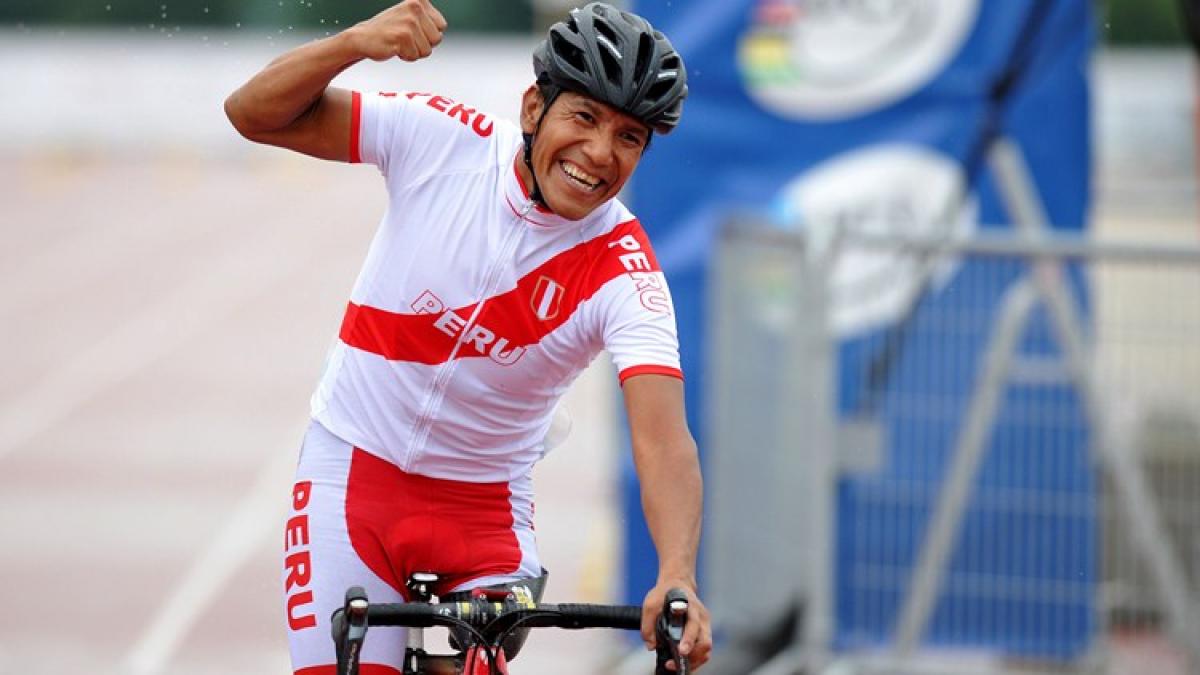 ⒸJean-Baptiste Benavent/UCI
By UCI
"Everything went as I planned. I so wanted to win in Switzerland where the UCI Headquarters are. I have trained very hard for this and had to believe in myself. I'm the last of the Incas!"
Bronze medallist in Thursday's time trial in the C2 Class, Peru's Israel Hilario Rimas would settle for nothing less than gold in the road race on Saturday ( 1 August) at the UCI Para-cycling Road World Championships in Nottwil, Switzerland.
Though early in the morning it was raining in the Canton of Lucerne, nothing was going to stop Hilario Rimas in his quest for gold: "I got up at 6am this morning to train in the rain and get used to the wet. I decided that this would be my race."
The Peruvian athlete broke away on the second lap, and was able to stay ahead of the peloton for the remainder of the race, completing eight seven-kilometre laps in 1 hour 29 minutes 4 seconds to earn the first world title of his career.
Rimas crossed the line 1 minute 25 seconds ahead of nearest rival, Spain's Maurice Eckhard Tio; leading 10 cyclists in a chasing pack that finished 1 minute 42 seconds behind Rimas was the Czech Republic's Ivo Koblasa who took third place.
"Everything went as I planned. I so wanted to win in Switzerland where the UCI Headquarters are. I have trained very hard for this and had to believe in myself. I'm the last of the Incas!" 41 year-old Rimas joked.
In the C3 Class, the win went to Japan's Masaki Fujita, who is currently ranked 15th internationally by the Union Cycliste Internationale. "This is a fantastic result for me!" exclaimed 30 year-old Fujita.
Fujita raced solo for the win, with an advance of 1 minute 24 seconds on the rest of the pack. Russia's Alexsey Obydennov took the silver medal, while Spain's Eduardo Santas Asensio took the last remaining podium place and a bronze medal.
"In the second to last lap the peloton seemed to slow down so I rode away. At the top of the hill on the last lap I had enough of a gap to realize I would be World Champion - it is unbelievable!" exclaimed Fujita.
Team Germany Sweeps Podium in C1
Team Germany experienced a tour de force in the C1 Class with an impressive podium sweep.
Already the current World Championship title holder, Pierre Senska added another title to his growing collection, defeating teammates Michael Teuber (also silver medallist last year) and Erich Winkler in a sprint final. Teuber and Winkler came in second and third respectively after 56 kilometres of racing.
Hans-Peter Durst also helped Team Germany's medal count today with a sprint final win ahead of Colombia's Nestor Ayala Ayala in the T2 Category. American Ryan Boyle came in for third place one minute later.
Gauthier – golden girl
In women's racing, Canada's Shelley Gauthier earned her second World Championship title of the week. After having earned a gold medal and the title in Thursday's time trial, the T1 athlete earned another gold and title in the road race, finishing the 21 kilometre race in 57 minutes 6 seconds; ahead of Russia's Yulia Sibagatova by 3 minutes and 57 seconds. Svetlana Perova, also representing Russia, crossed the line 13 minutes 16 seconds later for the bronze medal win.
"I had a perfect time trial but today I made a few mistakes. But it was OK in the end!" commented Gauthier.
Though she largely dominated the event, Gauthier took nothing for granted, "It's always hard. I worked really hard this year, and if I hadn't I definitely wouldn't be here. The competition is getting tougher and tougher and I just had to do what I had to do."
Britain's Sarah Storey was also crowned champion for a second time this week. World Champion in the C5 Class, Storey crossed the line with a comfortable advance of 8 minutes 24 seconds over Poland's Anna Harkowska.
Jamie Whitmore Cardenas continued to dominate in the C3 Category. The American is the 2014 World Champion and winner of Thursday's time trial, and today bettered Germany's Denise Schindler (1 minute 7 seconds), as well as Australia's Simone Kennedy (8 minutes 24 seconds).
Two American world champions
Team USA was on the podium twice more Saturday thanks to the efforts of Jill Walsh and Shawn Morelli. In the T2 Class, Walsh defeated by a mere six seconds reigning world champion, Australian Carol Cooke, to claim the title for herself and the United States. Winner of Thursday's time trial in her category, Morelli successfully defended her road race World Championship title in the C4 Class, bettering her closest rival, Team Australia's Susan Powell, by more than four minutes.
Current reigning World Champions in their respective categories, Quentin Aubague (France, T1), Alistair Donohoe (Australia, C5) and Jieli Li (China, C1) retained their titles and rainbow jerseys Saturday.
Ignacio Avila Rodriguez (Spain, B), Iwona Podkoscielna (Poland, B), Sini Zeng (China, C2), Patrik Kuril (Slovakia, C4) were also gold medallists today.
The UCI Para-cycling Road World Championships conclude Sunday (2 August) in Nottwil Switzerland with Hand Cycling competitions.