Para Triathlon Worlds can set stage for Rio 2016
Many of the top Para triathletes are aiming for gold in Rotterdam and will test their forms ahead of September's Paralympics.
22 Jul 2016
Imagen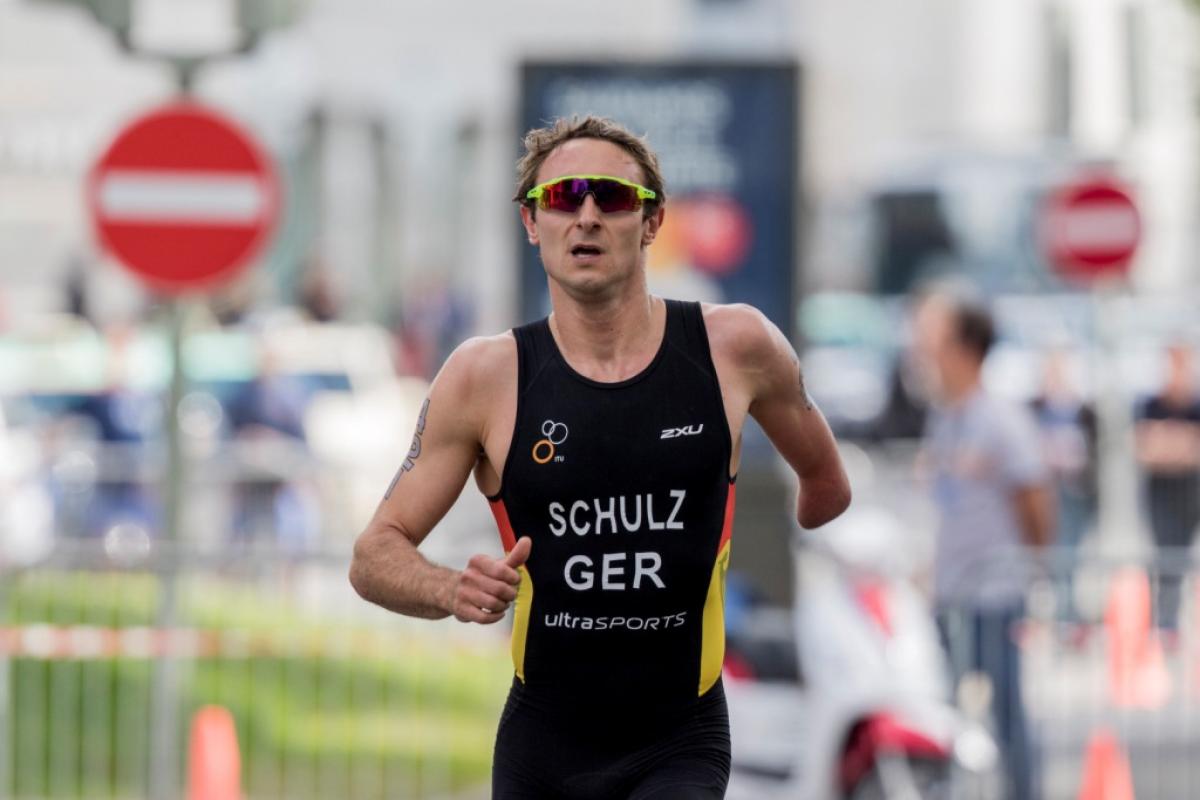 ⒸDTU / Jo Kleindl
By Megan Mindel | For the IPC
A preview of the Rio 2016 Paralympic Games Para triathlon event might take place this weekend (23-24 July) in Rotterdam, the Netherlands.
Many of the top Para triathletes will take on the Rotterdam International Triathlon Union (ITU) Para Triathlon World Championships, with less than 50 days' before the sport debuts at the Paralympic Games; men's PT1, PT2 and PT4 and the women's PT2, PT4 and PT5 sport classes will be featured in Rio.
Having previously competed alongside able-bodied triathletes in Grand Finals events, Para triathletes get their own stand-alone World Championships this year. Here are the ones looking to have world gold in their pockets heading into Rio:
PT1
The USA's world No. 1 Krige Schabort is searching for his second world title; his last gold came in 2014. Last year, Schabort finished runner-up to Australian Bill Chaffey at the Grand Final in Chicago, USA.
But reigning Dutch European champion Jetze Plat and compatriot Geert Schipper are sure to have home crowd support.
Japan's Jumpei Kimura, Great Britain's Phil Hogg and Australian Nic Beveridge all received bipartite selections and want to prove they can contend in Rio.
In the women's race, the USA's Kendall Gretsch is a heavy favourite. The world No. 1 is already a two-time world champion, but fellow US teammate Mary Catherine Callahan has not been far behind. Great Britain's European champion Lizzie Tench can also sneak up.
PT2
A key matchup will be between Frenchman Stephane Bahier and the USA's Mark Barr. Bahier, a two-time world champion, will try to get past Barr, who has been consistent all season. Morocco's Mohamad Lahna has also shown strong form during the World Para Triathlon Event (WPE) series and could surprise in Rotterdam.
The women's PT2 race will feature two of the USA's top three racers who swept the podium at the 2015 Worlds; Alyssa Seely will aim to defend her world title but will be challenged by favourite Hailey Danisewicz.
With the USA's Melissa Stockwell not in the start list, France's European champion Elise Marc will hope to crack onto the podium.
PT3
Spain's world No. 1 and two-time European champion Alejandro Sanchez Palomero is the top contender. He finished runner-up to Austria's Oliver Dreier at the 2015 World Championships.
The women's race may feature a battle of the Aussies, with Sally Pilbeam and Kerryn Harvey – as Pilbeam won the last two world titles and Harvey finishing runner up in 2015. Germany's European champion Nora Hansel could spoil Australia's one-two takeover.
PT4
Eyes will be on Germany's Martin Schulz and Canada's Stefan Daniel. Schulz is looking to reclaim his title from 2015 after Daniel spoiled his winning streak in Chicago. So far, Schulz has had a productive 2016 with decisive wins at the Aguilas WPE and the European Championships in Lisbon, Portugal.
Great Britain's Lauren Steadman has not lost a race since May 2014, and she is in search of a third consecutive World Championship. Potential challengers are the USA's No. 1 Grace Norman and Steadman's teammate Faye McClelland.
PT5
The USA's top-ranked Aaron Scheidies is in search of his third straight world title. He will take on Poland's Lukasz Wietecki and Ukraine's Vasyl Zakrevskyi, who both look to improve upon their second and third place finishes, respectively, from last year's World Champs.
British teammates Alison Patrick and Melissa Reid are top contenders in the women's race. Patrick is coming off a European title and will seek her first world gold since 2014.
Spain's Susana Rodriguez will be looking to challenge and grab her first world crown since 2012. With Australia's defending world champion Katie Kelly missing from the start list, the battle for the top will be interesting.
The Rotterdam ITU Para Triathlon World Championships can be followed on the event website.