Paralympic Champion Anne Dickins goes out on a high
After volunteering at London 2012, she won canoe Paralympic gold at Rio 2016.
11 Apr 2017
Imagen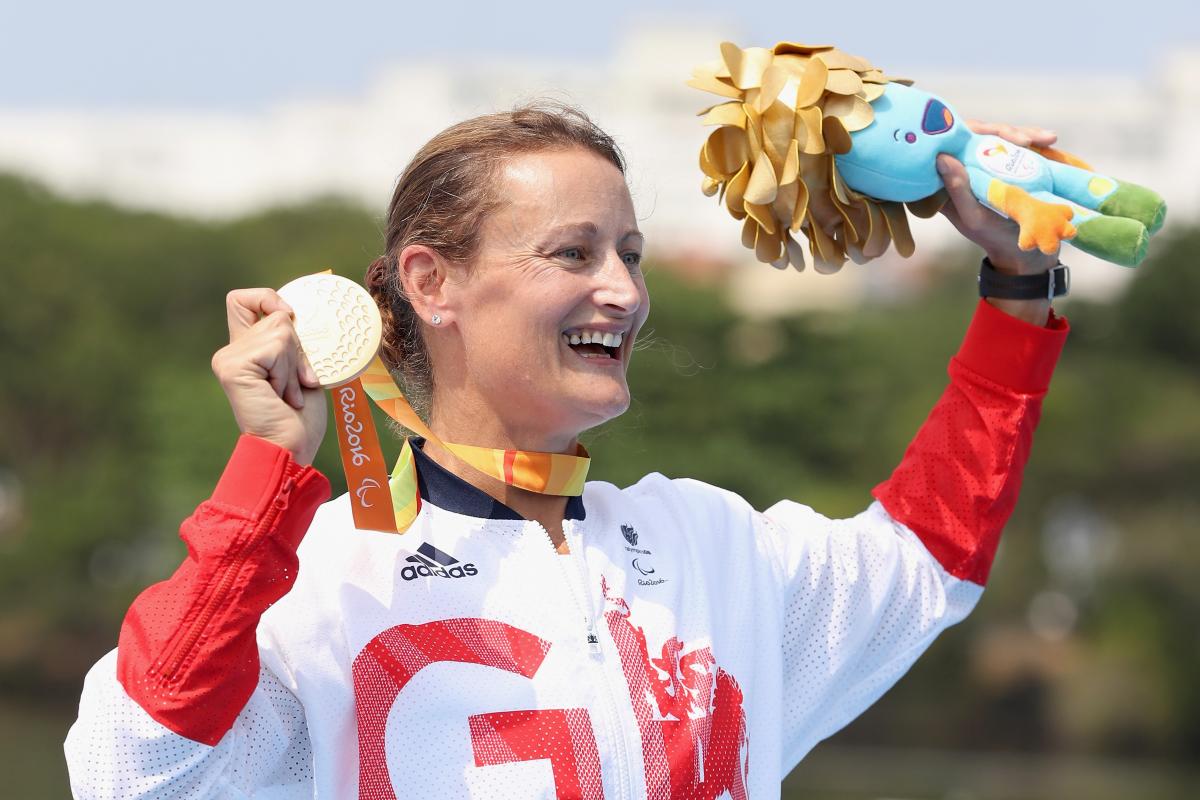 ⒸGetty Images
By British Paralympic Association
"Everything about becoming an elite athlete was hard, but I looked at it all as a challenge and probably the hardest thing was juggling being a working mum and training at the same time."
Paralympic and World champion Anne Dickins MBE called time on her incredible journey from volunteer to Para canoe gold medallist in just four years. However the 50 year-old and mum of two, vows she will continue to use the experience to inspire other people to step up and achieve their dreams.
Anne was Para canoe's third gold medallist at Rio 2016, winning the single kayak 200m in the KL3 classification and will also be remembered for creating another piece of history, notching up ParalympicsGB's 100th medal of the Games.
Anne, a keen cyclist until her back injury made it impossible to ride, was inspired to take up the sport after being a Games Maker at London 2012. A chance conversation over a coffee with a fellow volunteer then pointed her in the direction of Para canoe, as a sport she could do despite her weak leg and within weeks she had tried out for the sport and was enrolled on the programme with her mind set on Rio.
Anne explained: "The whole Games in London were incredible with so many people coming together to make it such a success and the dedication and commitment of the cyclists at the velodrome where I was working as a physio was palpable. It made me want to try a new sport just to see if I could do it. I was particularly inspired by Helen Glover's story. She won gold in the rowing after only four years in the sport and seeing her achievement made me think that Rio might be a pathway open to me.
"The first time I tried out in a boat was just amazing and gave me a real sense of freedom, just like I had previously had in mountain biking and soon I had a new direction and something positive in my life."
However it wasn't all plain sailing for Anne, who had never set a foot in a kayak until September 2012. But with expert guidance and support from volunteer coaches at Wey Kayak Club, she was soon up to speed and heading to her first European Championships in 2013 where she claimed gold.
"Everything about becoming an elite athlete was hard, but I looked at it all as a challenge and probably the hardest thing was juggling being a working mum and training at the same time."
Working alongside the legendary Para athlete, Jeanette Chippington, coached by John Griffiths and with the full support of the British Canoeing performance programme behind her, Rio 2016 soon became a realistic goal. Hard work in the gym, as well as on the lake at Eton Dorney, Anne took it all in her stride and even overcame the seasickness that plagued her when the water was rough.
Over the next three years, her positive mind-set and determination to succeed delivered more success on the international stage and by the time she sat on the start line in Rio she was a three time European champion and a two-time and reigning World champion.
However as everyone in canoeing knows the margins are tight and a much anticipated rivalry with Australian, Amanda Reynolds, saw the race go down to the wire, with Anne coming out on top by the smallest of margins - 0.03 seconds.
"Finding out that I had won my race was definitely the highlight in Rio, as initially I wasn't sure who had won and being able to share that with my family who had supported me so incredibly throughout the last four years was brilliant. I can remember standing on the podium and listening to the national anthem as the flag was raised, with everyone cheering, it was surreal."
Since that incredible day in September when Para canoe made its Games debut and Great Britain won medals in five out of the six events, Anne's whirlwind journey has continued, driven by a determination to share her story and encourage everyone to follow their dreams.
Anne has given some 64 talks in the last 12 months to volunteer groups, schools and clubs and was even the guest speaker at the London Olympics Games Maker Choir's Christmas concert.
"One of my passions has been to give back, so I have done as many volunteer appearances as I could. I have met a huge variety of people and shared my experiences and I hope in some small way I have inspired the next generation. It's been brilliant and I have really enjoyed it."
She then topped off the year with her marriage to partner Simon and was awarded an MBE in the New Year Honours list.
"Taking up a new sport and winning gold in Rio has completely changed my life and I have learnt so much about myself and feel a lot wiser because of it. I have learnt to accept that life isn't always fair but that's ok. That injury or disability doesn't have to define who you are or what you can do.
"I've learnt if what you are doing isn't working to try to think differently and find a new approach to make it happen. I have also repeatedly learnt to keep smiling, as while you can't always control your world you can control how you feel about it. But above all I have learnt the power of being in a strong team - you don't have to do it on your own. I have been really lucky to have had the support of the British Canoeing Paracanoe programme."
Having pondered on her future over recent months, Anne has decided to retire whilst she is at the top of her Game and will now look for a new challenge to fuel her ambitions and satisfy her positive approach to life.
"The last four years in elite sport couldn't have gone any better and it would be difficult to top the experience. To win Paralympic gold and then to get awarded an MBE, a Blue Peter badge, and to get married concluded an amazing 2016.
"It's been an amazing adventure but there are still so many other adventures in the world that I want to have. Having recently got married, I would like to pursue these with my husband, rather than alone in a boat.
"It's sad to be leaving the team that has helped me to learn, as well as achieve so much. I wish them all the very best for Tokyo."
Wishing Anne all the very best for the future, John Anderson MBE, British Canoeing Performance Director said: "Anne has been part of an exceptional group of athletes who individually and collectively achieved outstanding success for Paralympics GB in Rio.