Paralympic Champion Dylan Alcott named Australian of the Year
'It's up to all of us to do things so they can get out and be proud of their disability as well and be the people that they want to be'
25 Jan 2022
Imagen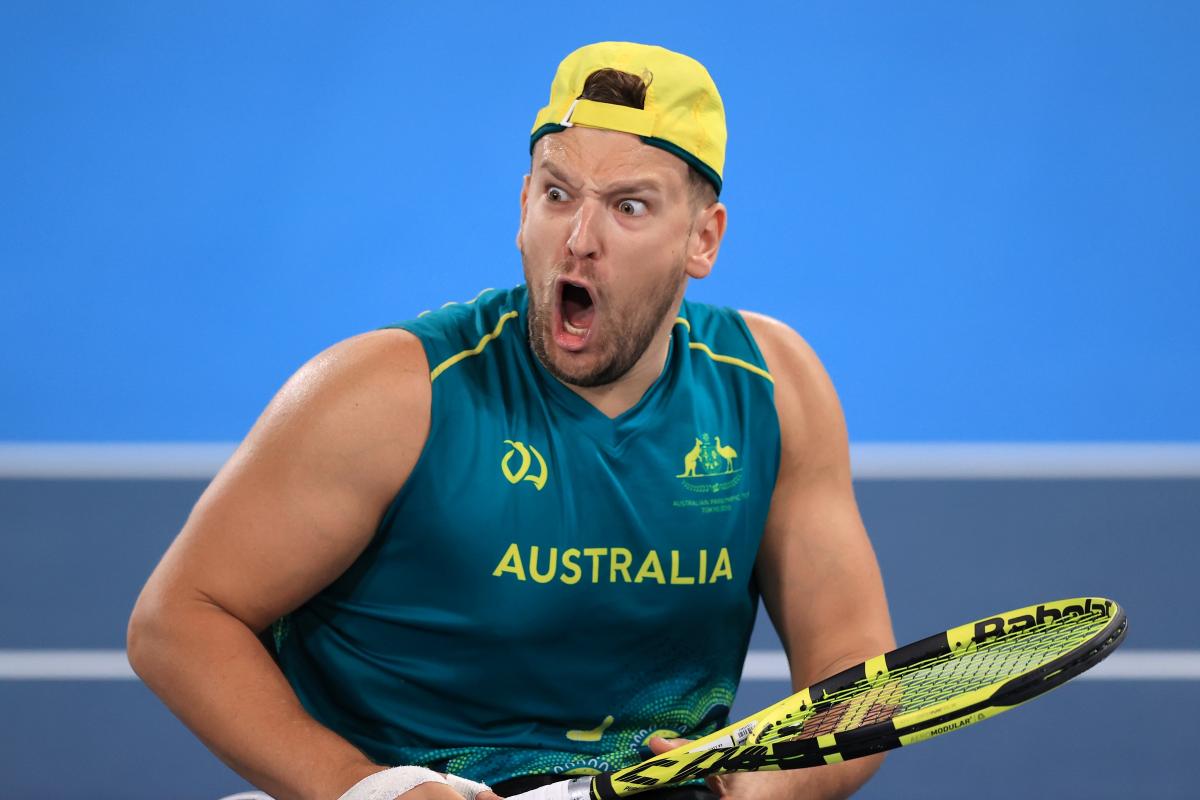 ⒸGetty Images
By Paralympic Australia
Three-time Paralympic Games gold medallist, Wheelchair tennis superstar Dylan Alcott has vowed to use his year-long tenure as Australian of the Year to change perceptions of people with a disability 'so they can get out there and live the lives they deserve to live'.
Alcott, who will play the final of the Australian Open tennis championship on Thursday, 27 January - the last match of his stellar sporting career - was announced by Prime Minister Scott Morrison at a ceremony in Canberra.
MAKING THE MOST
In a stirring acceptance speech, the 31-year-old from Melbourne began with a tribute to the nation's frontline workers, including nurses, doctors, those working at vaccination clinics and firefighters for their tireless work over the past two years.
He then spoke of his experience as a young person with a disability.
"I've been in a wheelchair my whole life," he said.
"I was born with a tumour wrapped around my spinal cord that was cut out when I was only a couple of days old. I know nothing but having a disability.
"If I'm honest with you, I cannot tell you how much I used to hate myself. I hated being different. I didn't want to be here anymore.
"Whenever I turned on the TV or the radio or read the newspaper, I never saw anybody like me. Whenever I did, it was a road safety ad where someone drink-drives, has a car accident and the next scene was someone like me, in tears because their life is over. I thought to myself 'That's not my life', but I believed that was going to be my life. When I reached the end of my teenage years, I started seeing people like me."
He said he stood "on the shoulders of giants" - those people with a disability who captured national attention and showed their capabilities.
"Paralympic athletes like Louise Sauvage, Kurt Fearnley, Danni Di Toro - people that are the reason I got into sport - and advocates like Stella Young," he said.
"They paved the way so I can be here tonight. They should have been Australian of the Year as well. It's because of them - and everybody in my life - I sit here as a proud man with a disability. I love my disability. It is the best thing that ever happened to me. It really is.
"But I know, for the four and a half million people in this country - one in five people - that have a physical or non-physical disability, they don't feel the same way that I do. And it's not their fault.
"It's up to all of us to do things so they can get out and be proud of their disability as well and be the people that they want to be.
"We've got to fund the NDIS (National Disability Insurance Scheme) first and foremost and listen to people with lived experience and ask them what they need. We should remind ourselves that it's an investment in people with disabilities so they can get off pensions and start paying taxes, just like their careers and their family members as well.
"Of those four and a half million people [with a disability], only 54 per cent of them are involved in the workforce. Those figures haven't moved in 30 years. And guess what? We're not just ready to work, we're ready to take your jobs.
"We have to have greater representation of people with disabilities absolutely everywhere - in our boardrooms, in our parliaments, in our mainstream schools, on our dating apps, on our sporting fields, in our universities, absolutely everywhere - so we get the opportunity to live our lives just like everybody else. I promise you, you won't just enrich the lives of us, but also yourselves in the process."
STRONG WORDS
Alcott's message to non-disabled people was: "It's time for you to challenge your unconscious biases, leave your negative perceptions at the door and lift your expectations of what you think people with a disability can do. It's always more than you think."
Paralympics Australia's new chief executive Catherine Clark said: "On behalf of the Australian Paralympic movement, our most heartfelt congratulations are with Dylan for this incredible honour.
"This really is a seminal moment for all Australians with a disability. And I hope, like Dylan, that it's another turning point for community perceptions.
"It is recognition not just of a world-class athlete, but also recognition of the world-class human he is and the humanity he shows as an advocate for people with a disability and a champion of the Paralympic Movement.
"Regardless of whether you have a disability or not, Dylan has an incredible gift to speak and connect with all of us because he speaks from the heart. He connects people, he celebrates people and he lifts them up. We saw during the Tokyo Paralympics last year that regardless of his own achievements, he spoke often and glowingly about the pride he felt for his teammates and the joy he took from their success.
"He continues to give a voice to people with a disability, and his influence is felt around the world. Dylan challenges all of us to focus on our abilities, on the potential each of us have to be our best and live our best life.
"He embodies so much of what we love about being Australian. We are determined, we dream big, value teamwork and we love winning on the world stage, but we also like a laugh, a bit of self-deprecation and the trademark Aussie larrikinism. And that's Dylan. That is his style."
In closing, Alcott said: "Winning grand slams and gold medals isn't my purpose. … My purpose is changing perceptions so people with a disability, people like me, can get out there and live the lives they deserve to live. It was my purpose yesterday, it was my purpose today and it'll be my purpose as your Australian of the Year for the next 12 months and beyond. I really hope I make every single one of you proud."