'Reputation' at stake for Anne Dickins in Para canoe World Champs
The 2014 World champion and reigning European champion is among those to watch in Duisburg, Germany.
16 May 2016
Imagen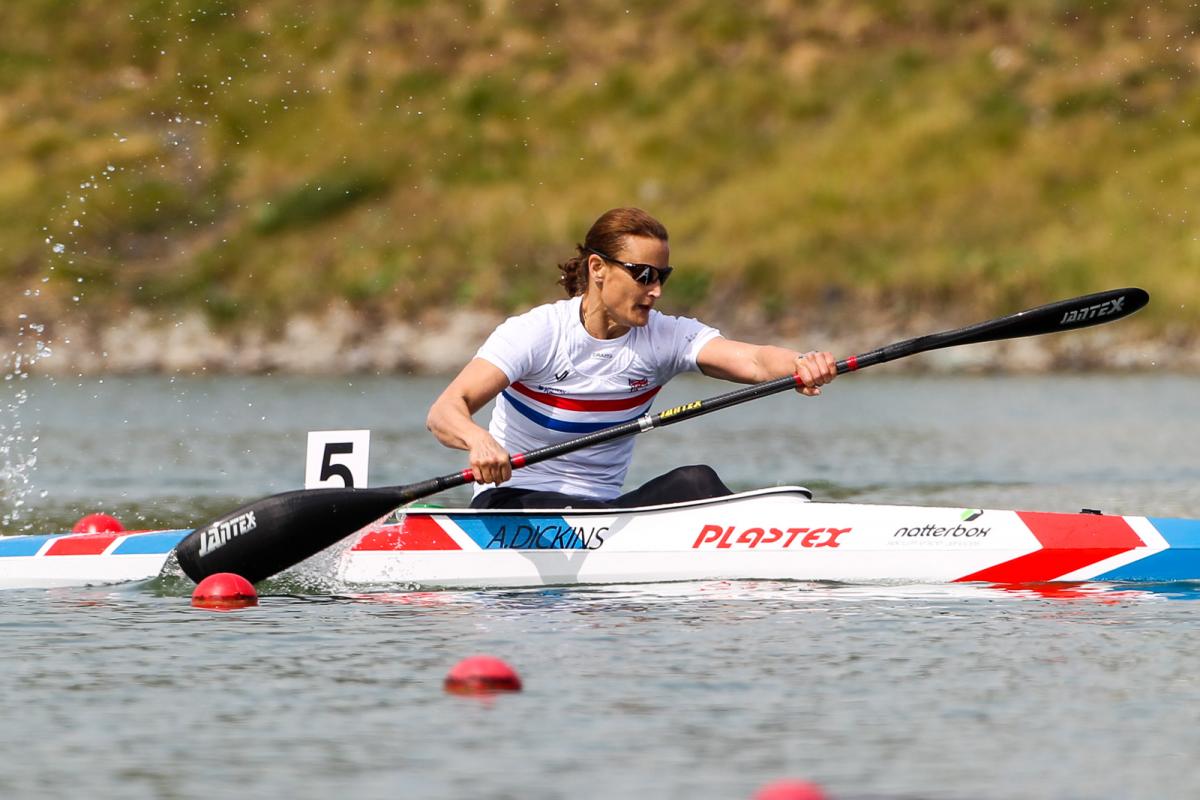 ⒸBalint Vekassy
By Laura Godenzi and IPC
Great Britain's Anne Dickins feels less pressure heading into the 2016 International Canoe Federation (ICF) Para canoe World Championships, which take place Tuesday to Thursday (17-19 May) in Duisburg, Germany.
That is because she has already secured a quota spot for her country at the Rio 2016 Paralympic Games following her second-place finish in the 2015 World Championships in Milan, Italy.
However, as the reigning 2015 European champion, Dickins said her "reputation" is at stake in Duisburg as she still needs to be selected for Rio 2016 by the British Paralympic Association. This week's Championships is an opportunity to take back her World title and prepare for the national trials in Nottingham, held two weeks after in Duisburg.
"It will be my first race of the season. I want to come away feeling good ahead of GB trials. That means nailing my race plan," said Dickins who won the 2014 world title.
Dickins came in second in a thrilling 200m KL3 race at the 2015 World Championships in Milan, finishing just 0.02 seconds behind Australia's Amanda Reynolds.
"Milan was a turning point," Dickins said. "It proved to myself and the team that seasickness was a significant performance challenge for me. They did a lot of testing and found I had a vestibular disorder [a type of visual vertigo]. Fortunately we also found a treatment that seems to help so hopefully I'm much improved."
The British canoer has been preparing intensively for this year's season and the Paralympic debut of Para canoe. Dickins has been working with her team in identifying and addressing specific weaknesses.
"The one I am proudest of is sorting my seasickness, which used to hit any time the water got remotely choppy," she said.
The 49-year-old is among the 159 athletes from 38 different countries racing in Duisburg. This will be the last opportunity for 22 athletes (11 women and 11 men) to secure the remaining qualifications slots for September's Paralympics. The top-four finishers in each Paralympic medal event qualify a spot for their country, if that country has not yet qualified.
Also in the mix of canoers is Austria's six-time world champion Markus Swoboda, who is the favourite for the men's 200m KL2 race. He is excepted to win his seventh consecutive title even though his preparations for the World Championships have not been as intense than previous years.
"The focus is clearly on Rio, but Duisburg will be an excellent opportunity to see where I am especially compared to my rivals. Hopefully, I will not get too nervous before the Games," he said.
Swoboda will face competition from Australia's war veteran Curtis McGrath, who took silver in Milan.
"My goals for this World Champs are to get a new personal best time and improve my race from last year. My preparation has been good, training was solid and my body was feeling good," McGrath said.
The 2016 ICF Para canoe World Championships can be followed on Facebook, as well as the event Website and the ICF Website.