Slovenia's Pintar honoured to be flag bearer
Despite starting competition early on the day after the Opening Ceremony, table tennis player Mateja Pintar is eager to carry Slovenia's flag.
27 Aug 2012
Imagen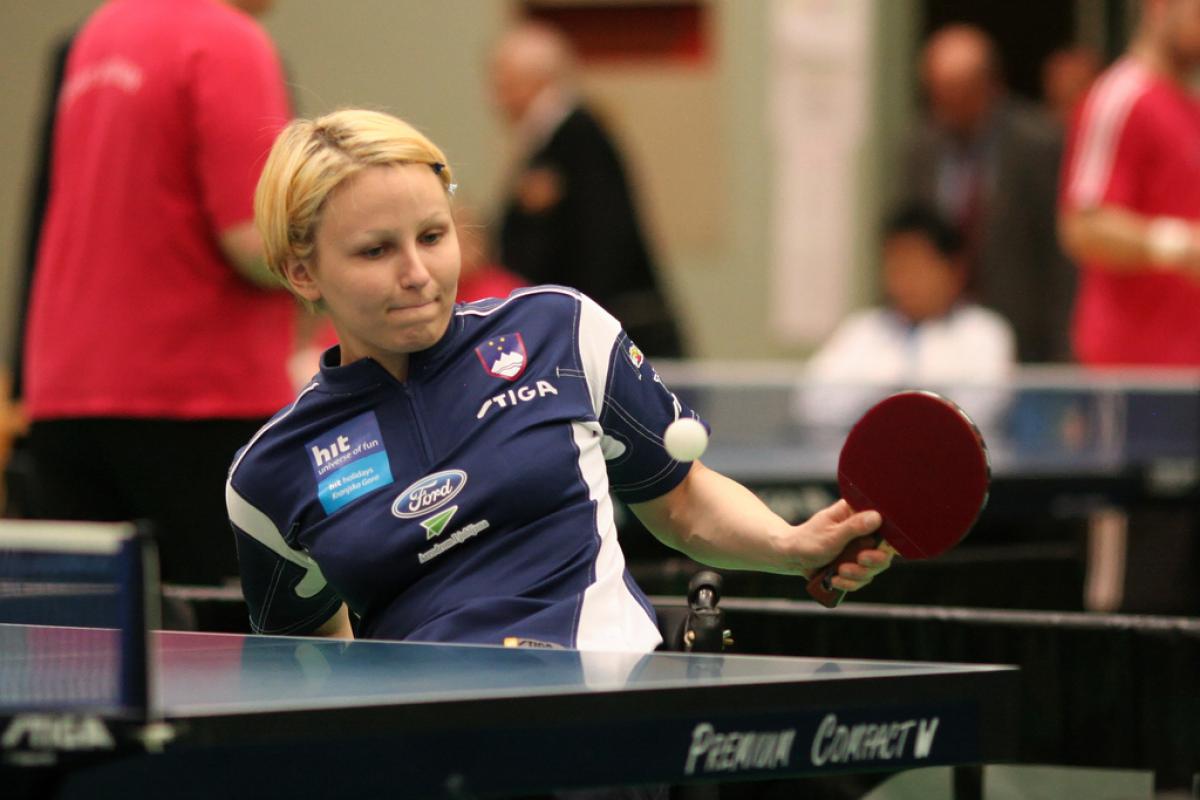 ⒸITTF
"I still feel the Paralympic spirit and I think I also know how to appreciate it better."
Mateja Pintar has already won a gold and a bronze medal in a decorated Paralympic Games table tennis career, but London for her is bound to be special, regardless of results.
Pintar has been chosen to carry the Slovenian flag at the London 2012 Paralympic Games Opening Ceremony and is determined to be there, despite starting competition early the next morning.
"I'm very proud to have been selected for the flag bearer for Slovenia, I'm very excited to do it," she said.
"I've been to two Paralympics so I know that the Opening Ceremony is an amazing event that you can't experience anywhere else so to be the first one to represent your country, to lead your team hopefully into a good competition is of course very important to me and I'm very, very excited."
Pintar won a gold medal at the Athens 2004 and a bronze medal at Beijing 2008 but is weary about her prospects at London 2012 due to recent injury complaints.
"Unfortunately, for the last three years and especially in the last half a year I had a lot of problems with injuries and other medical stuff so I haven't competed at all this whole season which means that my expectations and maybe goals can't be as high as they were for the other two Games," Pintar said.
But for an experienced competitor with proven success, this doesn't mean her ambition isn't present.
"Still, after being so successful for so many years I want to do my very best here as well. I can't say or expect where that can bring me at the moment but I'll do everything to come out and win one way or another," Pintar said.
"I have competition experience, I know how big a competition this is and how to handle the pressure of the Games. Also, for me, it's the biggest competition in a very long while and it only happens once in four years so I'm still excited, I still feel the Paralympic spirit and I think I also know how to appreciate it better."
Appreciating the Games is one thing Pintar certainly knows how to do, and she has a new hair style to prove it, with the green and blue of her Slovenian tracksuit streaked through her blonde hair.
"It's kind of tradition for me now to change my hair colour into something very visible every time I go into a major competition," she said.
"I did it for Beijing and it turned out well for me so I'm doing it this time as well.
"I think it's important to have fun next to all the trainings and hard work that we do. I think it (the hair style) encourages the spirit and the enjoyment of the Games. I love it and it's for luck."
Pintar is scheduled to start competition in the women's table tennis singles class 3 on Thursday (30 August).