South Africa dominate first leg of the Road World Cup series
The event took place in Pietermaritzburg, South Africa between 6 and 8 May.
09 May 2016
Imagen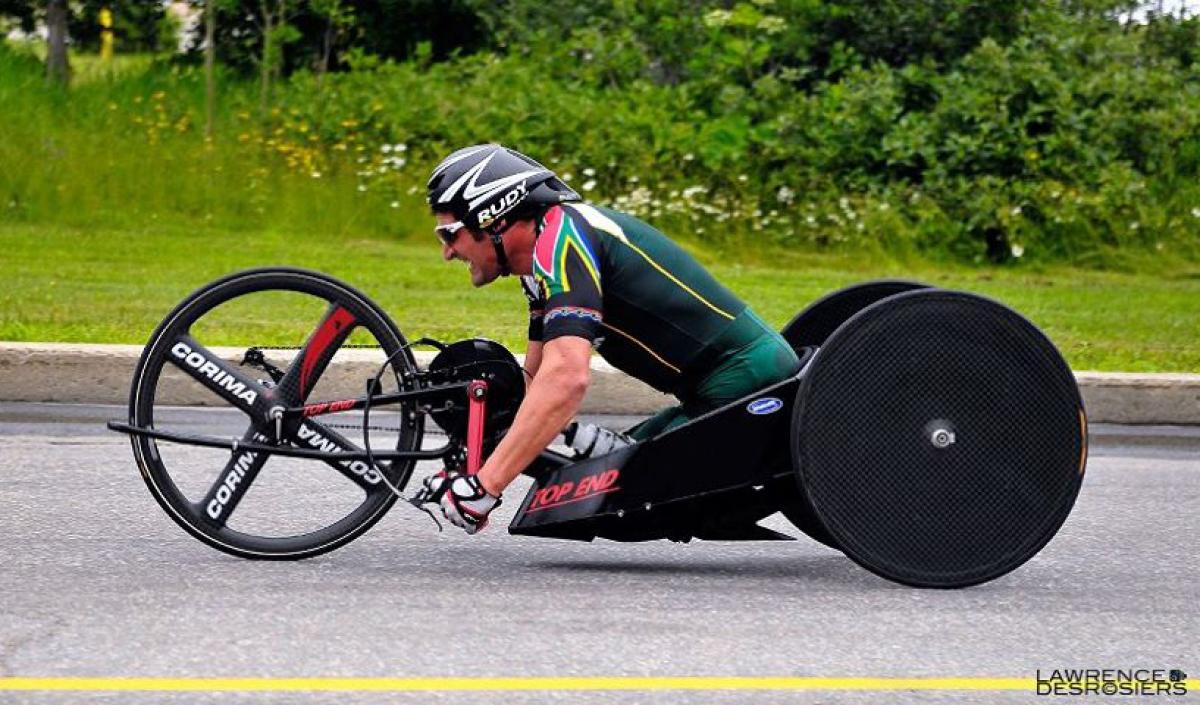 ⒸROAR
By Cycling SA
South Africa dominated the first leg of the 2016 UCI Para-cycling Road World Cup on home soil with a total of 19 wins in Pietermaritzburg between 6 and 8 May.
Beijing 2008 gold medallist Ernst van Dyk impressed his home crowd by claiming both the men's road race and time trial H5 titles.
"The conditions were rough with lots of gravel, it was wet and you could not easily see the potholes, but that is racing and you have to make the most of it," said the 43-year-old.
Stuart McCreadie cycled to victory twice in the H3 category. "I am happy with how it went," he said afterwards.
Juan Odendaal (C3), Goldy Fuchs (T2) and Craig Ridgard (C2) added two first-place finishes each to South Africa's win list.
Double world champion Nicolas Pieter du Preez won the time trial event in the H1category. "I am very happy to have killed the competition," he said.
In the women's events, South Africa's Justine Asher (H2), Toni Mould (T1), Vicky Scheepers (C4) and Estelle van der Merwe (C5) claimed two victories each.
Poland proved to be strong as well.
In the men's events, Rafal Mikolajczyk (H1) ended first in the road race, Przemyslaw Wegner and Artur KorcRafal Wilk won the time trial in the B category and Rafal Wilk (H4) secured two wins.
Poland's Arkadiusz Skrzypinski, who finished second in the H4 race, said: "I have had a fantastic week here, training in the sun, eating the world's best beef and tasting some very good wine.
"2016 is the year of the Paralympic Games so unfortunately many teams decided to save money and did not participate here. But I loved the hard racing, and there were many fantastic athletes here."
In the women's races, Poland's Renata Kaluza (H3) followed up her time-trial triumph with another win in the road race.
Israel's Yaakov Kobi Lion (H2), USA's Jay Lapointe (T1) and Matthew Bigos (C1), Slovakia's Jozef Metelka (C4) and France's Dorian Foulon (C5) earned double gold as well.
"The weather was really good for me, as I do not enjoy the heat," assured Metelka.
Greece's Adamantia Chalkiadaki and Argyro Milakiearned (B) claimed top UCI points in both races of the women's B category, Ireland's Damien Vereker and Marcin Mizgajski finished first in the men's B road race, whilst Austria sealed the victory in the team relay.
Cycling South Africa's President, William Newman, said: "It was a very important event because it gave more local riders a chance to participate in an international event, which is a positive aspect of our sport as we are creating international opportunities for them."
Ostend, Belgium will host the next leg of the UCI Para-cycling Road World Cup from 20-22 May, whilst Basque Country, Spain will be the third and last stop of the season between 15-17 July.