Spain beat Chile on first day of competition
First day of BNP Paribas World Team Cup concludes in Antalya, Turkey
21 May 2013
Imagen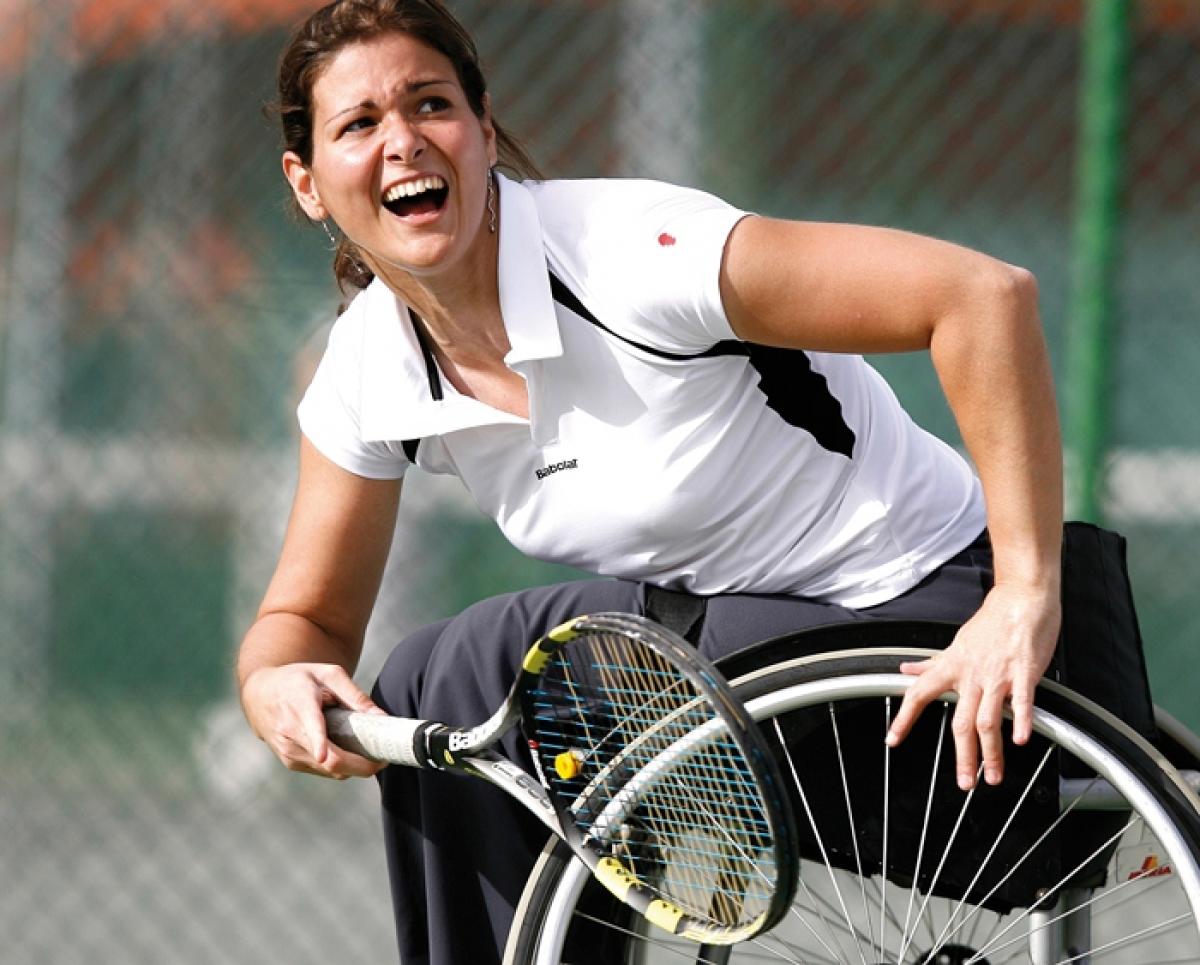 ⒸMathilde Dusol
After qualifying for the 2013 BNP Paribas World Team Cup in March, Spain's women's team marked its return to Antalya, Turkey by upsetting sixth seed Chile on the opening day's play at Club Ali Bey Manavgat.
Elena Jacinto and Lola Ochoa beat Russia earlier in the year in the final of the qualification event for Europe at a different venue in Antalya, earning Spain's place in the women's World Group. Since then Ochoa has dropped down the rankings and is playing as Spain's second ranked player this week, but she got her country off to the best possible start in round-robin Group C when she beat Chile's Macarena Cabrillana 6-1 7-6(2).
Francisca Mardones kept Chile's hopes alive after edging Jacinto 7-6(7) 7-6(6), but Jacinto and Ochoa went on to seal a 26 75 (11-9) victory after a championship tiebreak, giving Spain a confidence boost after coming into the ITF's flagship wheelchair tennis team event as the lowest of the 12 seeded teams for the women's World Group.
The first tie of the week in round-robin Group A in the women's World Group also went to a deciding doubles rubber as Thailand beat USA 2-1 on the opening day of the 2013 BNP Paribas World Team Cup in Antalya.
In only her second tournament since the 2012 BNP Paribas World Team Cup, Kaitlyn Verfuerth gave USA a solid start when defeating Chusri Inthanin 6-2 6-2. However, Thailand's former world No. 6 Sakhorn Khanthasit hit back to build on a 3-0 first set lead and beat Emmy Kaiser 6-1 6-2, forcing the crucial final rubber.
With Thailand having won the bronze medal in the women's World Group when Antalya last hosted the World Team Cup in 2010 and coming into this year's tournament as the eighth seeded team, above USA, Khanthansit and Inthanin paired up to take the doubles rubber 7-6(3) 6-0. Both teams now have to play top seed Netherlands.
"After we lost the first singles, as the number one player for my country I knew the situation and I knew I had to do my best to take it to the doubles," said Khanthasit. "But we believed we had more experience than the young lady from the USA. Of course we will keep doing our best this week."
Former finalist Korea Republic began its bid this year by beating host nation Turkey 3-0 in Group B after Myung Hee-Hwang overcame Ebru Bulgurcu 6-1 6-2, with Ju-Yeon Park easing past Busra Un 6-0 6-0.
Mabel Mankgele provided the foundation for South Africa's 2-1 win over Australia after winning the opening singles rubber against Luba Josevski 6-3 6-4. World No. 6 Kgothatso Montjane put the Group D tie beyond Australia after beating Janel Manns 6-1 6-0, but Sarah Calati and Luba Josevski gave Australia some consolation in the dead doubles rubber.
Sri Lanka among early winners in World Group II
Sri Lanka, the bronze medallist in World Group II in 2012, began its campaign this year by beating Croatia in both singles rubbers in their opening round-robin tie in Group A.
After Upali Rajakaruna gave Sri Lanka the lead with a 6-1 6-3 win over Drazen Miksic, Gamini Dissanayake ensured the victory after a comfortable 61 61 win against Anto Joskic and Sri Lanka completed a 3-0 win.
Just three men's World Group II ties took place on the opening day of play after Nigeria had a delayed arrival in Antalya, giving Spain a walkover and a 3-0 win in their scheduled Group D contest.
Italy, the winner of the BNP Paribas World Team Cup qualification events for Europe in 2012 and Israel, the runners-up in the same qualification event this year, went head-to-head in round-robin Group C, with Luca Spano and Fabien Mazzei securing victory for Italy.
After Spano's 6-4 6-2 win over Amir Levi, Mazzei dominated his singles rubber against Assaf Stokol and sealed a 60 60 win to give Italy an unassailable lead before Levi and Stokol claimed the dead doubles rubber.
Meanwhile, after beating Israel to win this year's qualification event for Europe, Greece started its seventh World Group II campaign with victory over host nation Turkey.
Stefanos Diamantis dropped just three games to Muharrem Cakmak in the opening singles rubber of the Group B tie, while Georgios Lazaridis put the tie byond the reach of Turkey when beating Turan Akalin 6-1 6-3.