Sport week: Classification in cycling
Cyclists are divided into thirteen different impairment classes based on their functionality.
28 Jun 2016
Imagen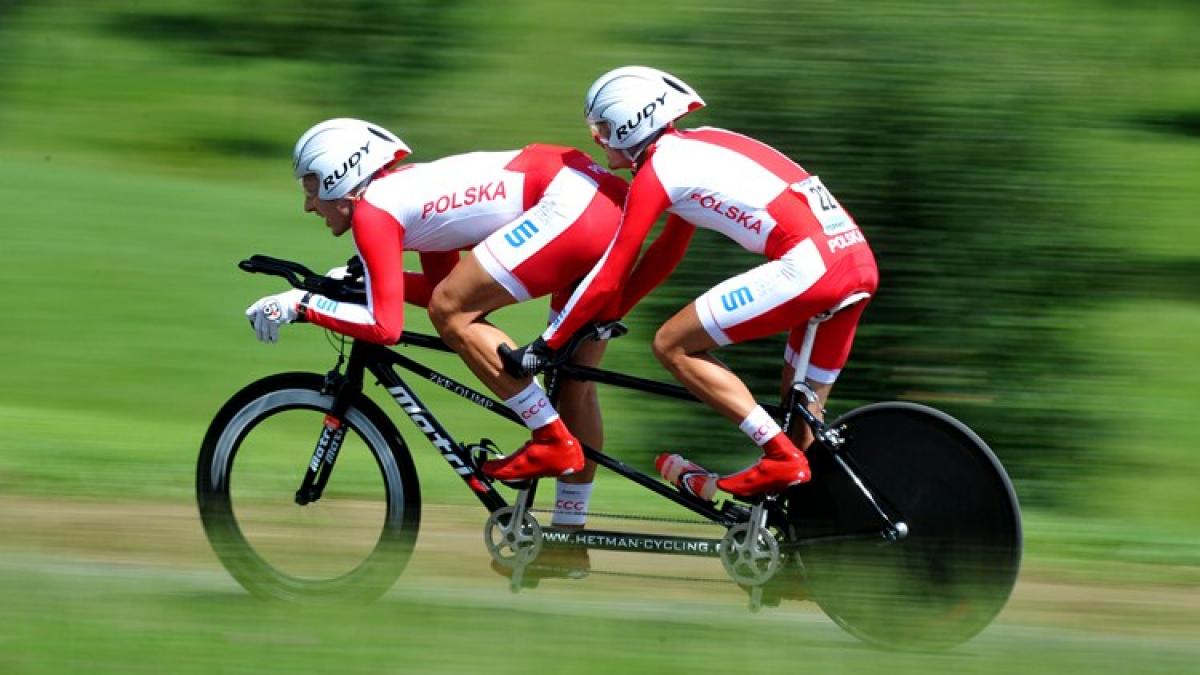 ⒸJean-Baptiste Benavent
By IPC
The athletes with the following impairments types are eligible to participate in cycling competitions:
•Impaired muscle power
•Athetosis
•Impaired passive range of movement
•Hypertonia
•Limb deficiency
•Ataxia
•Leg length difference
•Visual Impairment
Athletes with physical impairments compete on handcycles, tricycles or bicycles, whilst those with a visual impairment compete on tandems with a sighted "pilot."
Handcycling
Sport classes: H1- H5
There are five different sport classes for handcycling and lower numbers indicate a more severe activity limitation.
Cyclists in the sport classes H1-4 compete in a reclined position. While athletes competing in the H1 class have a complete loss of trunk and leg function and have limited arm function, e.g. because of spinal-cord injuries, athletes in the H4 class have no leg function but good trunk and arm function.
Cyclists in the H5 sport class sit on their knees and can thus use their arms and trunk to accelerate the handcycle. Athletes in this sport class might have leg amputations, paraplegia or mild to moderate athetosis or ataxia.
Tricycle
Sport classes: T1, T2
Tricycle athletes are divided into two classes, T1 and T2. Due to impairments affecting their balance and co-ordination they ride a tricycle to increase stability. The sport class T1 is allocated to athletes with more significant co-ordination problems or loss of muscle power than athletes competing in sport class T2.
Bicycle
Sport classes: C1-C5
Athletes who are able to use a standard bicycle compete in the five sport classes C1-5. The sport class profiles include amputations, impaired muscle power or range of motion and also impairments affecting co-ordination, such as ataxia and athetosis. Sport class C1 is allocated to athletes with the most severe activity limitation, while the sport class C5 is allocated to athletes who meet the minimum impairment criteria.
For example, cyclists with a double below-the-knee amputation who use a prosthesis are likely to compete in the sport class C3, while an athlete with a below knee amputation and a prosthesis on one leg would compete in the sport class C4.
Tandem
Sport class: TB
Cyclists with a visual impairment race tandem with a sighted cycler (pilot) in front. Cyclists in this sport class must meet the criteria as set out in the B3 profile:
B1: These athletes have a very low visual acuity and/ or no light perception.
B2: Athletes with a B2 sport class have a higher visual acuity than athletes competing in the B1 sport class and/ or a visual field of less than 5 degrees radius.
B3: Athletes with a B3 (or equivalent) sport class have the least severe visual impairment eligible for Paralympic sport. They have the highest visual acuity and/or a visual field of less than 20 degrees radius.
All B1, B2 and B3 athletes compete together in one event.
Helpful links
Editor's note: Each sport on the Rio 2016 Paralympic programme will have a dedicated week of featured content published on paralympic.org. Every week a new sport will be featured and the series will run until September's Games, helping the public understand more about the 22 sports being contested in Rio.
__
Sport fans from around the world can now buy their Paralympic tickets for Rio 2016 from authorised ticket resellers (ATRs)
The IPC's Global ATR is Jet Set Sports, and Rio 2016 tickets and packages can be purchased on the CoSport website.
Residents of Brazil can buy 2016 Paralympics tickets directly from the Rio 2016 website.
Visa International is the exclusive payment card and the official payment system for the Paralympic Games.