Sport Week: Rosenmeier craving taste of gold
It has been a while since the Danish Para table tennis star last won a singles gold on the international stage.
18 Jun 2016
Imagen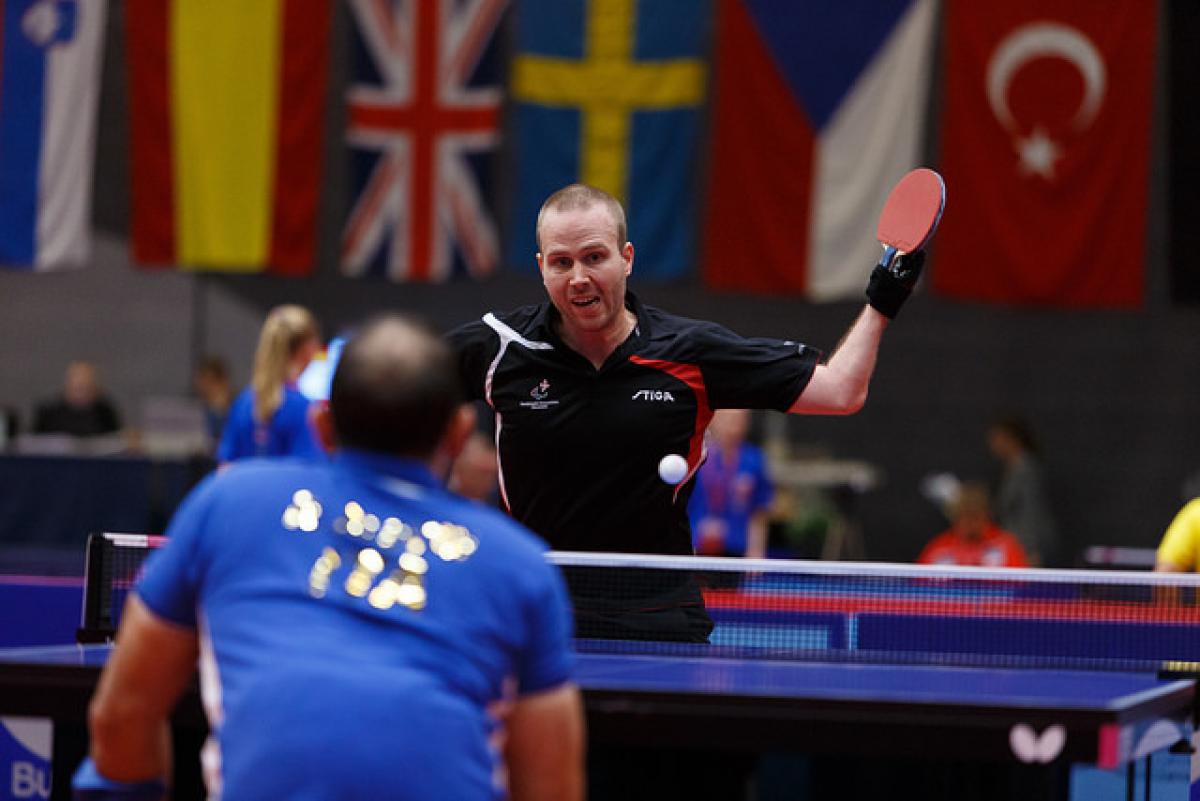 ⒸMorten Olsen
By Devon Robertson | For the IPC
"I'm looking forward to the opportunity to be the best in the world once again."
Denmark's Peter Rosenmeier wants to reclaim his 2008 Paralympic singles crown. He failed to reach the finals in London 2012. He has settled for second in the rankings, and runner-up at the World and European Championships. But that all makes Rosenmeier hungry for singles gold.
"I'm looking forward to the opportunity to be the best in the world once again," Rosenmeier said. "That is my goal and after a disappointing semi-final loss in London, I'm hungry for revenge on the biggest stage with all the world watching."
Rio 2016 will be Rosenmeier's fourth Paralympic Games. Having medalled in the singles event in 2004, 2008 and 2012.
In London, Rosenmeier fell to Thailand's then-No. 3 Rungroj Thainiyom with a 0-3 loss, which resulted in the bronze medal.
Following London 2012, Rosenmeier defeated Spain's Alvaro Valera in the 2013 European Championships in the class 6 final to take singles gold. It was deja vu in the 2015 final, but Rosenmeier was unable to defend his crown.
With Rosenmeier, Valera and Thainiyom all on the podium at the 2014 World Championships, it would be no surprise if all three would stand on the podium in Rio. It is just a matter of which order.
"For sure the reigning World and European Champion and world No. 1, Alvaro Valera – to whom I lost both of the finals – will be the biggest obstacle," Rosenmeier said about his toughest competition in Rio.
"But, Paralympic champion, Thainiyom from Thailand will be a man to look out for. They were on the podium with me in London, so it is a fair guess to say that it can be the same podium but with different places. But there are a lot of players who can challenge for a podium spot. It will be exciting to see what happens."
Rosenmeier has also had success in the teams competition.
In Rio, he will be joined by teammate Michal Jensen for the class 6-8 teams competition. Jensen came out of retirement ahead of the 2015 European Championships held in Vejle, Denmark. Together the pair took teams gold, and Rosenmeier finds that it is important to have a companion especially when traveling for big events.
"I love having Michal back on court," Rosenmeier said. "He was extremely missed the years he was gone. He is a top player, a great friend and a big team player. We will have a hard time as two class 6 players competing in 6-8, but we will play our chance.
"As a small nation it is very important to have more people around you. I was the only player from Denmark in London and three weeks is a long time on your own. In Rio we are three [Sophie Walloe is the third]. So it is a very exciting for not only Denmark, but myself as well."
Walloe is one of the youngest competitors heading to Rio. The world No. 5 class 10 athlete is only 16 years old and medalled at both the 2013 and 2015 European Championships, taking bronze and silver respectively.
Rosenmeier hopes that after Rio, the sport can grow in Denmark, and next time, the small nation would take a bigger delegation to international competitions.
"Hopefully Rio will be as much of an eye opener as London," he said. "Hopefully the people of Brazil and around the world, again, will be inspired by the performances of the Paralympians. There is some great action and some astonishing performances - people just need to get the chance to watch it."
Editor's note: Each sport on the Rio 2016 Paralympic programme will have a dedicated week of featured content published on paralympic.org. Every week a new sport will be featured and the series will run until September's Games, helping the public understand more about the 22 sports being contested in Rio.
__
Sport fans from around the world can now buy their Paralympic tickets for Rio 2016 from authorised ticket resellers (ATRs)
The IPC's Global ATR is Jet Set Sports, and Rio 2016 tickets and packages can be purchased on the CoSport website.
Residents of Brazil can buy 2016 Paralympics tickets directly from the Rio 2016 website.