Storey leads British charge at Velodrome
Four world records were broken on the opening day of cycling, as Great Britain's Sarah Storey stormed to gold in the individual pursuit.
31 Aug 2012
Imagen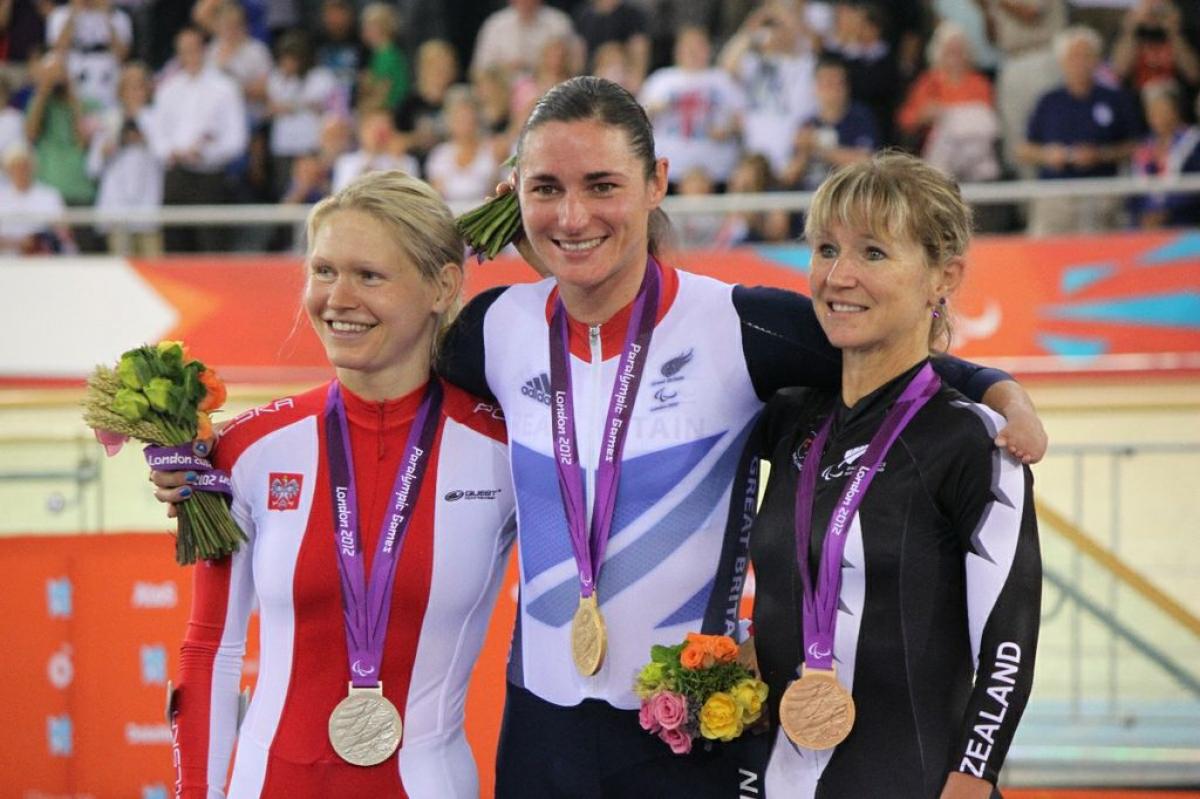 ⒸIPC
"It looked easy but believe me, there is so much work that goes into a medal like that."
With four world records broken on the opening morning of qualifying events, the Velodrome at Olympic Park was set alight from the start of play on the first day of track cycling at the Paralympic Games.
Just over two weeks after the end of the Olympic Games, the enthusiastic British public once again showed its whole-hearted and very loud support for the athletes as they surpassed themselves on the magnificent Velodrome, cheering on Sarah Storey as she won gold in the individual pursuit C5.
"It feels amazing," said a delighted Storey. "It looked easy but believe me, there is so much work that goes into a medal like that. I didn't expect to knock off so much time in my world record this morning, but that gave me great confidence and I was able to stay calm and do what I knew I could do."
The morning was devoted to the women's C and men's B individual pursuit qualifications, where world records were established in four of the five classes by Australians Jayme Paris (C1) and Susan Powell (C4) and China's Sini Zeng (C2).
The athletes all carried over their dominance on the track into the finals in the afternoon session.
Zeng, competing in her first Paralympics, won gold in the C1-3 final against Australian Simone Kennedy. Powell also went on to win gold in her final.
For new C4 world-record holder Susan Powell, her gold medal was almost like revenge: "It hasn't been a great year. It didn't go that well in L.A. (UCI World Championships) earlier in the year. I guess I wanted to come out and show something."
Meanwhile, Powell's compatriots were assured of the title of Paralympic champion in the men's B individual pursuit final (4,000m), with an all-Australian final between Kieran Modra and Bryce Lindores. It was Modra, together with pilot Scott McPhee, who rode to victory.
The other final of the day was the men's C1-3 time trial. Suspense was high as the 28 athletes set off individually on the 1km race against the clock.
Fastest on the day was China's Zhang Yu Li, who took his victory in his stride.
"In training I've been performing very steadily," he said. "My performances have been going up, so I was expecting to win."