Swiss double in Lyon 2013 marathon
Hug and Schaer seal T54 World Championship marathon titles
28 Jul 2013
Imagen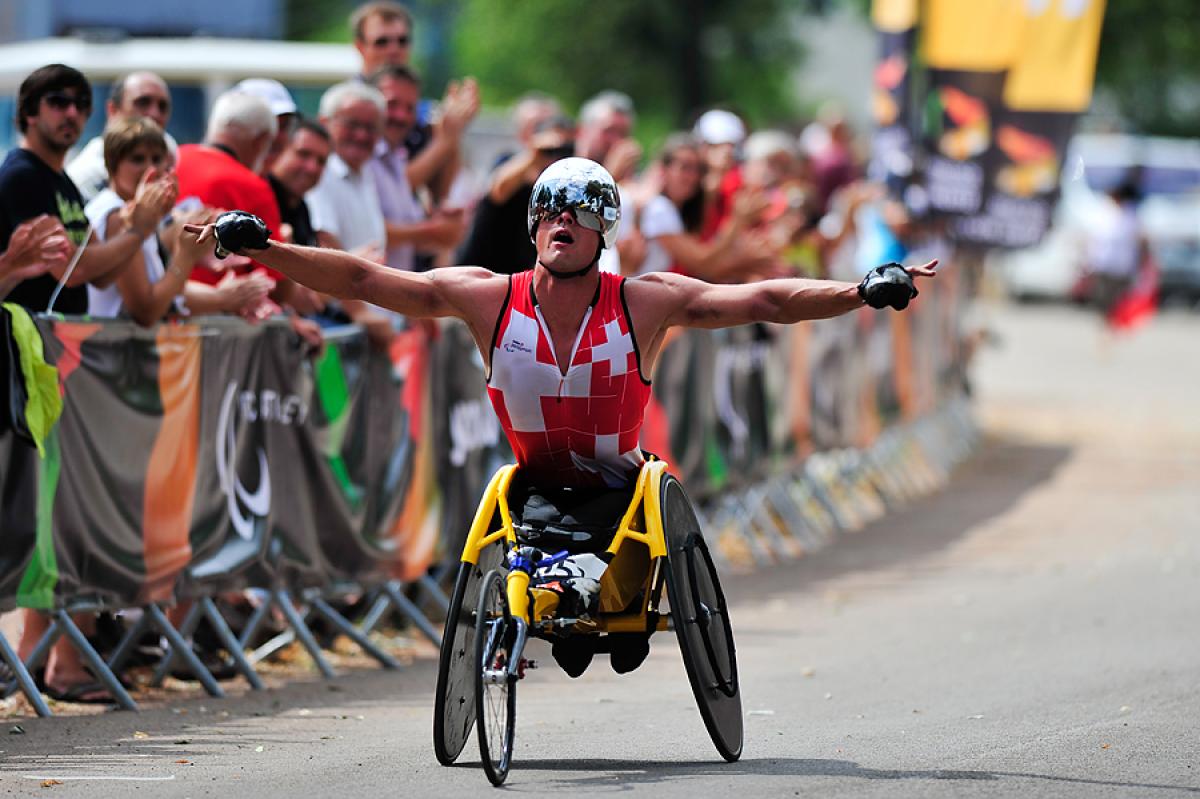 ⒸLuc Percival
It was a sensational day for Switzerland on the final day of the 2013 IPC Athletics World Championships in Lyon, France with Marcel Hug and Manuela Schaer each winning gold in the men's and women's T54 marathon events.
The first few laps of the men's race around Lyon's beautiful Parc de Parilly saw the racers bunched together until Hug upped the pace to string out the field. One by one his rivals fell away until just the Swiss Silver Bullet and Poland's Tomasz Hamerlak were left.
Hamerlak could not live with the pace however and by the time the race approached the 25km mark Hug led by over a minute.
From there on in it was a race between Hug and the clock. He eventually finished in 1:28:43, more than eight minutes outside teammate Heinz Frei's world record set in 1999.
"It means a lot to me to me because it was so hard," said Hug who in winning his fifth gold in six events, equalled the gold medal haul of Raymond Martin of the USA at Lyon 2013. "I went away early so it was really tough but now I am really happy and I am really tired. Every medal is special - it means a lot to me, but the marathon was of course the hardest."
"It was hard being out myself, but I have to say thank you to my staff, they told me the times between me and the other athletes - I knew the gap was growing, so that gave me confidence.
"It was just me against the clock, I didn't recognise the time, but it's not important. I just know in my mind, I had so much confidence, but I didn't know how much energy I had left in my arms but in my mind everything was good."
After Hug had sped away Hamerlak (1:32:27) dropped back in to a chasing group of four but still had enough power in the final sprint to take well deserved silver in a photo finish. Bronze was won by Kota Hokinoue (1:32.27) in a sprint finish just ahead of Frei.
Going into the final lap of the women's T54 four racers – Wakako Tsuchida of Japan, Amanda McGrory of the USA and the Swiss pair of Edith Wolf and Manuela Schaer – were all well clear of the field.
McGrory could not last the pace and coming into the final 600m it was anyone's race between the three remaining racers. With Wolf dropping back slightly, Schaer and Tsuchida went toe-to-toe. On the line Schaer (1:49.45) took it from the Japanese athlete (1:49:45) to seal a memorable Swiss double. Bronze went to Wolf (1:49:46).
"I have no words for that because I had a perfect week," said Schaer who took silver over 400m, 800m and 5,000m earlier in the week.
"My 800m was awesome, my 400m and 5,000m was great. To finish this week with a gold medal is incredible. I'm so happy I really didn't expect that.
"Edith broke away at the last downhill and we managed to catch her, so it was all down to the last 600m. I come from a sprinting background so I was pretty confident I could sprint away but after all this week with all the other races, it changes everything but I just fought until the end."
The first marathon winner of the day was Morocco's El Amin Chentouf in the men's T12 class. It was Chentouf's third gold of Lyon 2013 after he had taken 5,000m and 10,000m gold earlier in the week, smashing the world record in the latter distance.
The 32 year old was never troubled as he finished in 2:29:47 well ahead of Columbia's Elkin Serna Moreno (2:40:41) and Portugal's Gabriel Macchi (2:41.25) in silver and bronze respectively. Spain's Paralympic champion and world record holder Alberto Suarez Laso failed to finish.
Italy took gold in the men's T46 marathon through Alessando di Lello winning by a 12 minute plus margin in 2:33.42. Mexico's Pedro Meza (2:46:20) was the silver medallist whilst some distance back was Brazil's Ezequiel Costa (3:00.45) in bronze.
Christian Machado of Chile, a silver medallist in the 1,500m and 1,500m, was the winner of the T11 marathon in a close race that saw all three medallists finish within 80 seconds of each other. Machado finished in 2:44:33 whilst Japan's Shinya Wada (2:45:34) won a titanic battle for silver against Portugal's Joaquim Machado (2:45:50).