Top 50 Moments of 2017: No. 43 - Jeanette Chippington commands canoe
British athlete continues amazing sporting career with 11th world title
19 Nov 2017
Imagen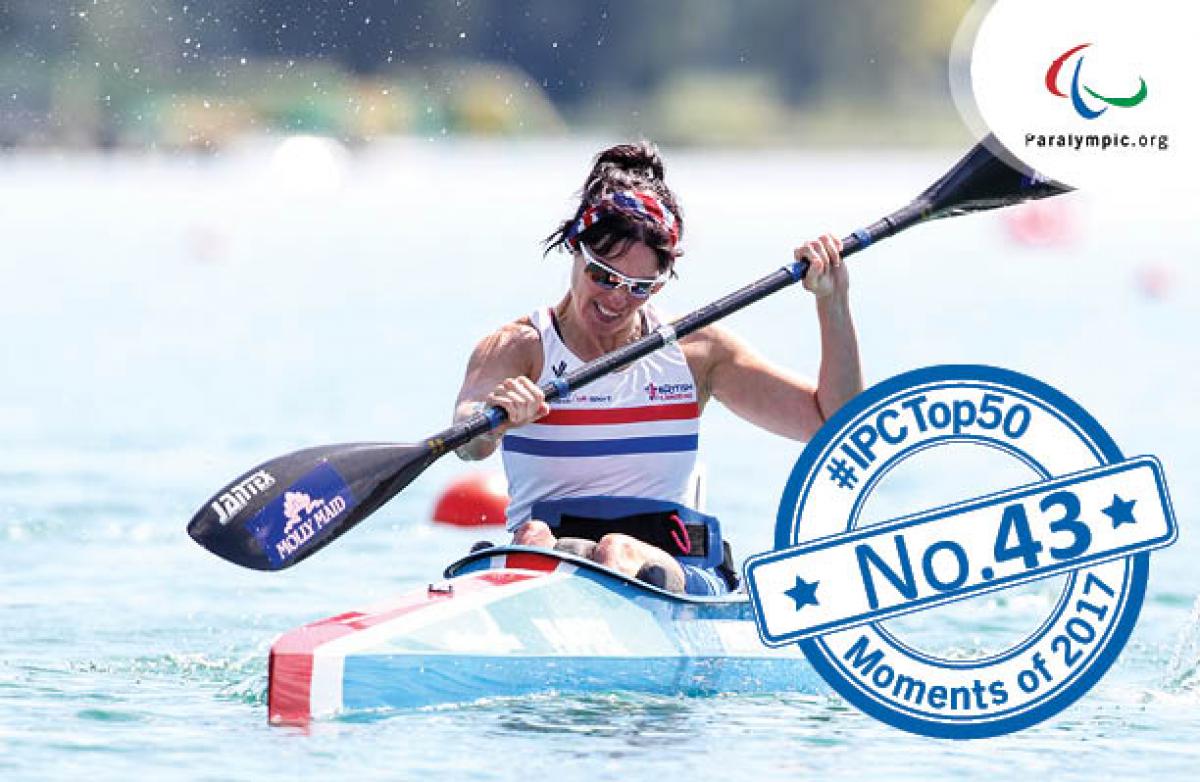 By IPC
Jeanette Chippington might have enough medals and Paralympic Games experiences to be satisfied with her sporting career. But 19 years after her first Games experience at Seoul 1988, 2017 proved that the British athlete's competitive nature is still very much alive.
And unfortunately for her rivals so is her winning form.
At 47 years old, Chippington won her 11th world title in Para canoe. Considering she came back from retirement in swimming to dominate another sport, Chippington's gold medal from August was a remarkable achievement to add to a remarkable career. It comes in at No. 43 on the International Paralympic Committee's (IPC) Top 50 Moments of 2017.
Chippington entered the 2017 Para Canoe World Championships in Racice, Czech Republic, with 10 world titles plus Paralympic gold from Rio 2016.
She had been undefeated in the women's KL1 200m at a Worlds since 2012. But that streak ended at the 2016 edition in Duisburg, Germany, where Edina Mueller stole the crown.
And that was Chippington's main motivation as she pushed for an 11th title.
"Deep down I really wanted to get my world title back (after losing last year), so I had put a bit of pressure on myself," Chippington said. "I kept telling myself to just go out there and treat it like a time trial.
"I train so hard and put so much effort into it, so it's great to do so well."
Chippington almost did not get what she had worked for hard for, with the women's KL1 200m race going down to the wire. But the Briton held on for victory, just beating Russia's Alexandra Dupik* 57.632 to 57.871.
Her 11th world title adds to her 12 Paralympic swimming medals, which extend from every Summer Paralympics from Seoul 1988 to Athens 2004.
Kayaking and canoeing were only hobbies. But when she learned that the latter would be included at Rio 2016, she could not help but return to competitive sports.
Multiple world titles, a Paralympic gold and European title in canoe – Chippington's collection is more than complete.
The full rundown of the Top 50 Moments will continue until 31 December.
*Editor's note: The International Paralympic Committee suspended the Russian Paralympic Committee on 7 August 2016 for its inability to fulfil its IPC membership responsibilities and obligations, in particular its obligation to comply with the IPC Anti-Doping Code and the World Anti-Doping Code (to which it is also a signatory). As a result of the suspension, Russian athletes cannot enter IPC sanctioned events or competitions, including the Paralympic Games.
On 6 September 2017, the IPC put in place a limited interim measure for athletes to compete as neutrals in qualification events across four World Para sports for the PyeongChang 2018 Paralympic Winter Games. These sports are alpine skiing, biathlon, cross-country and snowboard.