Unbeaten run brings mixed feelings to Beatrice Vio
The young Italian fencer is learning how to cope with the pressure of being the one to beat at Rio 2016.
13 Mar 2016
Imagen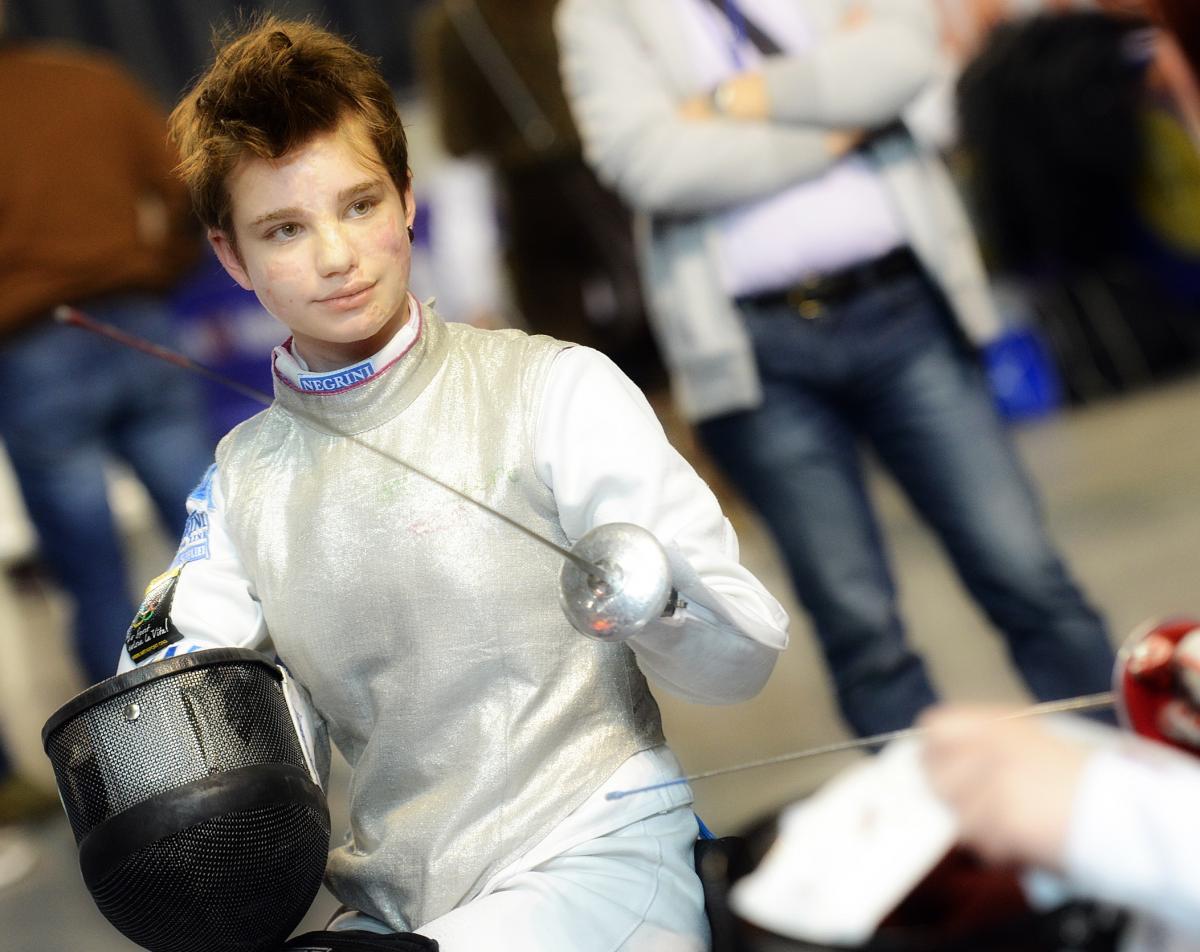 ⒸAugusto Bizzi
By Mike Stuart | For the IPC
Italian wheelchair fencer Beatrice Vio is honest about the pressure that comes with being No. 1 in her class.
The 19-year-old, known as "Bebe" to friends and family, was unbeaten in 2015, winning gold in five World Cups and securing the World Championship title in the women's foil category B.
This run continued in 2016 with gold at the first World Cup event of the season in Eger, Hungary in February.
The achievement has surprised even Vio.
"I did absolutely not think it was possible at the start of the year [2015]," Vio admitted. "I wanted to have a good season and compete at the same level as my main rivals, but I didn't expect to win all the competitions."
"It is a wonderful feeling but almost makes me a little afraid, because it is not possible to win all the time, though now everybody is expecting it. The more I win the more pressure I feel."
When the European Championships come to her home country in May, even more eyes will be on Vio to catch a glimpse of what is to come in September's Paralympic Games in Rio 2016.
Mental strength is the difference
When the Italian wheelchair fencing federation decided to restructure the coaching programme for wheelchair fencing for the 2015 season, Vio was apprehensive. She had enjoyed working with her previous coach Fabio Giovannini. With the change to a dedicated coach for each discipline, Vio was assigned to the foil specialist Simone Vanni. It did not take long, however, for Vio to adjust to Vanni's coaching style.
"Fabio and Simone are very different. I was very happy with Fabio because I was not very good from a technical point of view and he used to suggest to me most of my moves during competition. It was quite easy for me – I was practically a remote-controlled fencer, so much so that my teammates used to call me Mario Bros," Vio said.
"Simone instead prefers to talk to me before and after the fight and let me fence alone to make me understand how to manage it. At the beginning it was very difficult for me but now I'm learning and starting to perform better."
For Vanni, Vio's 2015 season was no surprise.
"I already knew her potential," Vanni explained. "What sets Bebe apart is her mind. In my career I have only found a few fencers with this kind of mind.
"She's different in [her] focus. Every time the match coming up is set to be harder, she improves her fencing; she's never afraid. And I see the will to win that she has really in very few fencers. That's what makes the difference."
Vanni said Vio's training programme will continue to evolve in 2016.
"It seems a winning formula, but top athletes like Bebe never stop improving, so we will keep making changes to her training," Vanni said.
Tests on, off the piste
Vio's training still has to be balanced with schoolwork, which makes her achievements in 2015 even more remarkable and her goals for 2016 more challenging, as her father, Ruggero Vio, explained:
"At certain times it was impossible for Bebe to train because she had to study.
"This year it will be even tougher because it's her last year of high school and in June she will take her final exams."
Vio is the only wheelchair fencer to compete without arms and legs. In 2008 at age 11, she contracted meningitis, a disease caused by the inflammation of the protective membranes covering the brain and spinal cord. This resulted in Vio staying more than 100 days in hospital. Doctors were able to save her life but at the cost of the amputation of all four limbs.
Vio was a fencer before her illness, and according to her father, he saw the same determination in his daughter that got her through that tough time and return to the sport.
"Bebe has always been a very determined girl," he explained. "During the long period of illness she always believed in herself and in her future, including returning to fencing, even though everyone said it was impossible to fence without hands."
From torch bearer to gold-medal contender
Vio is anxious not to disappoint in the Paralympic year.
Gold at Rio 2016 has been Vio's ambition ever since she won an International Paralympic Committee (IPC) competition that gave future athletes the chance to be a torchbearer at London 2012.
Although she had the potential to compete at the 2012 Paralympics, Vio's then-coach and father deemed her too young at 15 years old.
But the last four years have shown she has gold-medal potential at Rio 2016.
One of Vio's toughest opponent might be German rival and London 2012 Paralympic medallist Simone Briese-Baetke, who was out for long period due to illness.
"Sooner or later I have to lose," Vio said. "I just hope it won't be at the European Championships in Italy in May, or even worse at the Paralympics Games in Rio."
But last year's perfect season was just one sign that the 19-year-old Italian is handling pressure just fine.
As her father put it: "She never gives up."
__
Sport fans from around the world can now buy their Paralympic tickets for Rio 2016 from authorised ticket resellers (ATRs).
The IPC's Global ATR is Jet Set Sports, and Rio 2016 tickets and packages can be purchased on the CoSport website.
Residents of Brazil can buy 2016 Paralympics tickets directly from the Rio 2016 website.