US men's sitting volleyball team set for Toronto 2015
The team for August's Parapan American Games features 11 players with World Championships experience.
14 Jul 2015
Imagen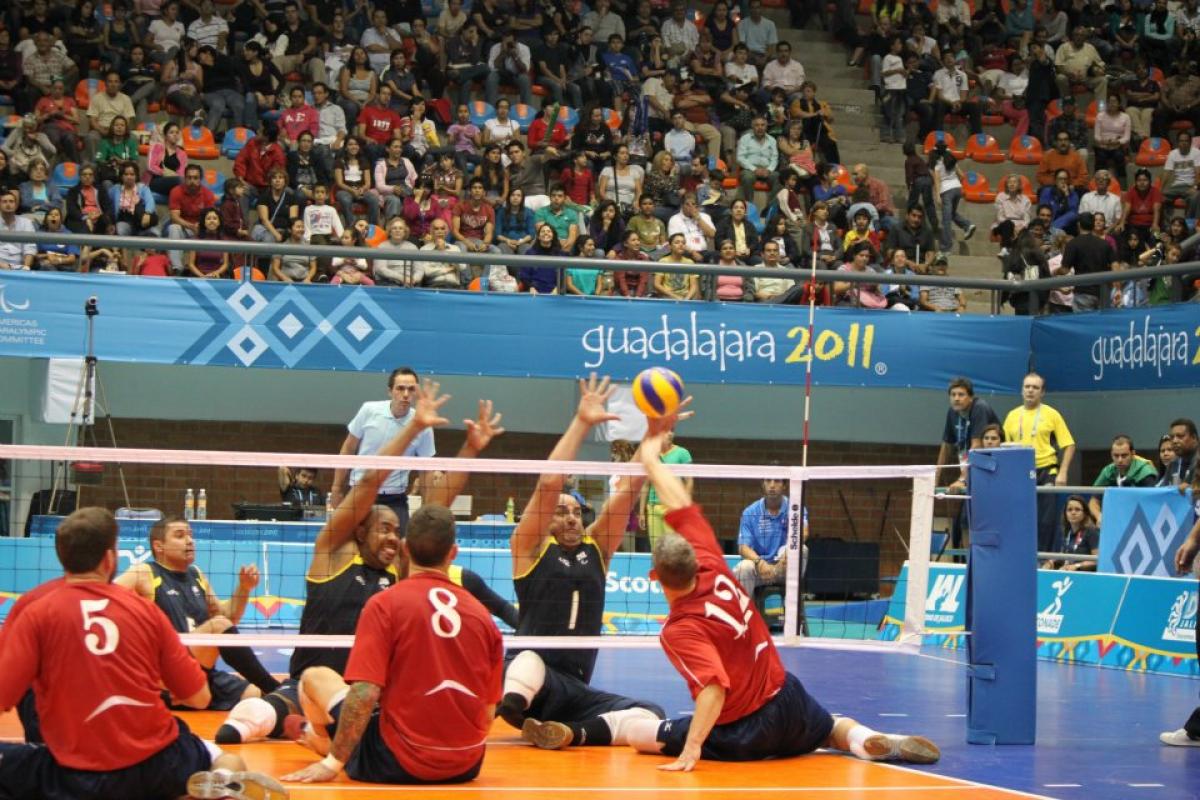 ⒸIPC
By USA Volleyball
USA Volleyball has announced its 12-member men's sitting volleyball team that will compete in the Toronto 2015 Parapan American Games taking place 7-15 August.
US Head Coach Quinton Kraeer has selected a roster that boasts 11 players with World Championships experience, but all vying for their first Paralympic Games experience. The winner of the Parapan American Games earns a berth into the Rio 2016 Paralympics, or the second-place finisher should Brazil capture the title.
"This is one of our best chances to qualify for Rio, so this roster was very important," Kraeer said. "I spent many hours talking with staff about making the right choices. I feel that the team is ready for the Parapan Am Games. I have been pushing the guys very hard and they are ready to see it pay off."
Outside hitter Eric Duda, who will serve as captain, leads the experienced squad with 56 international matches played. Other outside hitters on the squad include J Dee Marinko and Ben Aman. Setters selected to the squad are James Stuck and Jese Schag.
The middle blockers are Roderick Green and Dan Regan. Edgardo Laforest is the lone opposite on the team, while liberos are Hugo Storer and John Kremer. Travis Ricks is listed as the defensive specialist.
Stuck has played in 44 international matches, while Green has 40 matches. Regan follows with 39 matches. Kremer is the only player without experience at the World Championship, but played in the Sarajevo Open in May 2015 after being a part of the A2 programme.
The US opens the preliminary round on 8 August against Colombia, followed by matches against Mexico on 9 August, hosts Canada on 10 August, Costa Rica on 11 August and Brazil on 12 August. The semi-final round takes place on 13 August, followed by the medal round on 14 August.
"I am excited about the upcoming tournament and to see what this roster can do as we are going to be able to see what some of our young guys do in their first real test," Kraeer said.
The Parapan American Games sitting volleyball competition will take place at the Aquatics Centre and Field House in Toronto.
The 2015 US Parapan American Volleyball Team is subject to approval by the United States Olympic Committee.
U.S. Parapan American Men's Sitting Volleyball Team Roster
1. Travis Ricks (DS, San Diego, Calif., 5-7)
2. Daniel Regan (MB, St. Louis, Mo., 6-0)
4. Ben Aman (OH, Edmond, Okla., 6-5)
5. Eric Duda (OH, Fort Lauderdale, Fla., 6-5)
6. Jese Schag (S, Sheridan, Ill., 6-2)
8. James Stuck (S, New Kensington, Pa., 6-5)
9. Hugo Storer (L, Greensboro, N.C., 6-0)
10. Edgardo Laforest (OPP, San Juan, Puerto Rico, 6-1)
11. Roderick Green (MB, West Monroe, La., 6-3)
13. Charlie Swearingen (MB, Gulfport, Miss., 6-3)
14. John Kremer (L, Buford, Ga., 5-9)
18. J Dee Marinko (OH, New Castle, Okla., 6-4)
Head Coach: Quinton Kraeer
Assistant Coach: Greg Walker
Assistant Coach/Technical Coordinator: TBA
Trainer: TBA
Team Leader: Dixie Collins
To buy tickets for sitting volleyball at the Toronto 2015 Parapan American Games, please click here.