US swimmers break records at Jimi Flowers Classic
Elizabeth Marks showed good form, setting a new world record in the women's 50m breaststroke SB7 in Colorado Springs.
18 Jan 2016
Imagen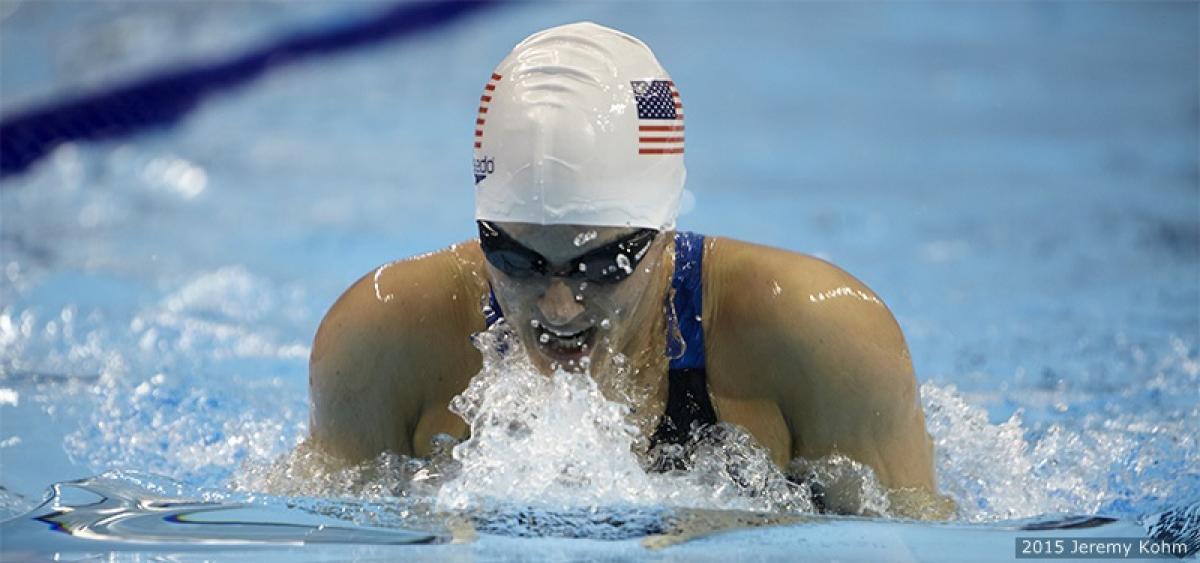 ⒸJeremy Kohm
By US Paralympics
While a light dusting of snow fell on the opening morning of the seventh annual Jimi Flowers Classic, the records were falling inside the pool as one world record and multiple American and Pan American records were shattered at the US Olympic Training Centre in Colorado Springs, Colorado.
The meet summons athletes from the Paralympic swimming family of all skill levels and ages, allowing the future of US Paralympics Swimming to share the pool with the stars of today over a two-day span. The meet honouring the former coach, mentor and manager who passed in 2009, included many swimmers who swam under Flowers and still feel his aura when participating in the event named in his honour.
"Everything has been going great," said three-time Paralympian Rudy Garcia-Tolson. "We've got a lot of young swimmers out here at the Jimi Flowers Classic and that's what Jimi was very passionate about. He was passionate about growing the Paralympic Movement and making sure that young kids have opportunities to race and to be put in a situation where they could shine."
Flowers' family enjoys the opportunity to see Jimi's lasting impression portrayed during the course of the meet and how influential he was as a mentor to so many athletes.
"My dad taught them well and they have accomplished a lot. They are all out here swimming for him today," said Sam Flowers, son of Jimi and Sue Flowers. "It's been really amazing having all of these people come out here. They all feel the spirit and emotion."
Members of the recently announced 2016 US Paralympics Swimming National Team were in attendance, including US Army Sergeant Elizabeth (Wasil) Marks. Marks set the lone world record of the meet, coming in with a time of 41.21 in the 50m breaststroke SB7, an event that is not on the Paralympic programme. Marks also went on to break the American and Pan American records in the 200m breaststroke SB7 with a time of 3:17.89.
When asked about her new world record, Marks said "I was in with a lot of very fast girls who I compete with a lot. They aren't in my classification so I don't always get to race them and that's really enjoyable because it gives me people to pace off of. I felt like I was going fast and I realized off the start I was keeping up with Colleen [Young]." Marks mentioned that her training has been rather intense lately, but that it was a "happy surprise" to break the record.
Garner Moss also broke multiple records, setting new American records in the 200m backstroke S14 with a time of 2:45.81 and stringing together another impressive performance with a 34.54 finish in the 50m backstroke S14.
Three-time Paralympic medallist Tucker Dupree broke an American record for the second year in a row at the Jimi Flowers Classic with a time of 34.58 in the 50m breaststroke SB12.
The seventh edition of the annual meet honoured the memory of Flowers while raising proceeds to benefit the Sam and Lauren Flowers Fund, a scholarship fund for Flowers' children.
All records are subject to ratification by IPC Swimming.