USA wins four out of 12 para-cycling world titles on Friday
Whilst USA won four golds at the UCI World Championships, there were also wins for Great Britain, Germany, Japan, Australia, Czech Republic, Ireland, Italy and Ukraine.
30 Aug 2014
Imagen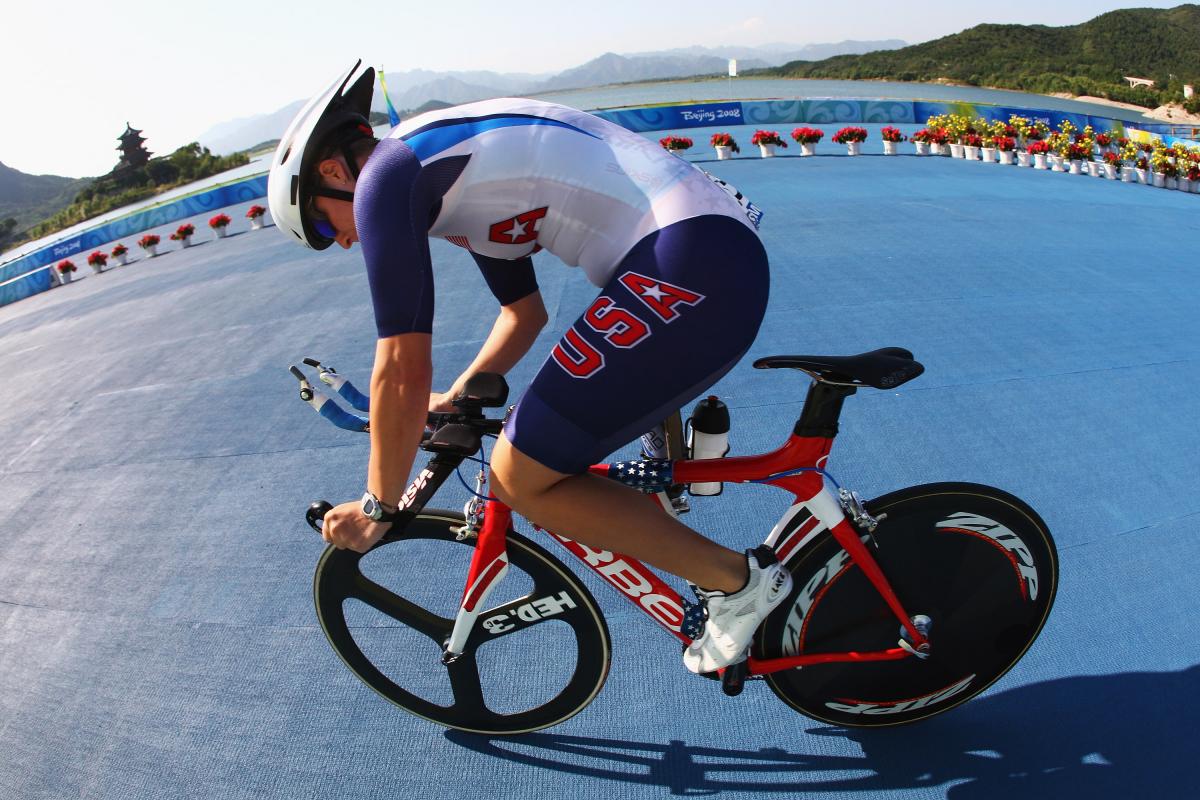 ⒸGetty Images
By IPC
"To win back-to-back is a big honour, and especially to do it on home soil here in the US."
Hosts USA had a day to remember on Friday (29 August), the second day of the 2014 UCI Para-cycling Road World Championships in Greenville, South Carolina, winning four of the 12 gold medals available.
Aaron Keith (24:19.37) won Team USA's first gold medal of the Championships as he defended his title in the men's C2 time trial, finishing 26 seconds ahead of Russia's silver medallist Arslan Gilmutdinov (24:45.92). China's Guihua Liang (24:54.81) took the bronze.
"To win back-to-back is a big honour, and especially to do it on home soil here in the US," Keith said. "Last year I think my dad was the only US spectator at the World Championships, so to have all of my family here and to be able to hear them at the start and the finish line was really special."
Seven-time Paralympian Allison Jones (27:53.74), a downhill bronze medallist at Sochi 2014, won her eighth women's C2 world title with a dominant display. Jones finished more than a minute ahead of Spain's Raquel Acinas Poncelas (29:01.89) in silver and China's Sini Zeng (29:17.91) in bronze.
"Defending my title in our own country, it wasn't a lot more pressure, but there was that reminder of everyone cheering for you, cheering in English and your family and friends are here," Jones said. "I could see the red, white and blue out there on the course, and it was such a positive atmosphere, so it was really awesome to get the win."
Jamie Whitmore (26:28.92) won her third world title of the year as she defended her women's C3 title. Earlier this year she won two titles at the UCI Para-cycling Track World Championships.
Megan Fisher (26:00.51) won the C4 time trial, with teammate Shawn Morelli (26:20.41) taking silver. Fisher turned in the fastest time of the day by more than 20 seconds, while Morelli created an additional gap of more than 30 seconds over Australia's Susan Powell (26:53.32) who took bronze.
"I'm so thrilled to defend my title," Fisher said. "The competition is so fierce and it is so tight. It is just an honour to even make the podium. This has been such an amazing year to be able to represent the USA, and to earn a spot on that top step is out of this world."
Away from success for the host nation, Ireland's Eoghan Clifford (22:44.61) won gold in the men's C3 time trial, a stunning achievement in his first major international competition. Russia's Sergey Ustinov (23:19.49) took silver and Italy's Fabio Anobile (23:31.70) the bronze.
"The conditions were hot, but not too breezy," said Clifford. "I knew early on that I was going well. I held back on the first lap, and on the second lap I emptied the tank.
"I knew I had done well, but I wasn't sure about the podium. It seems that I pulled most of my time on the second lap, I could see the other guys suffering on the hills, and it gave me a boost.
Sarah Storey, Great Britain's most decorated Paralympian, won her 15th world title in the women's C5 class. Storey (23:41.91) finished almost 50 seconds ahead of Poland's Anna Harkowska (24:31.11) who claimed silver with USA's Samantha Heinrich (25:06.33) taking the bronze.
"Woop :-) so delighted to win the rainbow stripes again!" tweeted Storey after her win.
The women's C1 time trial was won by Australia's Jayme Richardson (39.22.55).
After narrowly missing out on gold by 1.16 seconds at the last World Championships, Germany's Michael Teuber won his 17th world title with victory in the C1 class. Teuber (24:42.78) took the win ahead of Italy's Giancarlo Masini (25:56.73) and China's Zhangyu Li (25:58.57) who took silver and bronze respectively.
The men's C4 class was won by the Czech Republic's Jiri Bouska (33:24.33) by just six seconds. Silver went to Slovakia's Jozef Metelka (33:30.28) and bronze Russia's Sergey Pudov (33:48.93).
Ukraine claimed their first win in the men's C5 time trial. Yehor Dementyev (32:36.81) edged out Austria's Wolfgang Eibeck (32:43.29) into silver. Bronze was claimed by the Netherlands' Daniel Abraham Gebru (33:26.11).
In the tandem time trials, the women's title was won by Japan's Yurie Kanuma with pilot Mai Tanaka (34:46.04). Silver went to New Zealand's Emma Foy and pilot Laura Fairweather (35:37.18) and bronze Great Britain's Lora Turnham and pilot Corrine Hall (36:11.22).
The men's equivalent was claimed by Italy's Ivano Pizzi and pilot Luca Pizzi (31:26.98). Silver and bronze went to the Netherlands' Vicent Ter Schure and pilot Timo Fransen (31:40.77) and Poland's Marcin Polak and pilot Michal Ladosz (31:49.52).
For more information on the 2014 UCI Para-Cycling World Championships, visit the competition website.