Van Rhijn targeting sprint double at Lyon 2013
Dutch 'Blade Babe' looking to add world titles to last year's Paralympic success
18 Jul 2013
Imagen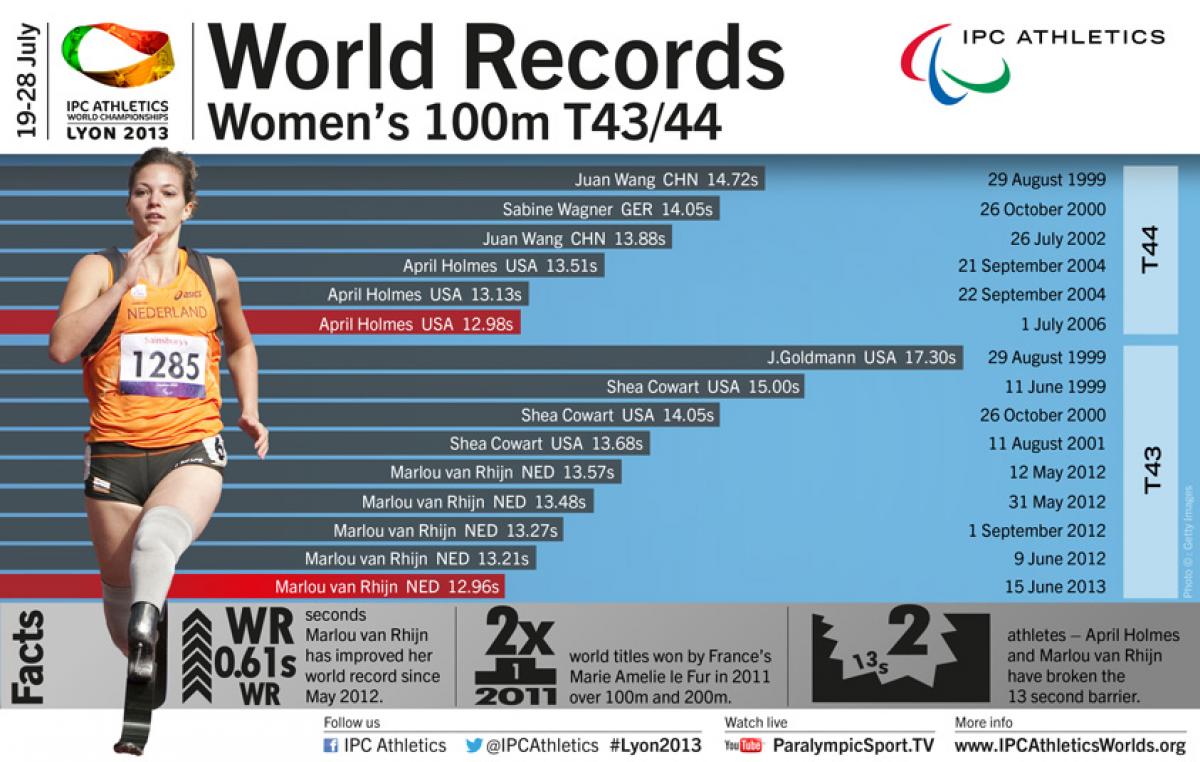 ⒸIPC
"We all have to run the perfect race to win gold in Lyon, one missed step and you're not on for gold anymore."
The world's fastest female leg amputee Marlou van Rhijn of the Netherlands is targeting the sprint double at the 2013 IPC Athletics World Championships in Lyon, France.
The 21-year-old double below knee leg amputee broke onto the scene at London 2012 winning one gold and one silver medal. She has followed it up this year by breaking her own 100m T43 world record twice and also smashing the 400m mark.
The bad news for her rivals is that she aims to peak at Lyon 2013 on what she believes is a fast track at the Stade du Rhone.
"This is the Championships I have trained towards this year and I'm hoping to be the fastest I can be at this moment," explained van Rhijn who will do the 100m and 200m in Lyon, the same events she competed in at last year's Paralympics.
At London 2012 van Rhijn won 200m T43/44 gold in a world record time but could only manage 100m T43/44 silver despite setting a T43 world record.
In Lyon she is looking for gold medals and close races, especially in the 100m where she will face defending world and Paralympic champion Marie-Amelie le Fur of France and the Beijing 2008 Paralympic gold medallist April Holmes of the USA. At London 2012 just 0.07 seconds separated the three podium finishers.
Marlou van Rhijn said: "Obviously I want to win in Lyon and win in a fast time, but not especially a world record.
"The best race would be where everyone is fast and it's like hundredths of a second separating one, two and three. That would be a very good race.
"I think the home support will help Marie-Amelie a lot.
"Although there are not too many athletes in the T43 and T44 class, all of us are fast. So I think the 100m is going to be very exciting, not just because of Marie-Amelie but also with April Holmes.
"We all have to run the perfect race to win gold in Lyon, one missed step and you're not on for gold anymore."
After her success at last year's European Championships on home soil, as well as London 2012, van Rhijn is now possibly the most high profile active Paralympian in her homeland following the retirement of wheelchair tennis legend Esther Vergeer.
She is coming to terms with how her life and profile have changed in recent years and laughs when asked about her nickname 'Blade Babe'.
"It's quite strange," she said. "On one hand my life hasn't changed since London. I'm still at the track and still training very hard.
"However, on the other hand after London I got this feeling that everybody knew me and everyone was looking at me. It was quite strange and I had to get used to it. It was quite unknown to me before London.
"People recognise me now, especially when I'm on blades. But in my daily life I can still do groceries without any problems.
"The nickname is really cool. Lots of people say to me 'but it's babe and it's taking the attention off the things you do and the records' but I see it as a compliment. I'm on blades and if people think I'm a babe then I'm very, very happy!"
Marlou van Rhijn's first race in the IPC Athletics World Championships will be the semi-finals of 100m T43/44 on Tuesday ahead of Wednesday's final. Her 200m final will take place on Saturday 27 July.
The 2013 IPC Athletics World Championships opens this Friday (19 July) and will feature over 1,000 athletes from nearly 100 countries. It is the biggest gathering of international athletes since London 2012 and will be streamed live from Saturday morning via www.ParalympicSport.TV.
Live results can be found at the Lyon 2013 IPC Athletics World Championships website whilst updates and behind the scenes pictures can be found at twitter.com/IPCAthletics and facebook.com/IPCAthletics.
Related Images
Related Videos