Van Zon: Competititon closer than ever
Paralympic table tennis champion relishing challenge ahead of European Championships.
09 Jun 2017
Imagen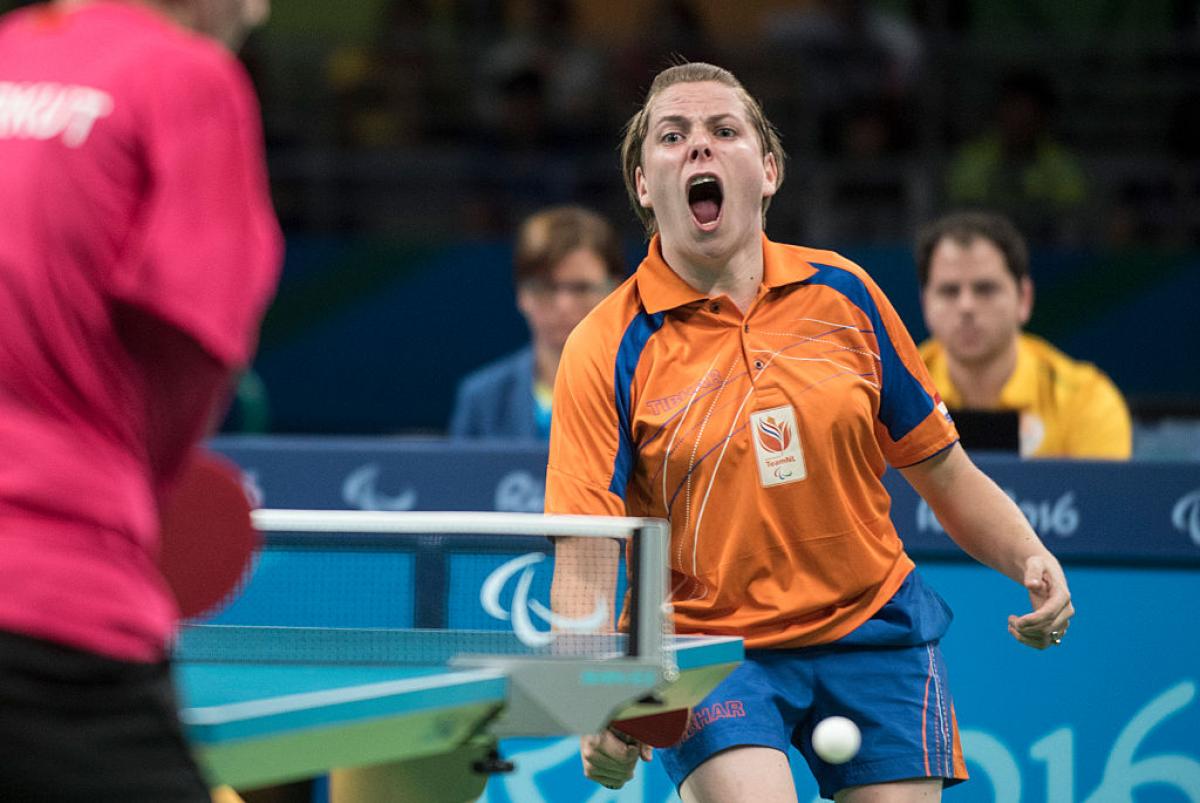 ⒸGetty Images
By Connor Craig-Jackson | For the IPC
Kelly van Zon has dominated the women's class 7 for nearly a decade. But the Dutch table tennis player can feel the competition tightening, and with the 2017 European Championships less than four months away, van Zon knows she cannot let up.
"I think anything can happen and I have to watch out for everyone,"the two-time Paralympic champion said. "I have been leading in class 7 for quite some time now but I still really feel that everyone is getting closer and closer."
Since 2009, van Zon has been almost unstoppable at the major championships.
Aside from a European bronze in 2013, the 29-year-old has won gold in all major tournaments since 2009, with her most recent triumph at the Rio 2016 Paralympics placing her as the frontrunner for a second straight European title in Lasko, Slovenia, from 26 September – 5 October.
"It's going to be tough and of course there are some players like Turkey's Kubra Korkut who I played in the Rio final and you also have the Russian players* and the French player who are very strong,"van Zon said.
"There are definitely no players in the European Championships who are easy to play against. Everybody has their own strengths and weaknesses and I have to just do my best and give everything."
She has spent much of the past eight years at the top of the class 7 world rankings. But she admits the period before Rio was very tough, as she was practising three years full-time and barely had a social life.
However, after her Rio 2016 victory, the world No. 1 has been taking things slowly.
"I always called it tunnel-vision because you're purely focussed on that one thing that you want to get, but right now I'd say that my tunnel is way bigger," van Zon said. "Of course I still live for my sport and of course I'm still a full-time athlete but I also just want to try and put a bit less pressure on myself this year and enjoy life."
"You give a lot but you do get a lot of nice things back for it like the travelling, the medals I've won and everyone supporting me like my parents, my girlfriend, my sister and my friends," she added. "I think that's something that gives me the energy to continue for another four years."
Van Zon has shown consistency heading into Lasko. She clinched gold medals at the Ligano Master Open and Slovenia Open, the same site where this year's Europeans will be held.
Amid all her achievements, van Zon pinpointed her gold from London 2012. It was a redeeming moment, especially after taking bronze at Beijing 2008.
"I came back to win the third set and all of my friends and family were there which gave me a massive adrenaline rush," she recalled.
"I also remember that my coach took the time out at 8-6 in the third set and I came over and said 'this is the same story from Beijing, I'm going out in the semi-final again oh my god.' But my coach gave me 30 seconds to clear my mind and then after that he said 'OK stop' and then spent 30 seconds telling me how I had to play.
"So I won the third set, I won the fourth set and in the fifth set I was leading 10-5 with five match points. Then suddenly I was behind 11-10 and now my opponent had one match point, but I managed to win 13-11. I think that's one of my most memorable matches ever."
*Editor's note: The International Paralympic Committee suspended the Russian Paralympic Committee on 7 August for its inability to fulfil its IPC membership responsibilities and obligations, in particular its obligation to comply with the IPC Anti-Doping Code and the World Anti-Doping Code (to which it is also a signatory). As a result of the suspension, Russian athletes cannot enter IPC sanctioned events or competitions, including the Paralympic Games. For further information please click here.