Vergeer Impressed by Eton Manor Test Event
07 May 2012
Imagen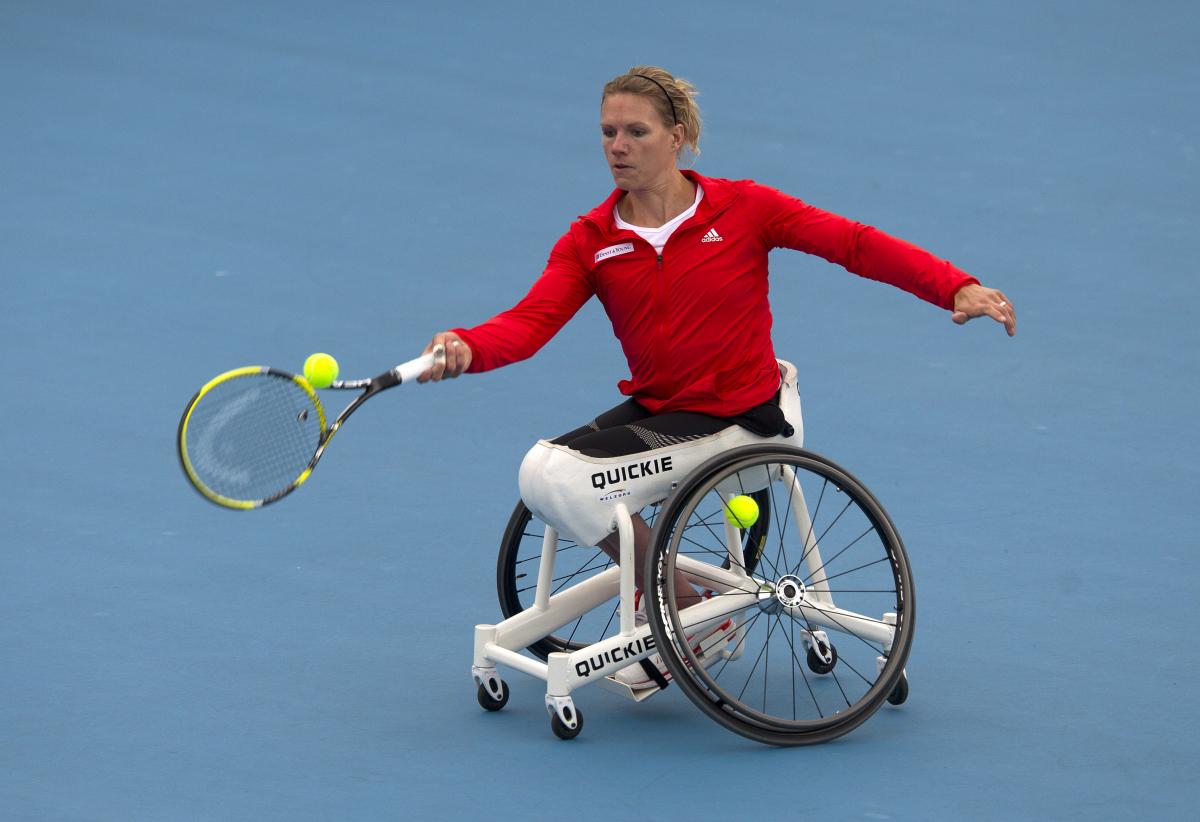 ⒸITF
Women's world number one Esther Vergeer has praised London 2012 for hosting a Wheelchair Tennis test event and said she is already looking forward to the start of this summer's Paralympic Games.
The Dutch sensation was one of a number of top Wheelchair Tennis players in the British capital 3-6 May to test Eton Manor, a purpose built venue that will stage Paralympic competition this September.
During the test event Vergeer, a three-time Paralympic singles champion, extended her amazing winning run to 454 consecutive matches with victory over Great Britain's Jordane Whiley in the final. The 30 year old was happy to have made the trip to London.
"I'm very glad I played here and very glad I was able to see what the venue looks like," said Vergeer.
"I think the courts are great, the layout and also the surface are really good for Wheelchair Tennis. One of the big pros of this venue is that it is especially made for Wheelchair Tennis so everything about that is really good for Wheelchair Tennis.
"I think it is good that there had been a test event, as there are still some things to work on.
"It's also good to have some feedback on practical things like food or internet and chair storage.
"I made a whole list of things that I think they should have here during the Paralympic Games and I hope they listen to it," she added.
Despite the wind, rain and cold temperatures that hit Eton Manor during the test event, Vergeer was impressed by the warmth of the British crowds and is already looking forward to returning to the Olympic Park.
Esther Vergeer said: "The atmosphere was good during the test event when I played a British player and I could imagine the stands being full when a Brit is involved during the Games.
"A lot of tickets have been sold and Wheelchair Tennis is really popular here. I can only look forward to what will be happening in September."
At the last Paralympic Games, Vergeer nearly suffered defeat, saving a number of match points, before securing gold. In London she will be playing for her fourth consecutive singles gold, and despite her winning streak, she admits it will not all be plain sailing.
"I do feel pressure, and of course I know I can win that gold medal," she said. "I know that during such an event everything is possible and mentally it is a whole different atmosphere here for everybody.
"For some people it will give them an extra kick to play here, for some people it will affect their nerves. It is hard to prepare exactly for what you are going to feel like when you get out here in September. I am not afraid but I do think about the possible scenes that can happen here," Vergeer said.
At London 2012, 112 athletes will compete in six medal events between 1-8 September.