VISTA 2019: Para sports science conference opens in Amsterdam
Princess Margriet of the Netherlands addresses Paralympic Movement's science community at Opening Ceremony; while the Scientific Award winner was also honoured
05 Sep 2019
Imagen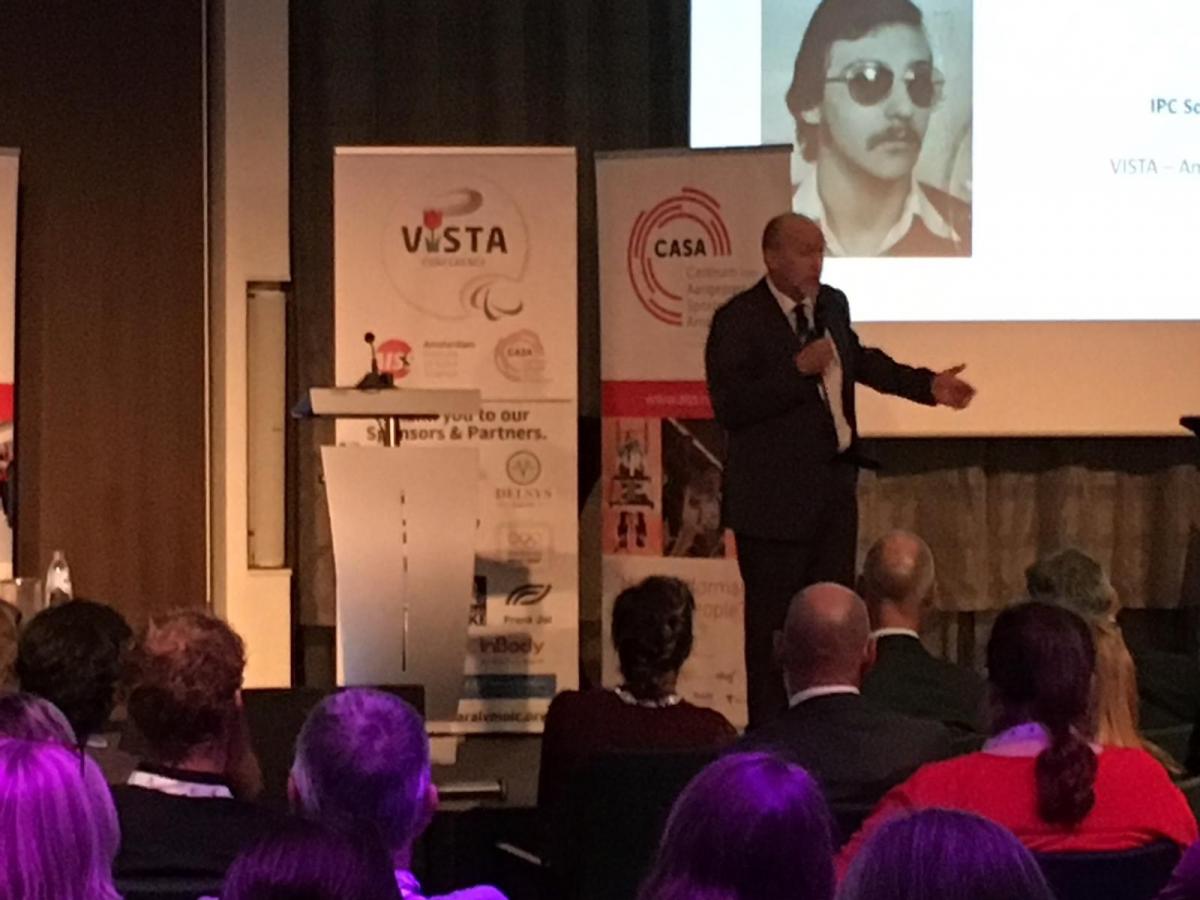 ⒸIPC
By IPC
Professor Yves Vanlandewiyck's efforts in improving the lives of people with a disability was officially honoured in front of hundreds of fellow Para sports science colleagues, as he received the IPC Scientific Award on Wednesday's opening night of the 2019 VISTA conference in Amsterdam, Netherlands. 
Vanlandewiyck, as long-time member on the IPC's Sports Science Committee, delivered a keynote speech to encourage the 342 participants across 42 nations ahead of the next three days of the conference. 
"This isn't going to be a scientific talk," Vanlandewiyck began. "This is going to be an emotional scientific talk. The key word through my presentation will be thanking people.
"Rita van Driel she said my involvement in the IPC was a coincidence. I have to say the fact that I am getting the IPC's Scientific Award is the consequence of many coincidences, and I will show you my coincidences in this presentation."
Prof. Yves Vanlandewijck receives the IPC Scientific Award for his work on the Paralympic movement. #Vista2019 pic.twitter.com/boo4H3gY7Z

— Ingrid Kouwijzer (@ingridkouwijzer) September 4, 2019
Vanlandewijck is currently a professor at KU Leuven in Belgium, and spoke about how he got involved in the Paralympic Movement, in wheelchair basketball and moved into evidence-based classification. 
"(Classification) is my passion. It's what I like to do," he said. "And we all know that classification has changed dramatically over the years."
He particularly thanked previous IPC Presidents Bob Steadward and Sir Philip Craven, as well as former IPC CEO Xavier Gonzalez. 
"I will stop serving the Paralympic Movement to the day I close my eyes. Not earlier," Vanlandewijck said. "Our noses were pointing the same direction. We were working toward the better of the athletes. 
"I want to thank the entire IPC family for this journey. I'm so thankful to the IPC you have no idea."
It's gonna be fantastic #Vista2019 Not only because of seminars and posters, but colleagues and friends as well. And old proferssors from Leuven... Almost 20 Finns taking part, happy fo be part of this! pic.twitter.com/5CiNUcaSaZ

— Riikka Juntunen (@RiikkaJuntunen) September 5, 2019
The IPC's honorary board member Princess Margriet of the Netherlands has attended, this year alone, the World Para Archery Championships, Women's Wheelchair Basketball European Championships and later in September the Para Cycling Road Championships – all held in her home country. She welcomed the audience in Amsterdam:
"There can be no doubt that the sports science community has played an instrumental role in the rapid advancement of athletic performances in the Paralympic Movement," she said. "That is why I am so happy to see you here in record numbers for the ninth edition of this conference. 
"Under the title 'Healthy and Fit for Optimal Performance,' there can be no better theme for you to debate and discuss over the comings days with the Tokyo 2020 Paralympic Games now less than one year away."
The opening ceremony of VISTA conference in Amsterdam with International Paralympic Committee incl HRHighness Princess Margriet and NPC President Blondel #Vista2019 @ifapanet @DAatVT @DisinSport @Paralympics pic.twitter.com/aPxZGfcyep

— Karen DePauw (@kpdepauw) September 4, 2019
Yesss - Opening of Vista Conference by @MarijeDeutekom Promising programme!! #Vista2019 @hva_uv @HvABSV @HvAGezondheid pic.twitter.com/CC3aa4eCxn

— WilmaScholteopReimer (@WilmaSoRe) September 4, 2019
Here we are at the VISTA CONFERENCE 2019 #Vista2019 pic.twitter.com/CxlEz576fJ

— aroldan (@albarolrom) September 4, 2019
This year's event is organised by the Amsterdam Institute of Sport Science (AISS), who teamed up the National Olympic and Paralympic Committee of the Netherlands (NOC*NSF), the Sports Engineering Institute, Delft University of Technology, the Hague University of Applied Sciences, and the University Medical Centre Groningen. 
Sports scientists and researchers from around the world are in Amsterdam to provide a forum for exchange on current information, expertise on Paralympic sport and the Paralympic Movement.
In total, there will be 74 oral and 80 poster presentations; and numerous interactive workshops.
@simon_briley @Cristina_da14 presenting biomechanical data at #Vista2019. Looking at shoulder kinematics following fatigue in wheelchair rugby athletes, and kinematic data of a #wheelchair tennis serve respectively. pic.twitter.com/5Z4Sh4g0t1

— Peter Harrison Centre for Disability Sport (@PHC_Lboro) September 4, 2019
The conference continues through to Saturday (7 September). Thursday and Friday's sessions include keynote speeches from Professor Leslie Swartz from South Africa, Professor Marjan Olfers from the Netherlands and Professor Nick Webborn from Great Britain. 
Programme details, as well as more information about VISTA 2019 are available on the IPC's website.
Jasper, Canada, hosted the first conference in 1993; and the last conference was in 2017 in Toronto, Canada.