Watanabe secures home win in Tokyo marathon
The Japanese racer finished ahead of Marcel Hug whilst the USA's Amanda McGrory won the women's race.
27 Feb 2017
Imagen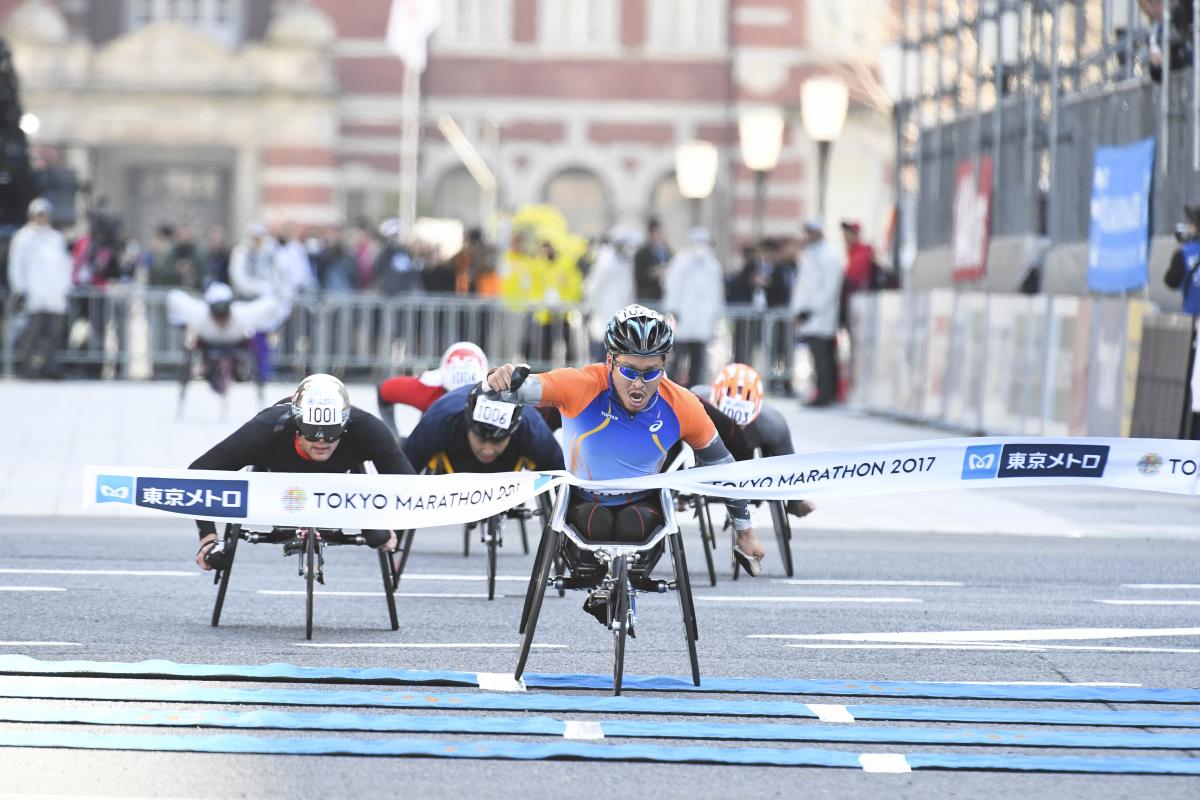 ⒸTokyo Marathon Foundation
Sho Watanabe got the better of Paralympic champion Marcel Hug to give Japan a home win at the Tokyo Marathon on Sunday (26 February).
Watanabe, 25, clocked 1:28.01 to finish just ahead of Hug (1:28.01) while Tomoki Susuki (1:28.02) clinched third place to add to the host nation's success.
Hug has dominated marathon racing in recent months, winning all six of the major marathons in 2016 that form part of the inaugural Abbott World Marathon Majors series for wheelchair racers.
But the 31-year-old suffered a rare defeat at the hands of Watanabe, although he has already built an unassailable lead in the series, which concludes in Boston, USA in April.
Hug has a maximum of 125 points in the series, while Australia's Kurt Fearnley (73 points) sits second and South African Ernst van Dyk (40 points) – who only managed a ninth-place finish in Tokyo - lies third.
The women's wheelchair race around the streets of the Japanese capital was also a tight finish as Swiss former world marathon champion Manuela Schaer rounded the final bend ahead of US Paralympic bronze medallist Amanda McGrory and her compatriot Susannah Scaroni.
But with less than 50m to go McGrory battled back, drawing alongside Schaer as the leading pair crossed the line neck and neck.
It was McGrory who took the win in a time of 1:43.27 – her first win of the women's wheelchair Series X - with Schaer (1:43.27) second and Scaroni (1:43.29) third.
Taking to social media after her victory, McGrory posted:
"First @wmmajors win in SIX FLIPPIN' YEARS at the 2017 @tokyomarathon. I'd say that's a pretty solid start to the season and also that I deserve a nap."
Another American, the world number one Tatyana McFadden, currently sits at the top of the Series X leaderboard after wins in Boston, London, Chicago and New York last year.
The 27-year-old was forced to withdraw from racing in Tokyo just days before the event due to ill health, but like Hug, already has the series sewn up (116 points). Schaer is in second place (89 points) with McGrory in third (56 points).
The final destination for Series X is Boston, USA, on 17 April.