Schaer aims to put rollercoaster year behind her in Tokyo
The Swiss T54 wheelchair racer lines-up in Sunday's marathon in the host city of the next Paralympic Games.
23 Feb 2017
Imagen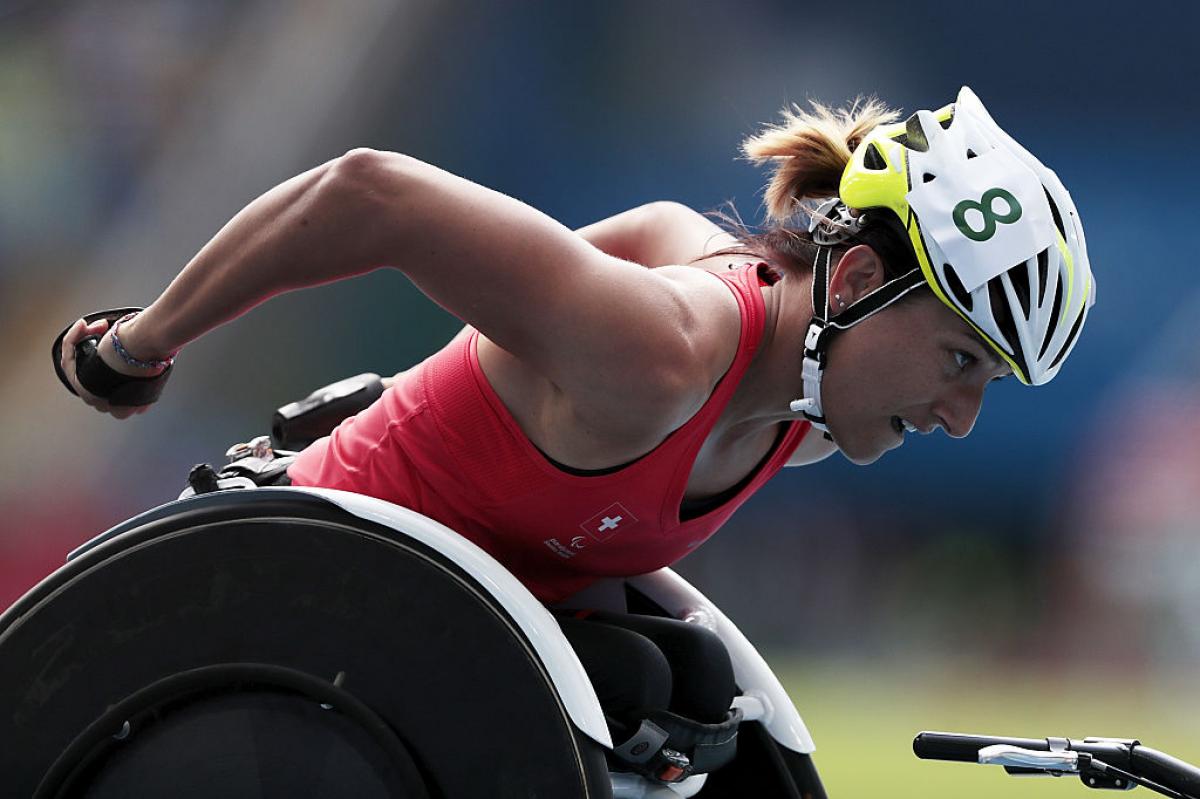 ⒸGetty Images
By IPC
"The marathon has become really important to me the last few years."
Swiss wheelchair racer Manuela Schaer will line up at the Tokyo marathon in Japan on Sunday (26 February) determined to put the rollercoaster of emotions that she endured last year firmly behind her.
The 32-year-old, who races in the T54 class, returned home from Rio 2016 without a medal despite feeling in the form of her life.
"It's been a really tough year last year, a lot of emotions – not just bad emotions after Rio, but good emotions after the London and Boston marathons. Even after Rio, New York and Chicago were pretty good. So it's been an interesting year," she admitted.
Schaer took on five events in Rio, from the 400m up to the marathon. Her preparations had been a long time in the making - she missed the 2015 World Championships to focus on the Paralympic Games – but in the end, Schaer's best placed finish was fourth in the 1,500m.
But the former marathon world champion is determined not to let her experiences in Rio cloud her vision for the future.
"At first I was really frustrated, but then I'm sure the worst thing that I could do was to change everything. So I really will stick to my plan and keep working hard and one day it's going to work out, I'm sure," she explained.
While it was the USA's Tatyana McFadden who dominated the top of the podium at Rio 2016, winning four golds and two silvers, her American teammates Cheri Madsen, Amanda McGrory and Chelsea McClammer also made their marks, claiming six medals among them.
China's T54 wheelchair racers Wenjun Liu, Yingjie Li and Lihong Zou were the only other Para athletes to feature on the podium in all of Schaer's events and such strength in depth from both US and Chinese teams didn't go unnoticed.
Schaer explained: "My goal was to win a medal for sure but I think I was in good shape, so that was not the point. And I was prepared and ready and excited.
"It was just some things that I couldn't control, like team tactics from America and China, and things like that that weren't on my side. That's why at the end I didn't win a medal I guess.
"I had to be really active to play a role in every race, then you have to be able to do so many metres more, because you have to go around. It's almost impossible to be that much stronger. Especially when you have someone like Tatyana."
Schaer's performances on the roads have in contrast given her great confidence.
The joint world record holder – she and Japan's Wakako Tsuchida both hold the top time of 1:38.07 – won the Berlin marathon last year and finished second behind McFadden in Boston, New York and Chicago in the USA and in the London marathon in Great Britain. In fact just one second separated the pair in both London and Chicago.
"The marathon has become really important to me the last few years," acknowledged Schaer, who sits second behind McFadden in the current Abbott World Marathon Majors series.
"I'm really focussing on the marathon this year. I still think I can do better on the track too, so I really want to work on that too – it's going to help me anyway in the marathon."
Schaer is among a stellar field that will line up in Tokyo on Sunday – including Paralympic marathon champion Zou, and bronze medallist McGrory.
As for beating the indomitable McFadden this year, Schaer refuses to give that much thought.
"I think I just need to focus on my performance," she explained.
"I cannot influence her so I just need to focus on getting better and faster and stronger myself. I'm not thinking about just beating her, I just want to get better and better."