Workout Wednesday with Namibia's Ananias Shikongo
The Paralympic sprinting champion talks us through a typical training day as he prepares for London 2017.
22 Feb 2017
Imagen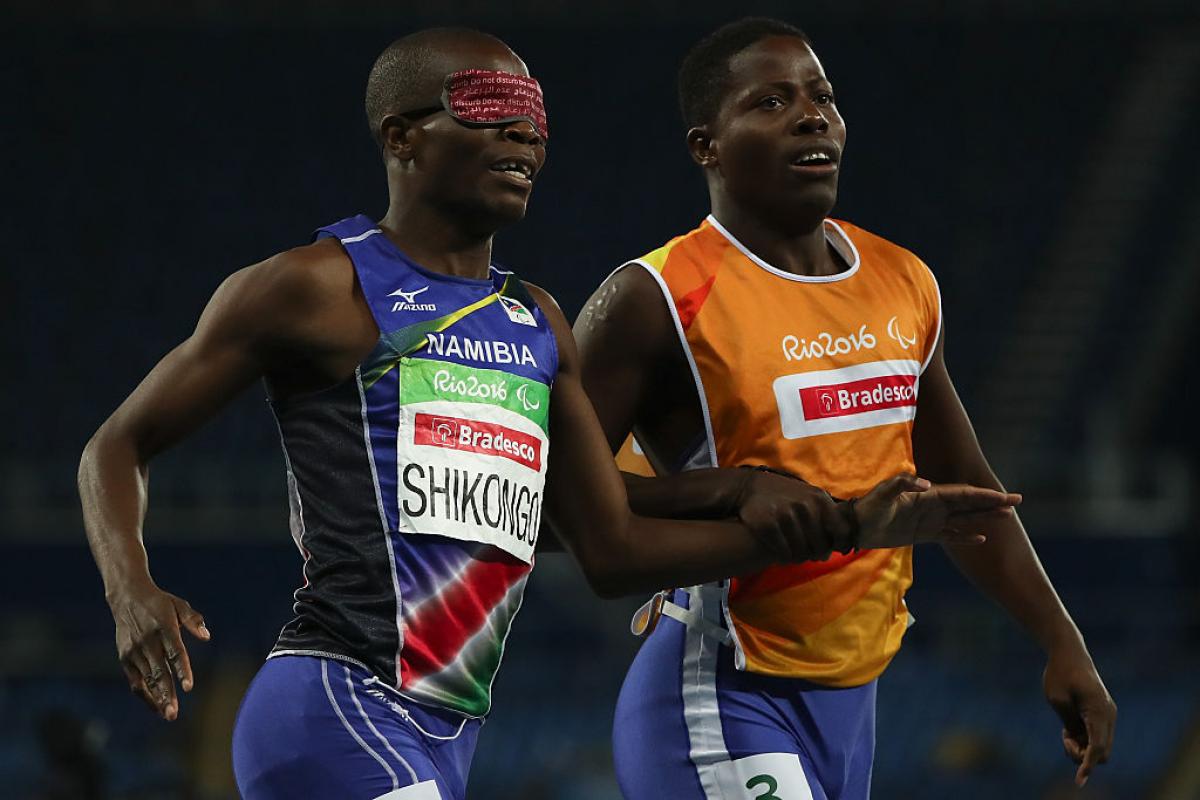 ⒸBuda Mendes/Getty Images
By IPC
"I started training already in January because I'm getting myself ready for the World Championships this year.
Namibian Ananias Shikongo is a newcomer to the World Para Athletics Ones to Watch list this year, having enjoyed a terrific season in 2016 which culminated in 200m T11 gold at the Rio Paralympic Games.
The visually impaired sprinter lost his sight in one eye as a four-year-old when he was hit in the eye with an arrow. Three years later, he lost sight in his other eye when he was kicked by a donkey.
But even as a youngster Shikongo dreamed of being a successful athlete – inspired by another of his country's track stars, four-time Olympic silver medallist Frankie Fredericks.
The 30-year-old, who also won 100m and 400m T11 Paralympic bronze to add to two silver and two bronze medals he won at the last three World Championships, became the first Namibian man to win an Olympic or Paralympic gold, something even Fredericks never achieved.
"When I was in school that was when I thought I want to be like Frankie Fredericks, he was my role model. Frankie was the fastest in my country – why am I not going to be the fastest in my country? I knew I had to fight for it so I could also be a champion of my country," explained Shikongo.
With preparations already underway for July's World Para Athletics World Championships in London, Great Britain, Shikongo talks us through his Workout Wednesday:
__
"I started training already in January because I'm getting myself ready for the World Championships this year. As for what happened in Brazil, I don't want to just leave it like that.
I'm hungry to be the world champion because I'm just the Paralympic champion, and now I want to get the world title too.
The last time I was in London for the Paralympic Games it wasn't my best competition, but lucky enough now the World Championships will be in London.
This is my time now to shine in London, this is my second chance, so that I can show my true colours.
06:00
I wake up early in the morning - about 06:00 - and I go for a small jog with one of my friends who is also an athlete - I live in one of the locations in Windhoek, with one of my brothers and with Johannes Nambala (T13 sprinter and double Paralympic silver medallist).
After that we will have our breakfast - I like brown bread with eggs. From there we will wash our clothes and training gear to get ready for afternoon training.
10:00
Around 10:00 we prepare our lunch. We like to eat before midday; we have rice and chicken.
13:00 - 18:00
We start training at 15:00 and it is a long journey to get there, so we need to start driving at 13:00 to avoid the traffic.
It's very hot here – that's why we train later in the day. When the competitions are near we are training twice, morning time and in the afternoon.
What we do in training depends on the time of year. We might run 400m, then after that we do some start training, so we run 70 metres three times, three sets. From there we take a jog, and finish around 17.30 or 18:00, then shower and go home.
With Evan, my guide in the 100m and 200m, it's like he is my brother, even though we are not from the same family.
We have been through a lot together – at the World Championships in New Zealand we slept on the floor together in our coach's room. I knew one of those days we would get a big medal together.
But I'm not always training with the same guide - lots of people now want to start guiding in Namibia so now I'm starting training some new athletes how to guide.
When we've finished training we take a taxi back home, and then we have dinner. We eat pap (maize porridge) sometimes with meat, and sometimes vegetarian.
Where we are staying there is no lighting, there is no television to watch, there's no electricity. So after dinner we just go to our room, or we might do things on our cell phone. For us it is normal, but of course for this life, a sports life, it is difficult.
For example we might even want to watch athletics on the internet. Or even food - we have to buy food day by day, we can't have much food in the house because without a fridge it is getting rotten. But it does not stop us. We are training hard so that we can change our lives.