#WorkoutWednesday: Finland's Leo-Pekka Tahti
The "Flying Finn" guides us through the training regime that has made him the world's best 100m wheelchair racer.
09 Sep 2015
Imagen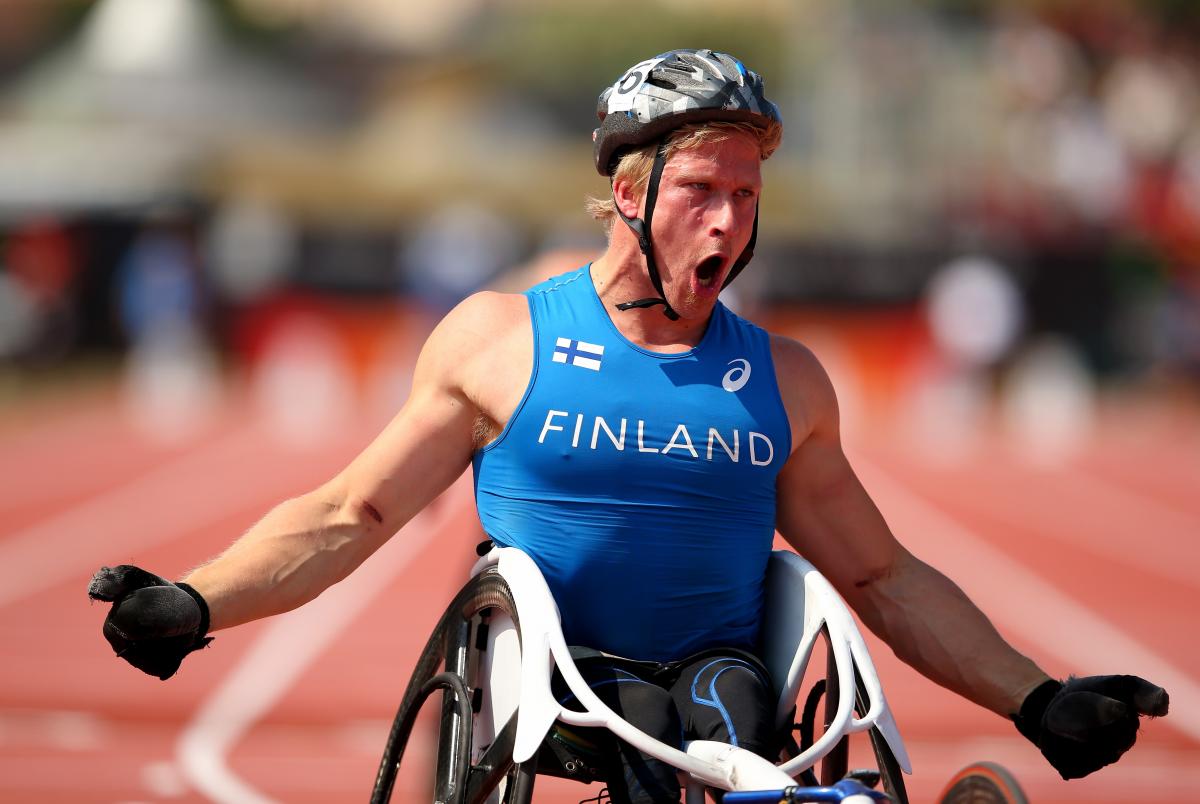 ⒸGetty Images
By IPC
As October's 2015 IPC Athletics World Championships draw ever closer, it is the turn of Finland's champion wheelchair racer Leo-Pekka Tahti to talk us through a typical day for our 'Workout Wednesday' series.
The 'Flying Finn' continues to top the global rankings for the 100m T54 – an event he has dominated in recent years, with multiple Paralympic, world and European gold medals to prove it.
The 32-year-old will be hoping that his great success on the track continues in Doha next month; here he reveals what his life involves to maintain that impressive form.
Leo-Pekka Tahti
Normally I wake up maybe at 09.00, or maybe 10.00. It's my occupation so I can sleep in the mornings. In fact, it's one of the best things about my occupation – I can sleep very late! Then I eat breakfast – bread and some Finnish porridge - kaurapuuro.
Maybe 90 minutes or two hours after that I do my first training – so it might be around midday. I go to the athletics stadium - it's only five kilometres drive. In the summer I also push there with my racing chair.
I finish maybe about 13.00. I am a sprinter so we do a lot of training over 150m, or 80m, start training – that kind of thing. I train alone with my coach.
We finish around 13.00 or 14.00 then I go back home and eat again – I might cook something like pasta. I like cooking, and my wife does too although she is out at work so I am often home first and cooking for both of us.
Then I take a short sleep maybe 30 minutes or so, then at 17.00 I have a coffee – I love coffee – sometimes I drink too much, and I can't sleep!
Normally in the afternoons I stay at home, or I might meet my friends – the normal life outside of sport. I try not to think about sport all the time otherwise it gets in to my head too much. It's good to have a normal life outside of sport too, and to take some rest. I don't like shopping though – I leave that to my wife.
At 18.00 I might go for my second training, or sometimes I have basketball training, or I might go swimming. This year I have been playing for St Petersburg – I have been a keen basketball player since I was a young boy. That might last around 90 minutes, so I will finish around 20.00.
Then I go back home and shower and have something to eat. I might watch television to relax, or I just like to spend time with my wife. Because I travel a lot it is nice to spend time together. We like playing tennis together too. I like to read too – I am learning Spanish as well. Or I might read sports books, or world history.
Then it is time to go to sleep. I try to sleep at 23.00, but sometimes I go much later. If I haven't drunk coffee too late then it's not a problem – I usually sleep very well. The problem is when I stay in hotels, and I'm not used to the pillows. It might be a good idea to start travelling with my own, but I have so much stuff already there is never enough space for that too!