Para athletics explained – commentating at major events
Ahead of London 2017, the IPC's lead athletics commentator Will Downing explains what it's like to cover a major Championships.
21 Feb 2017
Imagen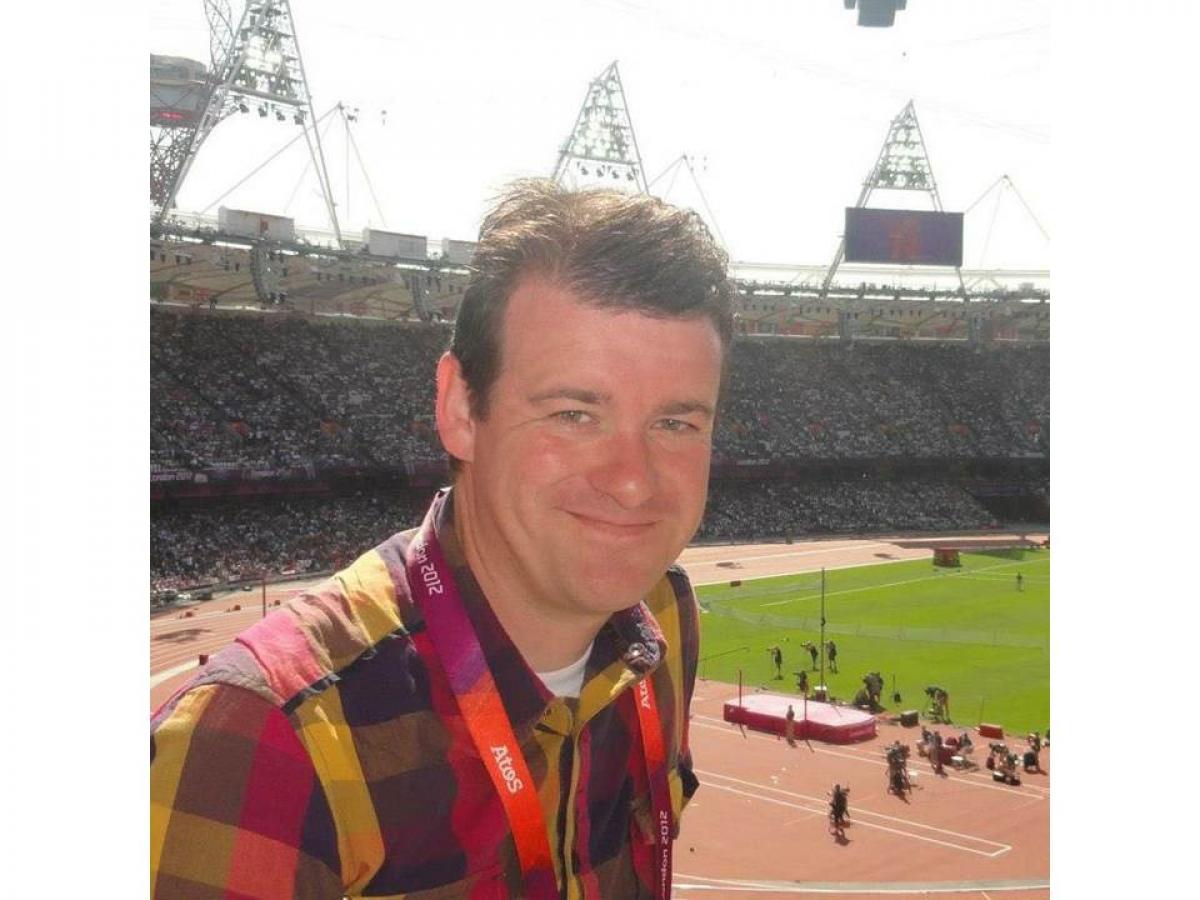 ⒸWill Downing
By IPC
In 2017 we continue our series on 'Para athletics explained' and take a closer look at different aspects of Para athletics – not just on the track.
This month sports commentator Will Downing, who has been the distinctive voice of Para athletics action at numerous Paralympic Games, World and regional championships, reveals what it is like to be the man holding the microphone.
How did you first get involved in commentary?
I did radio commentary for about 10 years before making the switch to television 10 years ago. I started commentating on football – my first ever television job was covering a UEFA Cup game. I was always interested in football and sports commentary as I worked out from an early age that I wasn't going to be a good footballer or an athlete – I used to watch every sport when I was a youngster. My Dad wrote Gaelic Games reports for the local newspaper in Ireland; when I was eight-years-old I thought that was quite cool. I started writing reports even when I was in primary school. When I was older I volunteered in local and hospital radio and built my career from then.
What are your biggest challenges?
You have to be aware that there is always somebody watching for the first time. But there will also be a huge percentage of the audience that have been watching for years and years. There are so many different classes, and you don't want to over explain things, but the new audience always need a quick skim through of what the various classes and numbers mean. When I started working in Para athletics in 2012 for Irish television, I sat down with a former athlete and between the two of us we worked out how best to sum up each class in five or six words.
What preparation do you need?
What I always do for every race, whether it be Para athletics or the IAAF events which I also commentate on, I have to have a line on every athlete. In theory, any one athlete could win – so you have to know something about them.
How much do you rely on the technical equipment around you, as opposed to the live action in front of you?
I've always found that the naked eye is the most important thing to rely on. I don't concentrate on the monitors very much – I always do my best to commentate with what I can see with the naked eye. If you've got a wheelchair race going on and it's difficult to see what's going on down the back straight, then I'll have a glance just to confirm the positions. It's different when it comes to the field events – say in the long jump, where it's all down to the distance. The aids that we are given – the monitors and the information system which provides the results - really come in to their own there.
How important is the balance between talking and remaining silent?
In football I try and hold back a lot and will let silences drift in; I used to do a lot of rugby too – silences work well in those sports. Athletics can be different – it depends on the event. When you are heading to a 100m final the less you say definitely enhances the event. By that stage they've gone through the rounds, it's normally the best athletes in the world; you don't need major introductions for them all. Silence in different points in athletics is important, but I would argue not as much as in other sports.
How do you cope with a director talking in to your ear piece while you are live on air?
You get used to it – it's very distracting at first. Radio was a big help – I learned from a young age how to deal with talkback very quickly. Sometimes what you hear is very amusing, and you have to ignore it. I remember Mikhail Huggins, who was Libby Clegg's guide at the time, came up with us on the final day at the European Championships in 2014 and I had to turn down his headphones because at first he found it very distracting, then he just couldn't believe how we do our job with so much gabbling going on in our ear the whole time. But for us it is absolutely vital so we know what is happening next, or if something has gone wrong then we can get the right information.
What three qualities make a successful commentator?
A good eye – you have to quickly identify and make sense of what's going on, no matter what the sport, but athletics particularly. If you're talking about a relay, for example one of the wheelchair races, there is a lot going on. Good timing is also essential - you have to work out how to put the information across as simply as possible, so you don't go too big too early. The third thing and probably the most important thing is enthusiasm. If you're not enjoying what you're doing then there's not much point doing it!
The London 2017 World Para Athletics Championships take place between 14-23 July.