Wheelchair tennis medals aplenty on Day 9
Sweden took gold in the men's doubles and Esther Vergeer won another top prize in women's singles to highlight Day 9 at Eton Manor.
07 Sep 2012
Imagen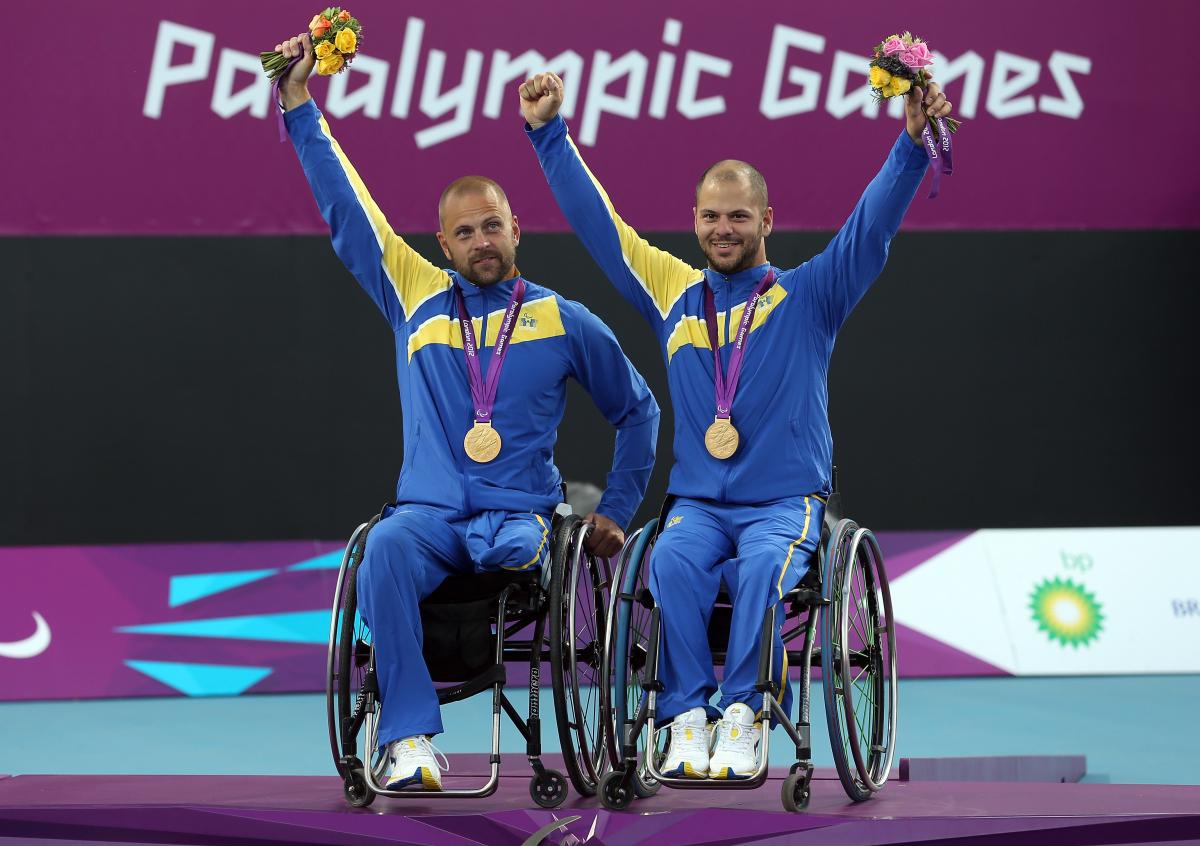 ⒸGetty Images
"It's the pep talk every point that we support each other with to keep up the adrenaline."
Esther Vergeer won her fourth successive Paralympic Games women's singles gold medal and Sweden's Stefan Olsson and Peter Vikstrom won the men's doubles gold medal at the wheelchair tennis on day nine.
The win was Vergeer's 470th successive victory in women's wheelchair tennis singles and she is now the only wheelchair tennis player to have won four Paralympic Games gold medals in the same form of the game.
Vergeer beat her Netherlands countrywoman Aniek van Koot 6-0, 6-3 in the final and said it was a huge personal triumph for her.
"Everybody expected me to win gold and that I would win but I still had to work hard, to go to training, to be at the top of my game. A lot of people forget that," she said.
"It's what I dreamt about, thought about and did everything for," she said.
Van Koot said that she is thrilled with a silver medal.
"I never could've dreamed of a final," she said.
"Obviously you do in the back of your head because you're world number two but still I was like 'oh I'm not going to keep my nerves down when I'm there', but I did."
In the men's doubles final, Olsson and Vikstrom were able to go one better at London 2012, winning a gold medal to go with the silver they won at the Beijing 2008 Paralympic Games.
The Swedish pair beat France's Frederic Cattaneo and Nicolas Peifer 6-1, 6-2 in fairly routine fashion.
Vikstrom said the win was unbelievable.
"I was not expecting this, we just went out there and played point by point," he said.
He paid tribute to his Olsson and said they had some celebrating to do.
"It's the pep talk every point that we support each other with to keep up the adrenaline," Vikstrom said. "We know each other and we have been playing together for a long time."
"We're going to have a bath in a pond outside our village, so we're going to swim there."
The men's doubles bronze medal was won by France pairing Stephane Houdet and Michael Jeremiasz.
The world No. 1 doubles team of Houdet and Jeremiasz put the disappointment of not being in the gold-medal match behind them, winning the bronze medal 6-0, 6-0 against Netherlands' Robin Ammerlaan and Ronald Vink.
Robin Ammerlaan has now won two gold medals, a silver medal and a bronze medal in four Paralympic Games. He said after the match that he was hanging up his racquet.
"It was a good match to retire on, getting beaten 6-0, 6-0. I think after that I should definitely stop," he said.
In the women's doubles bronze medal Lucy Shuker and Jordanne Whiley of Great Britain beat Thailand's Sakhorn Khanthasit and Ratana Techamaneewat 7-7, 7-6, 6-3.
And in the quad singles bronze medal match, Nicholas Taylor of USA beat Israel's Shraga Weinberg 1-6, 6-3, 6-4.
Taylor said the result was a very special one for him.
"I'm feeling a little overwhelmed," he said.
"It's taken me since 2004 to get a medal in the singles. I am so excited, I do know how to describe this feeling. I've come so close both times and to finally get it here is huge for me."
The Wheelchair Tennis competition is scheduled to commence on Day 10 of the London 2012 Paralympic Games at 12:00 at Eton Manor.
Related Images