Painting with pucks and hockey sticks: Artist creates unique Para athlete portraits
Canadian artist Samantha Woj started painting portraits with sports equipment to cheer on athletes competing at Tokyo 2020
26 Aug 2022
Imagen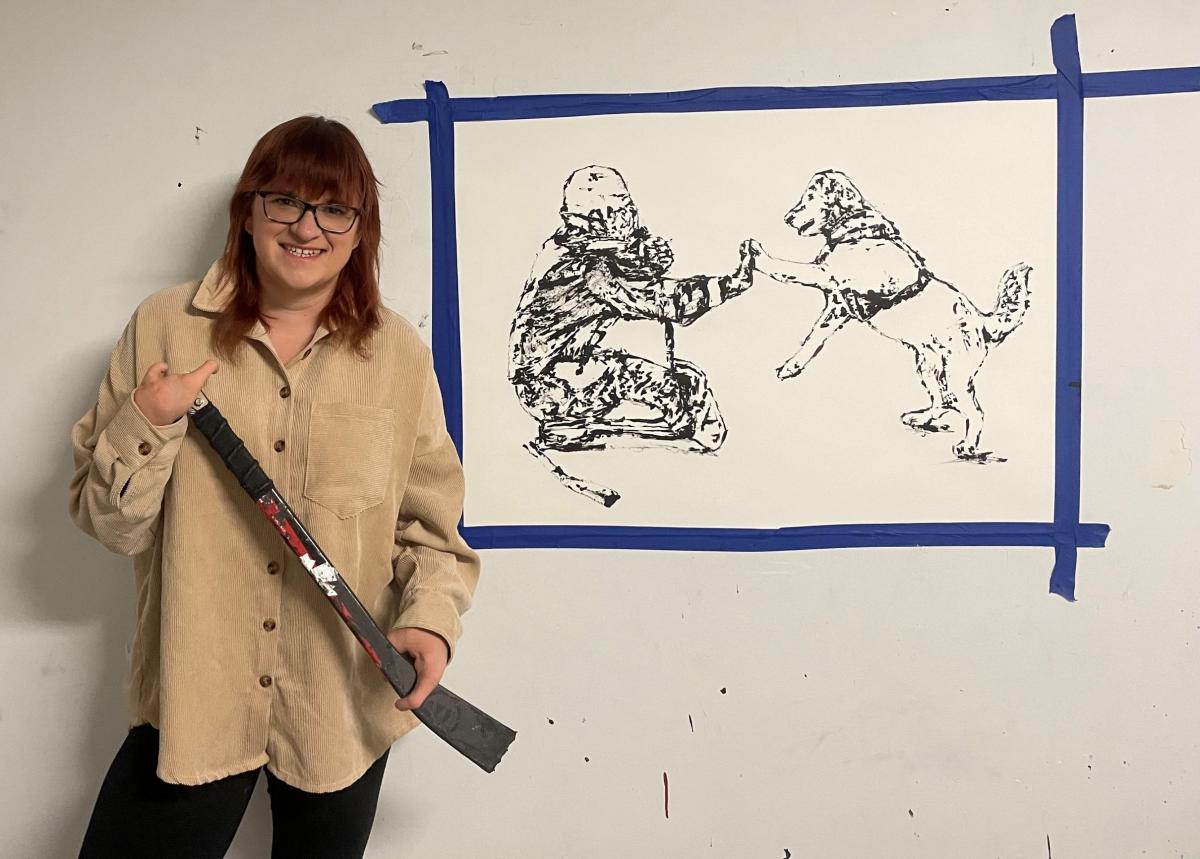 ⒸSamantha Woj
By Ayano Shimizu | For the IPC
Samantha Woj's small basement is a place where magic happens.
Using old or broken sports equipment like balls and hockey sticks, the Canadian artist paints portraits of athletes as a way to show her love and passion for sports.
Woj films herself drawing athletes on paper taped to the wall in her basement and shares the unique process on her Instagram account. As of August 2022, she has created more than 150 paintings of athletes from different countries, using over 20 pieces of sports equipment, including hockey pucks, tennis racquets and football shoes, as paintbrushes.
Thanks to this creative mix of art and sports - the two things she is most passionate about - Woj has received the attention of athletes and art fans alike, as well as plenty of praise for her work.
Supporting athletes through art
It all started in 2021 as a "fun way" to cheer on Canadian athletes at the Tokyo 2020 Olympic and Paralympic Games who, as Woj felt, might feel lonely because they were unable to travel with their families and friends due to COVID-19 countermeasures.
"I wanted to support athletes going abroad (to Tokyo) because during the pandemic, they couldn't have anybody go with them," she said. "That was my way to support them from home, like, 'I'm watching you even though we are not there'.
"Honestly, I didn't expect anybody to like it. I was just doing it for fun and my love for sports. And athletes started sharing it, people started liking it and it kind of blew up from there."
Woj, who was born with a genetic condition called Ectrodactyly and has two fingers on each hand, said she came up with the idea of painting athletes with sports equipment when she had to stay at home after injuring her ankle a few weeks before the Tokyo 2020 Games started.
"I joked to my sister, 'I have a soccer ball at home. Why don't I just roll it on one of my canvases?' and she's like 'Why not?'," Woj said. "And actually I really liked the texture, so it came from a joke I was having with my sister."
Painting Paralympians
While Woj said she did not know much about the Paralympic Games until recent years, she recalled the excitement she felt upon learning that the Tokyo 2020 Paralympic events would be aired on TV in Canada.
She did research about Para athletes before painting them to learn their stories. The more she found out, the more she wanted to raise awareness of Para sports.
"I really wanted to highlight Paralympians and what they do because I find it really inspiring to see what they can do with their physical disability, and I wanted to highlight and show their strength and what they can do with it," Woj said.
"I wanted to bring it to the audience and be like, 'Look, I found this and I'm going to share it with all of you,' because some people might know it, but I didn't know much about it," she added. "I'm sad that I didn't find out much about it until now."
When painting, Woj tries to use equipment that corresponds to the athletes she is portraying, and collects broken equipment through donations to give it a "second life."
Over the past year, she has drawn Canadian wheelchair basketball player Elodie Tessier with a basketball as a paintbrush and Canadian judoka Priscilla Gagne with a baseball.
Last month, she drew Canadian Para ice hockey players Greg Westlake and Zachary Lavin using a sledge hockey stick.
In addition to drawing athletes during the Beijing 2022 Olympic and Paralympic Winter Games, Woj also donated six paintings to a charity fund and raised $4,000 for Canadian Para athletes.
Giving back to sports
Sports have been a big part of Woj's life from a young age. Since taking up football as a child, the artist was always eager to try new sports and played with people who did not have physical impairments.
"As somebody who competed in sports, I understand how sport can be something very important to some people to just either be out there, to make friends, express yourself in that way," said Woj, who has tried skating, curling, swimming, diving and basketball, among other sports.
Her extensive background in sports is one of the reasons why Woj is excited about the inaugural Para Ice Hockey Women's World Challenge, a tournament to be contested by four teams – USA, Canada, Great Britain and Team World – in Green Bay, USA from 26-28 August.
She recalled trying to find female Para ice hockey players competing at Beijing 2022 as she wanted to paint male and female athletes from each sport, and discovering that the Paralympic event featured mostly male players.
"I was surprised and I was like, 'Where are the women? Where are the women hockey players?'," she said.
"There has to be Para ice hockey women who want to compete and play so I was trying to figure out where or why, so hearing that they are actually going to have a World Challenge is amazing. I'm happy to hear that because women's sport is so important to support."
The Women's World Challenge serves as a stepping stone on the road to an eventual Women's World Championships, with the ultimate goal of expanding female participation in Para ice hockey worldwide.