World Team Cup women's semi-finalists decided
The Netherlands, Switzerland, China and the USA advanced into the women's semi-finals; France and Belgium secured a place in the men's next round.
04 May 2017
Imagen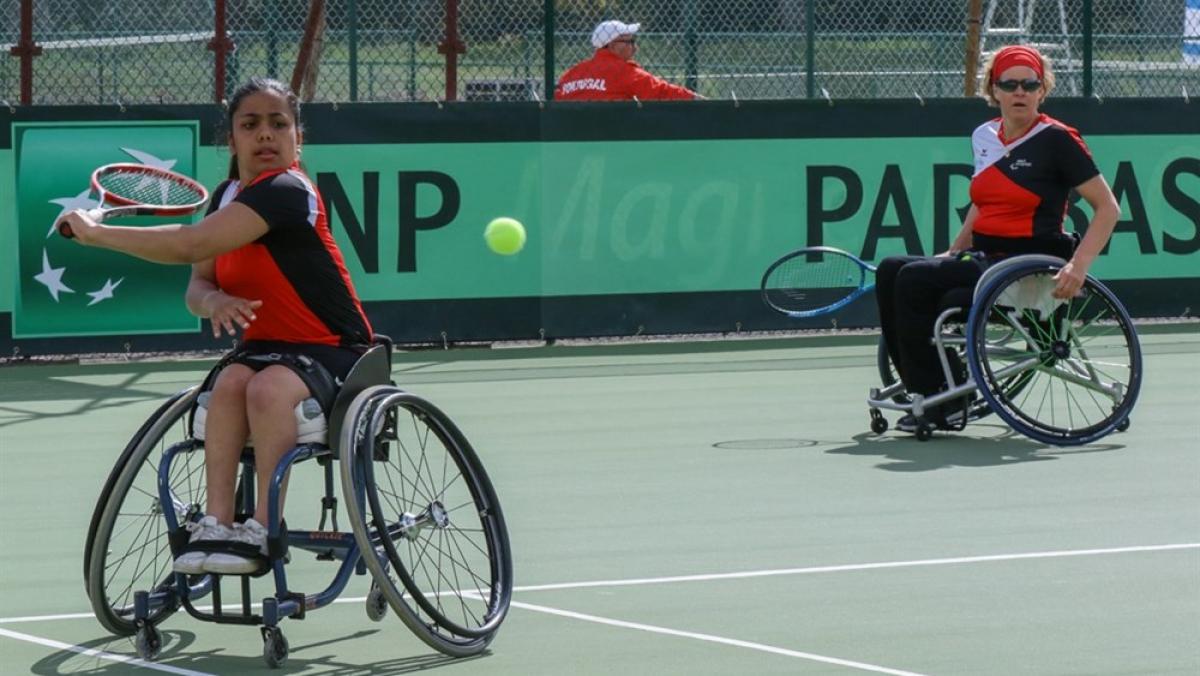 ⒸITF / Angelo Leite Momentum Photography
By ITF
Switzerland, USA, China and the Netherlands qualified for the women's semi-finals at the 2017 wheelchair tennis World Team Cup after the completion of the first of the round-robin pools on Wednesday (3 May) in Alghero, Italy.
At the same time, France and Belgium became the first two teams to earn their places in the men's semi-finals after finishing top of Pool A and Pool D, respectively.
Women's competition
The Swiss team made up of former world No. 6 and Paralympic bronze medallist Karin Suter-Erath and current junior world No. 1 Nalani Buob claimed another crucial doubles victory to deny fourth seed Brazil a place in the women's semi-finals.
They will now face top seed the Netherlands, which conceded only one set in their two first presentations at this competition, defeating both Russia and Thailand 3-0.
Mackenzie Soldan and Dana Mathewson won both singles to secure a 2-1 victory for the USA in the last Pool C tie against France and a spot in the semi-finals.
A year on from reaching the women's final for the first time, the Chinese team eased past second seed Japan in Pool B, with Huimin Huang and Zhenzhen Zhu recording singles wins over Momoko Ohtani and Manami Tanaka, before completing the triumph with doubles victory.
Men's competition
On paper, Stephane Houdet had the most difficult task in top seed France's 3-0 victory over Brazil in the last round-robin tie for both nations in Pool A.
The world No.1 beat Daniel Rodrigues 6-1, 6-4 in the second singles rubber after Frederic Cattaneo opened France's account with a 6-0, 6-0 win. Gaeten Menguy and Nicolas Peifer wrapped up a doubles victory 6-0, 6-1.
The conclusion to Pool D was thrilling as Argentina, Belgium and Spain all finished on two wins apiece, but with Belgium advancing on percentages.
Belgium's second victory in three days came at the expense of the Netherlands as Jef Vandorpe and world No. 3 Joachim Gerard both achieved straight sets wins against Rody de Bie and Carlos Anker, respectively. Gert Vos, a veteran of the Belgian team, partnered Vandorpe to edge past Anker and de Bie 1-6, 7-6(8), 10-7 in the doubles.
Meanwhile, the contest between Argentina and Spain provided drama all the way through. Martin de la Puente first beat Ezequiel Casco 6-3, 5-7, 6-3 to give Spain a slender advantage.
Reigning Australian Open and Roland Garros champion Gustavo Fernandez emerged victorious against Daniel Caverzaschi 6-2, 5-7, 6-1. The world No.4 then partnered Casco to win the decisive doubles 7-5, 6-1 and finish second.
Great Britain beat hosts Italy 3-0 and Austria defeated China 2-1 and they will decide on 4 May who finishes top of Pool B and advances to the last four.
Meanwhile, Pool C will be decided between, Poland, Thailand and South Korea.
Quad competition
After losing out to Israel on the opening day of quad round-robin competition, top seed USA got its bid to reach the semi-finals back on track as Bryan Barten and David Wagner combined to defeat the Netherlands 3-0.
Israel remained unbeaten following a win over Italy as London 2012 Paralympic champion Noam Gershony beat Alfredo di Cosmo 6-1, 6-1 and Shraga Weinberg earned a tense 6-3, 7-6 (1) victory over Alberto Corradi. Gershony then partnered Patrick Ben Ouriel to complete a 3-0 victory in the doubles.
Second seed Great Britain and Japan will decide the top spot in Pool B.
Japan's Shota Kawano and Mitsuteru Moroishi claimed a second straight victory in a deciding doubles rubber to triumph over Canada.
At the same time, Great Britain beat South Korea 3-0. Antony Cotterill and Andy Lapthorne won the singles, whilst James Shaw then partnered Lapthorne to win the doubles.
Full story can be read on the International Tennis Federation's website.