Loughborough to start research to increase female participation in wheelchair rugby
Loughborough University in Great Britain is set to conduct a research project to evaluate the current competition rule, with the first findings of the study to be published towards the end of the third quarter of 2023
08 Mar 2023
Imagen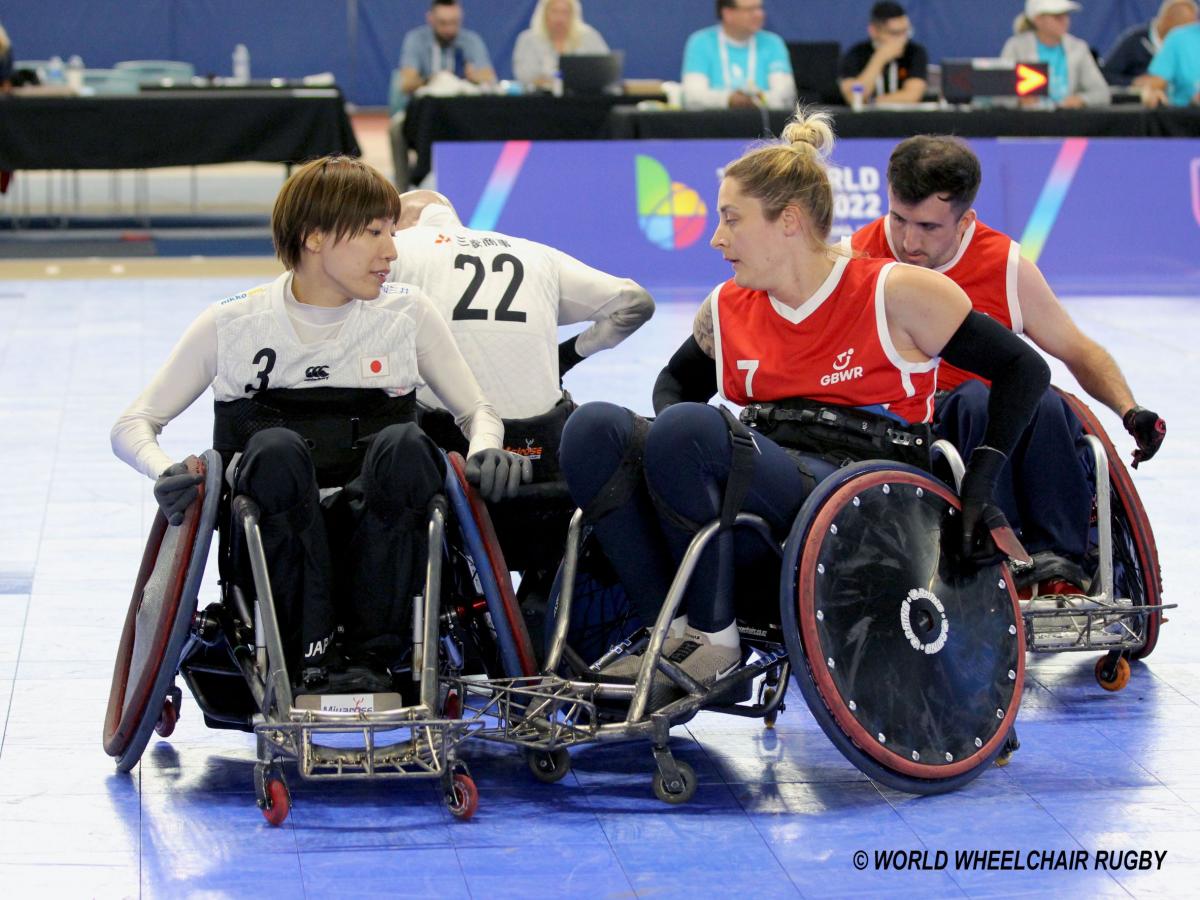 ⒸDamian Veazey/World Wheelchair Rugby
By World Wheelchair Rugby, IPC
Loughborough University is set to collaborate with World Wheelchair Rugby (WWR), Great Britain Wheelchair Rugby (GBWR), and UK Sport on a study that researchers hope will increase female participant levels in the sport.
Delivered by colleagues from the Peter Harrison Centre for Disability Sport, the project will measure the impact of impairment on strength and sports-related sprints, evaluating the current competition rule that allows an additional 0.5 points for every female athlete on court.  
The current policy in wheelchair rugby states that a team of four players can play with a maximum point score of 8.0. 
Wheelchair rugby is an open sport that can be played by any individual who has been classified regardless of their gender. Players are classified on a point system from 0.5 to 3.5 depending on restrictions in arm and trunk function that impact wheelchair rugby skills.
Team coaches can include female athletes on court with the current rules allowing an additional 0.5 points for every female athlete competing.
The research will look to determine whether the difference in arm and trunk muscle strength between male and female players is appropriate for the 0.5-point addition and whether other additional changes could help involve more female athletes. 
The project will also provide additional opportunities for women to train together in a camp environment and will conclude with a wheelchair rugby symposium in 2025.
Vicky Tolfrey, Professor of Applied Disability Sport and Director of the Peter Harrison Centre for Disability Sport said: "This project is a natural progression from some earlier work with WWR that the Peter Harrison Centre was involved with several years ago. We have worked on classification related projects with the Para sports of Para canoe and Wheelchair basketball so it's fantastic that we continue to add further work with WWR to our portfolio. 
"There is so much interest in women's sport at the moment and this is a great way to engage and learn more in how we can make the Para sport more inclusive."
Increasing female participation
The number of female athletes in international teams still remains low, with fewer than 10 percent of registered players identifying as female at the 2022 World Championships in Denmark. 
 "During our recent review of the current strategic plan, it was noted that there wasn't enough emphasis on how we increase female athletes into the sport," Richard Allcroft, WWR President, said.
"For me, having this research take place will underpin our strategic objectives. The opportunity of this research alongside the Women's Cup in Paris has been achieved by developing our partnership with the Peter Harrison Centre. 
At the Wheelchair Rugby Women's Cup in Paris, Dr. Thomas Rietveld of Loughborough University will test athletes from various countries. The two-day tournament will open on 10 March 2023.
Jason Brisbane, CEO of GBWR said, "GBWR are proud to be part of this strategic initiative to increase then number of women playing wheelchair rugby not just across GB, but across the world. 
"Many people are unaware that wheelchair rugby teams can be comprised of both men and women. This project creates a unique opportunity to gain the insights and learnings needed to attract, retain, and develop women in wheelchair rugby."
The first findings of the study are due to be published towards the end of the third quarter of 2023.