Esther Vergeer: Shoulder Injury Opens My Eyes
The Wheelchair Tennis star talks about what her life is like in the lead-up to the London 2012 Paralympic Games.
22 Mar 2012
Imagen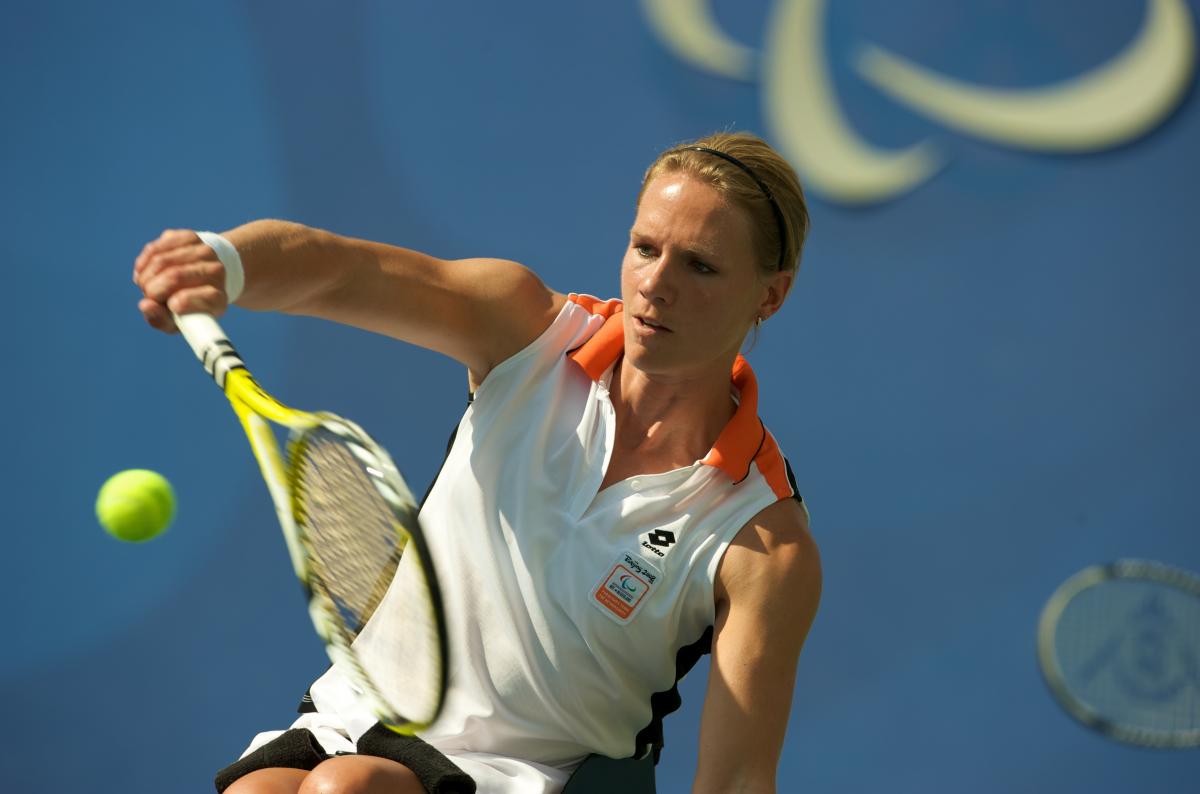 ⒸLieven Coudenys
By Esther Vergeer
In my car I was completely stressed. Six months before the Games, and then this.
Please click here to view a recent video blog from Esther.
In many cases, the words spoken by someone else may open your eyes.
Sometimes, however, you must first feel, to force yourself to make choices that are not the best, but ultimately better for yourself. I was already busy taking things off my shoulders so I could focus more on Wheelchair Tennis, but my recent shoulder injury was the last part of the eye-opener. I was afraid. A lot of bad things crossed my mind.
Fortunately, I'm now back pain free on the court. And I yearn for the upcoming tournaments in the United States.
Since New Year's, I rushed from one appointment to the next, from training to tournament.
The Australian Open, meetings, appointments, dinners, the ABN AMRO World Wheelchair Tennis Tournament, the intensive training in the new chair. The tires and minor aches you normally get over it, felt greater.
But you don't just adjust your schedule. Everyone is sometimes busy, or sleeps a bit worse.
Indeed, I could still function. Until I felt a twinge during physical training.
"This is not good, I thought."
I then wanted to make the transfer to my wheelchair and then I have to lean on my arms and that was painful. Uphill with the wheelchair gave me pain and manoeuvring in the car was hurting, too.
In my car I was completely stressed. Six months before the Games, and then this.
After a visit to the therapist the next day it felt like muscle pain, but a few days later during my training I saw a contour difference between the left (a point) and the right muscle (round).
Luckily, there was nothing wrong with the tendon in my shoulder, otherwise surgery was inevitable. There was irritation and fluid around the biceps and thanks to intensive treatment by electro stimulation it has been resolved
For me, this confirmed the feeling that I need to start outsourcing and transferring things to other people.
Although, I wish I could do it all by myself and help develop things like Team ParaStars and Esther Vergeer Foundation.
And in recent years, I have built up a personal relationship with so many people. It will be strange for both myself and these people that certain things and arrangements will be done by someone else.
But if you explain it, everyone will understand.
Pieter van den Hoogenband lately told me the same story during the kick-off of his Top Sports community. In the last six months before the Olympics, he did nothing besides swim.
If I compare the current situation in relation to the preparation for my last three Paralympic Games, it is much busier. More media know where to find you, but also agencies and people. You can always get close to me, but now I must make different choices.
The recent activities were certainly interesting. Included in these activities was the Wheelchair Sports Day for the Johan Cruyff Foundation. This time it was a combination of sports, a forum and the new "14 of Johan" were presented, which was a wonderful mix. From former skater Jan Bos, who is studying at the Cruyff Institute, to Paralympic swimmer Elise Schöll, it is so nice to see that these worlds are brought together and encourage each other.
The highlight of the day formed the honour guard of volunteers for all wheelchair users, who also received applause from all partners and ambassadors who had been invited by the Foundation.