Jonas Jacobsson: A Week in the Life of a Shooter
The 16-time Paralympic gold medallist tells fans what an average week is like for a Paralympic shooter, including fights with his washing machine.
13 Apr 2012
Imagen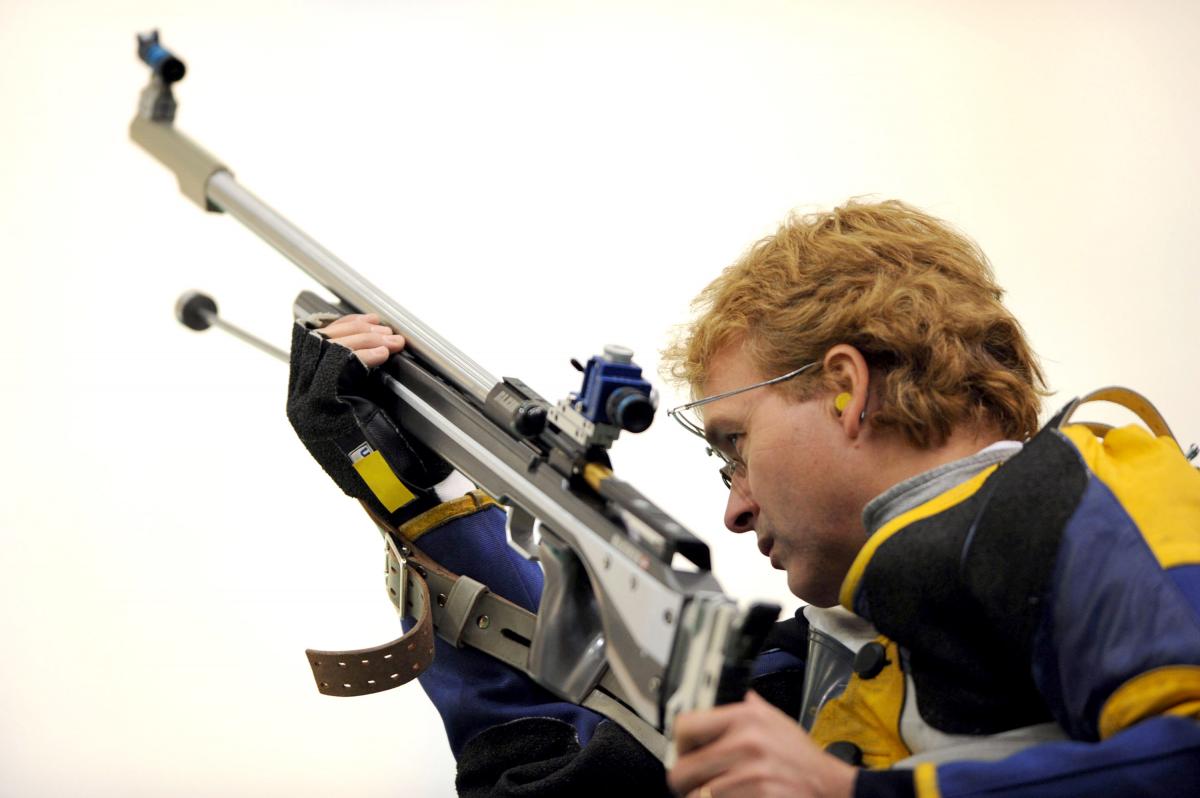 ⒸGetty Images
By Jonas Jacobsson
Flying to London to shoot the ISSF World Cup, which is also the only competition at the Olympic and Paralympic Shooting venue before the two games.
The months before Paralympics are always very hectic, full of travels, training camps and competitions.
The last few weeks we on the Swedish Paralympic Shooting team have spent our time at the shooting range in Alicante, Spain.
The weather in Spain is a lot better at this time of year. In Sweden the snow tends to fall every now and then, and shooting outdoors is not that great when it's below zero.
We went to the range in the morning and trained until 14:00 and then had a break for lunch before training again in the afternoon.
After being away for three weeks, it was good to come home – even if it is cold – to see my wife and spend Easter together.
I got back to Sweden on Friday afternoon and spent that weekend in Leksand in the middle of Sweden, where my wife's parents live.
Here's a brief rundown of what my week has looked like:
Sunday: I went to the local shooting range there to help out with coaching some of the kids that have just started shooting air rifles.
Monday: I finally got back to my home and could unpack, start the washing machine, and of course, get back into training in air rifle again.
Tuesday: Three weeks of mail and work to get into, it can pile up sometimes. Drove to the city to pick up ammunition for training and shot some more in air rifle.
Wednesday: Someone at the door at six in the morning, time for a doping test. Well, I was going to get up anyway ...
After the start of the day, I drove to do indoor training at a 50m range about an hour from my home.
After a full day of training, I went on a two-hour drive to Stockholto catch up with my wife again, as for some reason we don't see much of each other during Paralympic years …
Thursday: Drove back to the 50m range for a full day of training again and then back to my home.
Another fight with the washing machine and started to plan what to pack for the next travel.
Friday: Air rifle training in the morning, packed all bags and finished paper work and then drove back to Stockholm in the afternoon.
Saturday: Attending Olympic and Paralympic horse-trott in Stockholm, to raise money for the Swedish athletes for London and Rio, and of course, the winter Games as well.
Sunday: Flying to London to shoot the ISSF World Cup, which is also the only competition at the Olympic and Paralympic Shooting venue before the two games.
My Aussie friend Ashley Adams will also be there representing his country, and it will be good to see him again. Meeting friends from all over the world is a fantastic thing that comes with competing at an international level.
I hope there will be other Paralympic shooters there also to have a look at the range, now when there is an opportunity.
Well, that's what the last week has been like and the next few months will all be filled with travels, competitions, and every now and then a fight with the washing machine.
Until next time...