Natalia Dannenberg: The people's choice of top 50 Paralympic moments
We recently asked our fans on Facebook, Twitter and G+ to let us know what your favourite moments of the year were and here they are.
23 Dec 2012
Imagen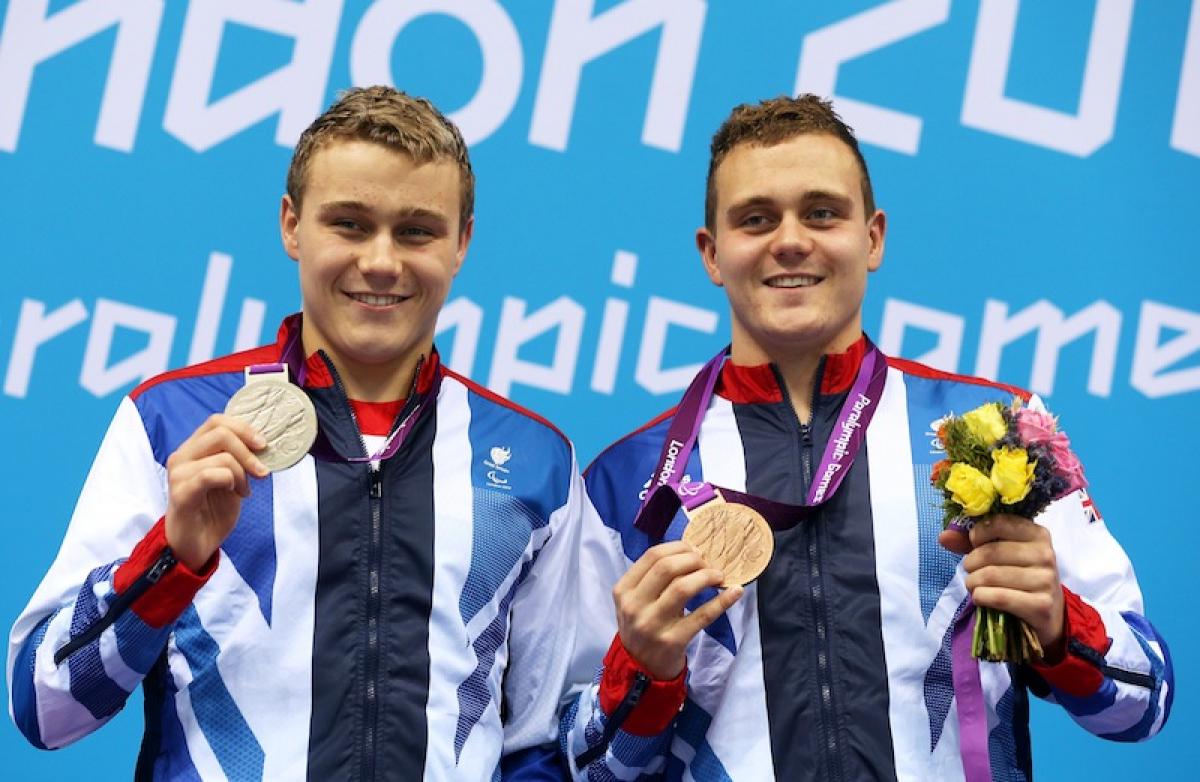 ⒸGetty
The people have spoken!
We have already begun the top 10 Paralympic moments of the year – or #50ParaMoments as we like to tweet.
Some of our choices have been controversial, like placing David Weir at No. 26.
"Number 26?" someone commented on Facebook. "That's either a) very harsh or b) You've got some amazing moments lined up for positions 1-25."
Well, hopefully it was the latter.
Now don't be surprised that the home crowd have been very vocal on social media, so a lot of British names pop up on our fan list.
And another thing, can you spot how many proud parents nominated their own offspring?
If it were up to all of our social media followers, this is what the top 50 Paralympic moments of the year would probably look like:
50. RT @tdftweet: James O'Shea in 100m breaststroke SB5 – so close to bronze after swimming competitively for just 1 year #proud
49. RT @jwaterworth: Women's club throwing F31/32/51. Incredible efforts. 2 WRs.
48. RT @OlympicMcLovin: Josue Cajuste in men's javelin throw F42 just 2 days after having prosthetic legs fitted moved me to tears
47. RT @redsuly: Highlights were watching GB & China win goalball matches at the Copperbox and just being in the park amongst so much positivity
46. RT @marsvsbounty: The Germany vs USA #WCBasketball men's and women's games were really exciting.
45. RT @mdg219 Gaysli Leon 1st Haitian Paralympian, came last in hand-cycling time trial but an inspiration to the world
44. RT @reddogcw: South Africa relay win, Nascimento proposal, Brazil athletes on podium!
43. RT @PetiteSacNicte: My country's silver medal in the men's marathon T12!!! (Alberto Suarez Laso of Spain)
42. Louisa Udall: When Will Bayley jumped his coach after winning his semi-final at the Excel
41. RT @Nellaz_22 when @OscarPistorius took part in the Olympics
40. RT: @asiansnax Maciej Lepiato (POL) winning Gold in the men's high jump F46 - the crowd desperately willing him on to clear 2.14m
39. RT @cupholderboy: The crowd and #Gamesmakers. Without them none of this would have been as good as it has been
38. Rt @eliserandall16: Josef Craig winning gold :D
37. RT @fishandchips40: The overwhelming atmosphere of friendship and overcoming of disability to perform at your best. Thank you
36. RT @vjwuthrich: Japanese swimmer Tanaka, taking his flowers at medal presentation and inhaling them with obvious pleasure
35. RT @Ms_Alice_Bee: Balled my eyes out watching the Closing Ceremony of the London Paralympics! Coldplay were awesome! #london2012
34. Chris Merritt: Watching my daughter (Amber Merritt) win a silver medal in the wheelchair basketball.
33. RT @lauradart1: Sophie Wells and her horse Pinocchio winning silver in the individual freestyle grade IV
32. RT: @ChrisJones28: So many great ones but the silent 4x100m relay where the stadium erupted after the final baton change was fantastic
31. RT @jwaterworth: 80,000 standing and cheering Houssein Omar Hassan's last lap in the 1,500m.
30. Dora Reilly: When Shirley Reilly won the Gold in 26.2 miles marathon!
29. Anne Hart: When Australia won the gold in wheelchair rugby.
28. Chiara Romagnoli: When my friend Cecilia won the gold medal in the 50m freestyle S11 with a new world record!
27. RT @FJMAG1979: when Amalia Pérez won first gold medal for Mexico and Gustavo Sánchez Martínez won his medals
26. RT: @asiansnax: Raoua Tlili's lap of honour after winning the women's shot put F40 gold.
25. RT @misslloyd82: @SChristiansen87's THREE GOLD medals put things into perspective when my horse is being a brat! AMAZING!!!
24. RT @sophie_mcm: Sophie Pascoe's gold medal and world record!!!!!
23. RT @alisonbee85: Watching @davidweir2012 win gold in the 1,500m after finally getting tickets! Weak knees!!
22. RT @Miri2Katz When Noam Gershany took his gold.
21. RT @carmenludolph: #TeamSA #ProudlySA men's 4x100m relay T42/T46 @OscarPistorius @arnufourie @samkelo8 @elrunic
20. RT @thesheep78: Ellie Simmonds' face going into water to celebrate victory and world record was beautiful
19. RT @ok_mera: When Bradley Snyder won gold on the one year anniversary of losing his sight.
18. RT @pel_reece: the stadium's encouragement for Nascimento to cross the line after pulling up in the 100m final (T46)
17. RT @parrott_lisa: Natalie du Toit shedding a tear on the podium #Legends #SA
16. RT @WCBballCanada: The top moment in #Paralympic sport in 2012 was gold for Canada #wheelchairbasketball
15. RT @lizwetherill: We were there to witness our son @Wetherill89 coming out into the arena to a roaring British crowd. Unbelievably proud
14. Helen Hynd: TEAM HYND (Sam and Ollie Hynd) made history standing on the podium together!!!! Absolutely Fantastic!!
13. Anne Winfield: Matt Walker won Bronze in the 50m freestyle S7. It has to go down as one of the most emotional medal wins of the games, as sadly his dad had died before the games.
12. RT @JeanNamibian: As a Namibian, Johanna Benson winning our first gold! Overall, the grit and joy in pursuit of excellence.
11. Steve Pomfret: Sarah Storey winning GB's first gold, because we were in the Velodrome watching. What an atmosphere! But actually it was every athlete in every event, the games were awesome.
10. Emma Brokenshire: Hannah Cockroft won the first Papralympic gold in the stadium - I was there - amazing!!!! Electrifying in fact! Still gives me tingles...
9. Paul Cerra: When Ileasa Delana of Fiji won his country's first-ever Paralympic gold medal in the men's F42 high jump. I didn't even know it was possible to do what he did and I will never forget seeing it. But truthfully I will never forget London 2012 - some of the best Games ever, both Paralympic and Olympic.
8. RT ?@Union_jackkk: When the German table tennis winner (Jochen Wollmert) hugged @WillBayleytt. It showed real compassion, friendship and sportsmanship. It moved me.
6. RT @timsky182: Alex Zanardi taking gold. From being read his last rites to champion. #legend
5. RT @LauraCY1: Has to be @Marathonchamp winning his gold. All I could say was wow!
4. RT @blackie78: T44 final 'Peacock' chants, then he tells people to be quiet and 80,000 fall silent. Then the race – unbelievable
3. RT @ MJGKKJ : my fave Paralympic memory: Oscar winning the 400m T44 and the roar of the crowd when he took his victory lap. Proudly S African!!!
2. RT @dan_marks99: seeing the Weirwolf @davidweir2012 dominate all of his events #superhuman
1. RT @knifejuggler: the noise inside the Aquatic Centre when @EllieSimmonds1 won her IM gold! Absolutely incredible!