Wheelchair rugby tourney in Bali to boost development in SE Asia
Teams from Thailand, Malaysia and a touring team from Australia will take part in the tournament.
22 Jul 2015
Imagen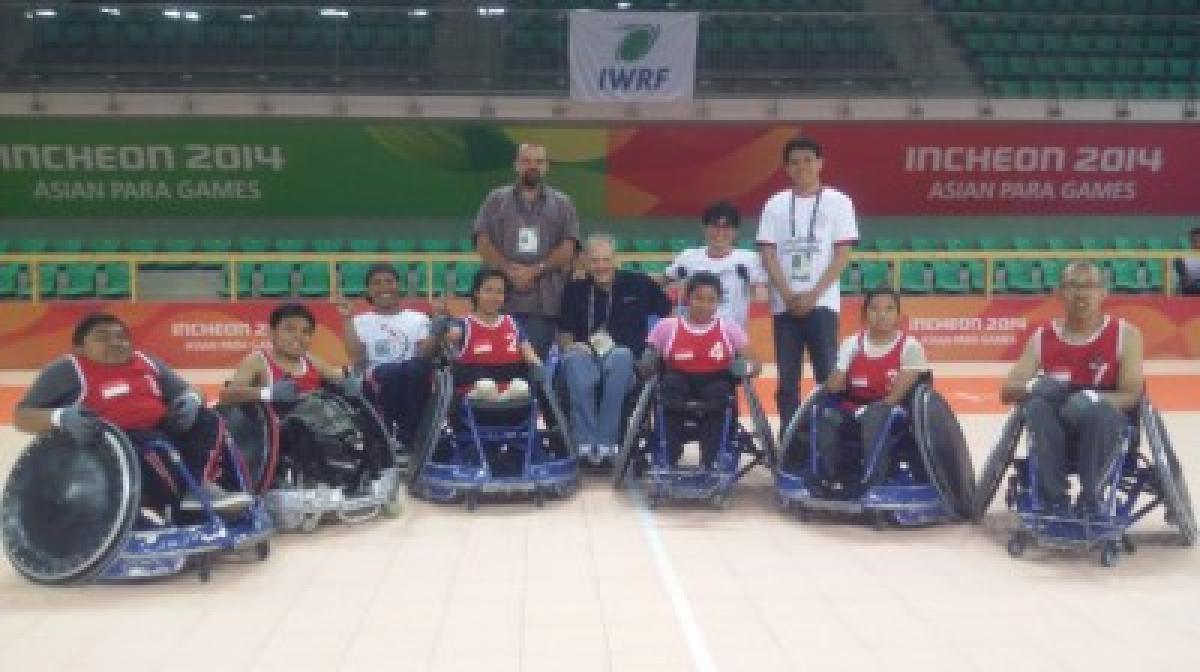 ⒸIWRF
By Katie Bourke | For the International Wheelchair Rugby Federation
I could think of worse places to go for a wheelchair rugby tournament than the island paradise of Bali, Indonesia. It is a holiday hot spot, famed worldwide for its beachside resorts, tropical hinterlands and friendly hospitality.
Would I like to join a touring team of Australians heading there for a rugby development tournament? Where do I sign up?
Starting Thursday (23 July), Bali will host developing teams from Thailand and Malaysia, as well as an Australian touring team for the Bali4s international wheelchair rugby tournament. This event is the brainchild of Rodney Holt from the Bali Sports Foundation (BSF). It aims to boost participation in the sport in the Southeast Asian region.
Holt, an Olympic athlete and a former Bali Sports Person of the Year, is the driving force behind the BSF team. They strive to improve the lives of people living with a disability in Bali and East Indonesia through a range of sports programs. Alongside wheelchair rugby, they offer a range of sports, including disabled sailing, blind judo or deaf mute eskrima (that is traditional stick fighting) — But back to the rugby!
Indonesia, along with Malaysia, made their first appearance on the rugby scene in 2014 at the Asian Para Games in South Korea. The Bali4s will be the first appearance of the Thailand national team. This competition not only represents growth of the sport we all love; it also raises the profile of disability in countries where services and support are limited at best.
The Indonesian team we met in South Korea presented a range of classifiable impairments, but none were spinal cord injury. And none were low pointers.
A five-week visit earlier this year from International Wheelchair Rugby Federation (IWRF) classifier, seating guru and all round lovely Welsh lass Deb Duffield helped fill the void of low pointers and educate the team on individualised equipment setup.
Through Duffield's teaching on classifiable impairments and seating basics, she helped the BSF group on their path toward a sustainable a national wheelchair rugby program. I am sure Deb also learned a few new tricks about unconventional mobility too.
I am not sure if the Australian guys who put their hands up to self-fund the trip thought much beyond Bintangs (Indonesian beer) and Nasi Goreng (an Indonesian rice dish) by the pool when they first sent back their RSVP forms. But the experience and knowledge they can bring to this competition will be invaluable.
The Bali4s event will provide a great platform to foster a network within the region. As we get closer to the event, the idea that we have an opportunity to give back to the rugby family is gathering momentum. The guys are planning ways to get equipment and supplies over with us to give this developing nation a leg up, even if they do not have working leg between them.
For more information on Bali 4s or the Bali Sports Foundation visit Indonesian Wheelchair Rugby's website.